Fish, Tides, and Turbines
With proper safeguards, water currents can be harnessed out of sight.

Natural History Magazine
January 2014

Natural History Website


Article Online

---

In the last few years two small tidal power projects have gone on-line in the United States. One project is in the sleepy rural community of Eastport, Maine. The other is in the heart of New York City, the "City that never sleeps". Yet both projects underwent extensive environmental studies. This article is about the contrast in sites, and the parralles in the studies surrounding them, as well as the people who are drawn to work with tidal power.
---
" We're not seeing a heck of a lot here," laughed Nathan Johnson as he stared off into the fog that choked the Western Passage, near Eastport, Maine. "But we have documented here a lot of harbor seals and harbor porpoises. Also we have larger mammals, including minke whales." Part of the route leading northwest from the Bay of Fundy to Passamaquoddy Bay, the Western Passage separates Moose Island, where Eastport is located, and Canada's Deer Island, to the northeast. Johnson is part of a team that is studying the Western Passage as a potential tidal power site. His company, Ocean Renewable Power Company (ORPC), has already deployed a tidal turbine west of Moose Island, in Cobscook Bay. The whole area is a complex of channels, bays, and coves that experience a cycle of low and high tides that differ by about twenty-five feet, making this is an ideal site for such projects.

. . .

New York City's East River is also host to a tidal project. It is here that Verdant Power has installed a number of turbines. Except for the coincidence of having "East" in their names, the two sites could not appear more different: Eastport is a sleepy village, whereas the East River runs through the heart of "the City That Never Sleeps."

The East River is constrained by concrete breakwaters, which give it the look of an industrial canal instead of a river. In fact it is not a river at all, but a tidal strait that connects New York Bay to the south with Long Island Sound to the north. To the south it separates Manhattan Island, on its west side, from the Long Island boroughs of Brooklyn and Queens to its east. Near its northern end it connects with another strait, the so-called Harlem River, which separates Manhattan from the Bronx and joins the Hudson River. The East River proper continues to the Sound through Hell Gate, a stretch of water infamous for its furious tides and currents.

Within the East River is two-mile-long Roosevelt Island, considered part of the Borough of Manhattan and connected to the rest of the city by an aerial tramway, a bridge, and a subway stop. It also provides footing for the Ed Koch Queensboro Bridge, which crosses from Manhattan to Queens. The turbines lie on the east side of Roosevelt Island. Although the tides rise and fall only six to ten feet, they race through the narrows at up to six miles per hour, a jogging pace, which makes this site attractive to tidal power developers.

A little to the south of the turbines, in Queens, is the competition, the Ravenswood Generating Station. That more conventional plant can produce nearly 2.5 gigawatts of electricity, about a quarter of what New York City needs. Fuel barges are moored in front of the plant, feeding the city's insatiable appetite for power. ..."
---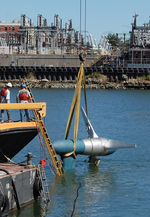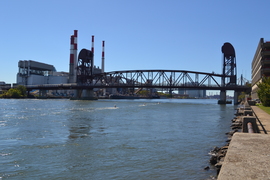 1) Turbine in Eastport, Maine. 2) Turbine in the East River (Courtesy Verdant Power) . 3) Site of project in New York City with the Ravenswood Power Station in the background. 4) Cobscook Bay, Eastport, Maine. (all photos, except #2, Timothy Paul Smith)