Hello Everyone,

Kristina and I have landed in Manhattan.

All spring people have been asking me where we are going on Sabbatical. I tell them, "We are going to an exotic island south of us where they speak a language somewhat like English." Often they look a bit disappointed when the discover that I am only talking about Manhattan, but then I tell them that in some respects it is about as different from Hanover as it could be.

With Robin leaving for college this month, and Will headed off for his senior year at Bard, we are also facing an empty nest -- so we have abandon the nest

August 15 was the long anticipated day of transition. We were to move out of our home in New Hampshire and our tenets to move in. Also we are expected in New York to take up our new place. But as that day approached Kristina told me the "To-Do List", was growing exponentially. So I suggested we leave a day early before that list asymptotically reach infinite. So on August 14 we put Will on the bus to Long Island to visit his Grandparents and take Robin's place -- Robin then heading to NYU. Then late that afternoon we packed our four bags, and slipped out of town.

We spent that night in Brattleboro, Vermont, at a quirky Art Deco hotel called the "Latchis".

Wednesday - August 15
In the morning continued south.

We are storing our car in a garage about three blocks from the White Plains railroad station, from where it is a half our ride to Grand Central Station. A ten minute taxis ride (our bags are rather big) reminded me why are am glad to be car-less in this city.

Our "landlady", met us at the apartment (more details on that below), showed us around the place (15 seconds suffices) and gave us the key. She is also on Sabbatical and subletting to us for a year. Our building is called London Terrace Towers and is a co-op. We got our subletter's ID cards, and then lunch. It has been a long time since Vermont.

There is a farmer's market in Union Square, so we walked over there and bought bread a vegetables. It has been raining, pouring, off and on all day. Then stopped for fish at Chelsea Market. There are a lot of different types of fish on display and we could go a long time without repeating if we wanted to.

The a trip to the rooftop to watch the twilight on the city that never sleeps, dinner and a well deserved collapse.

Thursday - August 16
Kristina met Robin this morning off the bus from Long Island. He is arriving early at New York University (NYU) for soccer try-outs. I walked over to the Main Public Library. I had just got settled to write when I received an email from Robin requesting help with sheets. Since I also wanted to see his dorm, I walked down to NYU and meet him.

Lunch in Union Square, back to the Main Library for a while to write. Then out into Bryan Park for a while, and then back to the apartment.

It is a hot and muggy day, so my run north along the Hudson River left me soaked in sweat. All told I think I walked five miles and ran six today.

Friday - August 17
Kristina is off to Columbia and I walked over to the Main Library again, where I now have a library card. I sat for a few hours writing, but I am itching to explore. So went off walking towards the East River. I sat and read in a park in Tudor City, strolled past the United Nations and found a pocket park by the river.

Back at our apartment I took a quick run, this time south along the Hudson, past pier 40, a mysterious place where we are told Robin will practice, to Battery Park City. Afterwards I meet Kristina and we (yes this is hard to believe) got cell phone. The last two people in America without cell phones have given in.

Of course we also slipped a visit to the rooftop in before dinner

Saturday - August 18
We walked to a farmer's market on Abingdon Square in Greenwich village. Mellon are delicious, but a bit heavy when carrying them around the city. Then on to "Partners in Crime", a bookstore.

In the afternoon we picnicked on a pier which is park of the Hudson River Park, about four blocks from our apartment. Two guys, brothers, joined us at the end of the pier. They set up their chair, their cooler of beer and music and had a grand time talking with us and waving at the boats on the river. The park is full of life on a sunny weekend.

Sunday - August 19
We walked around some flea markets. Our prime objective is some silverware, the stuff in the apartment is very light and reminds me of flatware from a dining hall.

We found some at a market near the American Museum of Natural History, then took them, and a quiche to Central Park where we watched toy sailboats.

Monday - August 20 - my Birthday
I found a new library to work in. It is the "Jefferson Market Library" in Greenwich. This building was originally a courthouse build in the 1870's. With stain-glass windows and vaulted ceiling I expect that many charged offenders felt like they were standing in front of their maker when they were in front of the judge. ... and maybe that was the point.

I had a nice run along the river to Battery Park, which was chocked with tourist. Then I meet Kristina in Union Square, we went to a bookstore and then "The Tipsy Parson Restaurant" For my birthday celebration.
---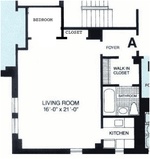 Our Apartment
| | |
| --- | --- |
| Courtyard | |
We live on the sixth floor of a 20 story brick block build about 1930. Our build includes a rooftop garden and gargoyles. There is an inner court yard which we look out at. The top of the building is dotted with watertowers. We are starting to get to know our doormen.

Someplace there is a indoor pool - but I have yet to find it.

The apartment is cozy, about 500 square feet. That makes it a bit smaller then our first apartment in Lowell. So we will have to be efficient at using what space we have.

Our complex occupies the block between 23rd and 24th street and 9th and 10th Avenue. Our tower is on the corner of 23rd and 9th. The Avenues are busy, traffic and lined with shops. In contrast the street is quite (relatively), tree lined and residential.
| | | | | | | | |
| --- | --- | --- | --- | --- | --- | --- | --- |
| Gargoyles | | Living Room | | Galley Kitchen | | Bedroom/alcove | |
| More Gargoyles | | Up 9thAve | | West on 24th | | Our Building at night | |