Micro-Stories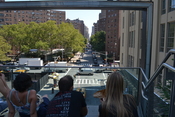 watching 26th Street
from the High Line

Aug 22 - I was sitting on a bench up above 26th Street, watching the traffic below, and the stream of people walking on the High Line. This spot was about two blocks from the nearest staircase to street level. It was a hot afternoon and the air was thick with the smell of wild flowers which grow there.

Two women came and sat at the other end of the bench, continuously talking. Both were in their late twenties or early thirties and one was well advanced in her pregnancy. At one point the pregnant one said to the other, "I must be crazy to be up here, so far from the nearest street -- what if I go into labor?" <!===================================>
---
Aug 24 - I took my sandwich over to Christopher Park, a wedge of land bounded by Grove Street, West 4th St and Christopher St, with a corner perhaps reaching out and touching Seventh Ave South. The park is a triangle maybe 80 meters long with a 20 meter wide base. The pointed, east end of the park is garden and unreachable without climbing a fence. The west end, in contrast, is an open oval of park benches, most of then occupied at this time of day. In fact, of the thirty benchs, only two on the north side were unoccupied. The people here are a mix of busy shopkeepers and businessmen who have escaped their office for a few minutes of sunshine, and a dozen guys who looked like they spent a lot of time on these benches.

The seat I picked was bespekled with old bird droppings, but I found a clean-ish spot to sit and was soon pulling my sandwich and water bottle out of my bag when the man next to me called out. "Yoh! My Man!" He pointed to the branches overhead. "Pigeons!"

I recognized that I was in the target zone, and moved over a seat.

Ten minutes later and unsuspecting luncher in a black suit sat in the same place - and I was able to pass forward the warning.

<!======================>
---
Aug 24 - I was riding the #1 subway north to Columbia to meet Kristina. I got on at 23rd Street. By the time we reached 28th street, even I realized that the car was unusually hot, having been tipped off by the fact that people would step into our car, and then step out right away. I was sweating by Penn Station (34th Street), but the car was not crammed full of people like the rest of the train.

At 50th Street an unsuspecting potential rider started to step aboard our oven, but paused in the doorway. He sensed that something was not right, but he was distracted by texting. It was too much for his brain to process; stepping over the gap into the subway car, texting and a wave of heat. He was wearing ear buds and may have also been listening to music. What ever the reason, he got caught in the closing doors. The doors bounced, sensing something in the way, and he pulled back onto the platform.

But his flip-flop stayed on the train, going north.

Three seconds later I realized that I should have called to the boy sitting by the door and asked him to throw the flip-flop to me and I could have slipped it out the window. But by then we were in the tunnel and part way to Columbus Circle.

At Columbus, 66th, 72nd and up the Westside the train would stop and people would get on and off, stepping over this single flip-flop. It looked as if an alien had "beamed" him up and left the bit of foam and rubber behind.

And someplace in New York City someone was walking home with only one flip-flop.

<!=====================================================>
---
Manhattan Journal
Hello Everyone,
I am trying to explore a bit. So when Kristina goes to Columbia I head out in my quest for the perfect writing place. I've been to the Main Public Library, the Epiphany Library, the Muhlenberg Library and the Jefferson Market Library. The Epiphany and Muhlenberg are both on 23rd Street. They are half the size of the old Seymour Library on State Street in Brockport, but with every seat in use. I generally gravitate to the Jefferson Market Library.
I have also been running a lot. There is a bike path, called the "Greenway" used by runners along the Hudson River -- most of which is between parks and West Street. The name of this street/highway changes the length of Manhattan. The running path is continuous.
I can run north to River Side Park. Or leave the Greenway by the sanitation Pier and in four blocks pass Lincoln Center and Columbus Circle and end up in Central Park -- where I can join a crowd of runners.
South takes me past Pier 40 where Robin trains to Battery Park, where the Greenway continues up the East River. One addition I have recently added is to take the cross-town (island) bikeway on 20th Street. By this route I can run from our building to the East River in a dozen minutes!
So a few highlights:
Friday - August 24
I met Kristina at Columbia. We are going to take two weeks of vacation, starting now. So we walked south, had dinner, and eventually got to Lincoln Center, where we had tickets for A Little Night Music. This was a short concert of Schubert and Brahms, performed on piano, clarinet and for one piece (about shepherd and sheep) a soprano. It was performed in the Stanley H. Kaplan Penthouse, a glassed in room on the tenth floor, overlooking all the lights of the city. An intimate performance with about a hundred people in the audience, sitting at round table sipping wine and mineral water.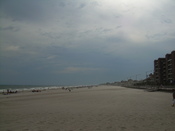 Rockaway Beach

Saturday - August 26 - Beach Day
We took the subway to Far Rockaway and Rockaway Beach. It is a long ride out there. The wind was howling as we walked along the board walk. Sand in our picnic. I think we will try this again on a calmer day.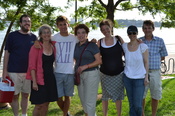 Picnic by the Hudson
Jim, Kristina, Robin,
Helen, Clare, Eileen, Tim
(photo by Joe)

Sunday - August 27
Eileen arrived in the morning and we had a picnic on Pier 64 next to the Hudson River. Clare, Kristina's cousin, and her husband Joe joined us. Clare is expecting to give birth any day -- and greatly enjoyed my story about the woman on the High Line. Later Aunt Helen and cousin Jimmy joined us. Finally Robin arrived. It was his first day away from soccer in a long time.

Monday - Thursday -- Westhampton
We took the Long Island Railroad out to Westhampton and spent a few days with Kristina's folks. Eileen was with us and Will was already there. Kathleen also showed up for one night -- so it was a full house.

There was a lot of laying on the beach, swimming, water-skiing, and long dinners which stretched late into the night.
| | | | |
| --- | --- | --- | --- |
| Kristina on the Beach | Path to the Beach | Charlie & Eileen | Captain Charlie |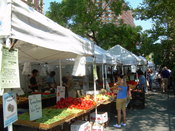 Abingdon Market

Friday - August 31, 2012 -- Manhattan
We are on vacation and suppose to do tourist things. But first it is market day. We try to do this twice a week or so at Abingdon and Union Square.

Later wandered down the island through Greenwich Village, SoHo, TriBeCa, City Hall, Wall Street to Battery Park. Here we stopped in a cafe and watched the sun set across the Hudson, and then took the ferry to Staten Island. The ferry is free and the harbor is dotted with lights.

<!===============================================>
---

The High Line
Paradise is suppose to be someplace up there in the sky, and this pleasant place is in that general direction.
The High Line is a park a mile long and about 20 meters wide located on the frame of an old elevated railroad. It snakes its way overhead, between old warehouses and modern apartment buildings. It crosses 18 streets and 1 avenue. The original elevated railroad was build in the early 1930's and then abandoned in the 1950's. By the 1990's it had deteriorated and was on the verge of being pulled down, the section in Greenwich Village already gone, when some neighborhood advocates proposed the park.
The High Line is not simply an old rail bed. It is as much a garden or even a piece of sculpture. When the line was converted into a park most of it was planted with wild flowers, grasses and trees which had already taken root there. So the path which runs the length of the park zig-zags among groves of birch across meadows of wild flowers, past flowering bushes, and even a simple lawn at 23rd street, a favorite with picnickers and sun bathers.
The park crew are gardeners. I am sure they pick up garbage too, but I am most likely to see them pulling weeds, pruning and pushing wheelbarrows bound towards compost. I like to find a bench where in the foreground is a blanket of golden petaled black-eyed-susans and in the background the towers of Midtown. I hear bees buzzing, busy harvesting nectar while in the distance I can hear traffic below us, or an excavator on a construction site. The grasses are full of seeds at this time of year and so their tall stalks catch the wind and remind us that not every motion is planned by an engineer, architect or artist.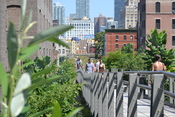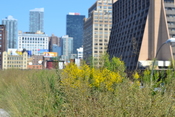 It is a place where people escape the city, at least briefly. At lunch time an empty bench is more prized then some art in the local galleries. And all day long, and well into the evening, there is a stream of people walking the promenade. They are almost as interesting as the park and flowers. Half are armed with cameras and are seeing it for the first time, discovering a view of the Hudson River, or Midtown, or into the back patio of an exclusive condo. (I tend to think owners of those condos bought them knowing they would be on display.) The other half have there sights set on that bench at 26th street where the street below is framed.
Down at the Chelsea Market end there is theater seating, and the show is Tenth Avenue streaming out from below your feet. This is also a place popular with musicians (of various qualities), painters with easels and readers with books.
The place is alive, but alive in a way which is different then the caffeinated energy of the streets of this city. It is above traffic, its pace is set by people and not machines. It is a park half way to the sky.