Micro-Stories
On my way home I saw a police officer trying to negotiate an argument between two men. The men were in their late fifties or early sixties, but they appeared like children compared to the officer, even if the officer was twenty years their junior. The men stood facing away from each other, arms crossed and faces in a twisted pout. Between them stood the officer, with his hands on his hips, like a teacher between fighting third graders. He rolled his eyes, something only I could see, and told them in the most serious voice he could muster, "I need you to take his hand -- and I am not kidding!"
I really wanted to stop and see what was happening, but I was certain my interest wouldn't help. <!==============================================>
---
Manhattan Journal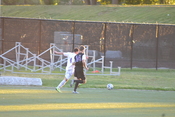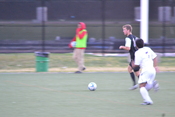 Robin - #14 NYU

Monday, Sept 24, 2012
Robin has told us that he will almost certainly play today against Hunter College. Hunter's home field is on Randall Island, next the Icahan Field where I ran that 5km race. So in the afternoon I take the subway to Lexington and 103rd street and walk over the foot bridge to the island. It is a brilliant afternoon. There are not a lot of people in the bleachers, but I find a few NYU fans and watch the game. Soccer at the college level is much faster then in high school and the control of the ball is better. But there is still a lot of running. I think at the professional level passes are so precise that there is rarely a free ball to chase. College is half way there.

At halftime NYU has shown that they have command of the game with the score 3-0, and Robin is sent out onto the field for the last 30 minutes of the game. I keep forgetting that he is a freshmen, the rookie, the least experienced player on the team. Robin plays flawlessly. But in truth NYU so dominate the second half that there was not a lot for the defensive line to do. Final score 5-0.

We briefly met the coach afterwards who spoke glowingly about Robin, "We will make him into the finest defender yet!" he told us. Kristina was amazed at his accent, and thought he sounded like a leprechaun. I think he is from Glasgow.

Tuesday, Sept 25
Bill Snyder has just arrived from Japan and wanted to show us a restaurant he like up near Columbia. Bill is a high school friend of mine, and the bestman at our wedding. He now is at Columbia's Tokyo campus. Bill takes us to "Max's Soho", a curious name, since we are over a hundred blocks from SoHo. It was really good Italian food. Later we drifted up the street to "Max's Cafe" (yes they are related - but four stores apart) for coffee and dessert.

Thursday, Sept 27
I took my sandwich to the south end of Manhattan for lunch. I started at Battery Park and then walked up Broadway. I walked through "Bowling Green", which is now a triangle of green grass in the heart of the "Financial District". In 1733 this plot of land was rented from the city by three citizens who wanted to build a public park. They payed a peppercorn a year.

I also walked through "Zuccotti Park", home of the Occupy Wall Street protest. It was lunch time and so well used that I couldn't find a spot to sit and wondered how the occupy movement had found space to roll out their sleeping bags. Maybe the weather wasn't so nice when they started?

I finally settled at the park around City Hall. There was a protest in front of me over the police's "Stop and Frisk" policy. I was sharing a bench with tourist from Australia and had to explain what the protest was all about. The protest confused them, since the protesters kept blowing whistles which sounded exactly like what the police use when directing traffic.

Friday, Sept 28 - Brockport Cross-Country Reunion
Bill and I met at his hotel near Madison Square and started walking in a pouring rain to Grand Central Station. We couldn't find an umbrella for Bill (there are usually vendors on every street corner -- they know about the rain before the National Weather Service does), and then realized that we could just take the subway and stay dry beneath the streets.

At Grand Central we took the train to White Plains, got our car and drove west and north. Our trip up through the Southern Tier and the Genesee Valley to Rochester and then Brockport was eventless. We are on route to a reunion of the Brockport High School Cross-Country teams for whom John Izzo was the coach. The first event of the reunion is this evening, so Bill and I wandered around downtown Brockport for awhile. I have not been here since my folks moved in 2004 and it had been a few years more since Bill was here.

We were impressed with the number of pizza places and tattoo shops in the downtown. We imagined that the Brockport State student body must be well filled with pepperoni and completely covered from toes to ear lobes with tattoos.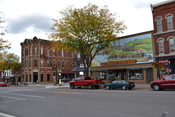 Downtown Brockport

We ended up at "Barber's Bar and Grill" for dinner, a place which has changed little since our time. While eating Bill spotted Carl Coatmen near the back of the room. We actually debated about him for awhile, but then Bill walked over and asked if he was Carl. Indeed he was, and he had heard about the reunion from the people on the far side of the video game machine, but he was only a track runner and would not be joining our party.

Beyond the video game were the Ketchum sisters; Peggy (now Margaret Sisson) and Barb. I've seen Margaret a decade ago at Sisson's, but had not seen Barb since high school. She has long hair, but otherwise remarkably unchanged. When she said to us, "Do you know who I am?" the voice was unchanged and gave her away.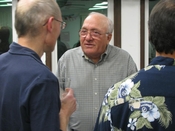 John Izzo

We then went to the VFW/American Legion for the first reception. All the Ketchums were there. Mark has put on a few pounds, but Steve is as thin as a rail. Peter Johantgen has changed very little. When I mentioned that Robin was studying architecture he sighed, "the world does not need more architects", he told me. Peter is one himself, and designed most of the buildings on Liberty Island when it was renovated in the 1980's.

Jon Reid, Lynda Sagger (now Ketchum), Dan McPherson, Ken Stevens, Brian "Goo-ball" O'Brian, Kathy "Pooh-Bear" Sasocie, Brian Miller, Jeff Jubenville, Pete Pitchford, Karen Miller, Rick Malt, Mike Rockow, Camille, and eventually Mel McGinnis. Mel sounds like Mel, but looks like his father Ray. In fact Mel, like his father, is now a pastor.

Finally, John Izzo and his wife Donna and daughter Christy arrived. John is very much the same. A bit stouter, with thin white hair, but full of energy and wanting to talk to everyone all at the same time.

Brian Miller is the person who arranged the whole event and keeps asking people if they will run the 5K race tomorrow. I tell him that I am planning on it, but have not broken 20 minutes in over a quarter century. He tells me that he has posted a few times in the 18 minute range.

We talk long and late -- but there is a race in the morning.

Saturday, Sept 29 - Brockport Cross-Country Reunion
We have all been invited to a race at Roberts Wesleyan College, a dozen miles from here. It is home coming there, and Merlin McGinnis, a Brockport High Alumni, is the track coach at Roberts. They are having a cross-country invitational. It starts with a open 5 km, then a mens and womens college 8 km. Our race goes off at 8:30.

I expect Bryan to lead us reunion-alumni, he has recently logged a sub 19 minute 5K and I have yet to break 20 minutes - in "my second career". Still, I start too quick and get a jump on Bryan. I forgot how much I enjoy cross-country as opposed to road races. The first mile is on grassy athletic fields, just bounding along in the sunshine. At the mile mark I see that Bryan is right behind me, and we are approaching a hill. I wave for him to join me, it helps to have a teammate next to you in a hard sections to keep your pace up, but he declines. The next two miles is on winding trails through the woods - which is a great hoot! Splashing through puddles, twisting and turning. The last few hundred meters is again in the open field. I glanced over my shoulder and see a blue shirt, which is what Bryan was wearing. I kicked as best I could, but blue shirt - from Syracuse Track Club, got me. Still, I ran a 19:22 - which is a second career personal best.

Tim Smith, Merl
McGinnis, Bryan Miller, ?

Mel McGinnis, Pete
Pitchford, Jon Reid

Bill Snyder &
me
In all about ten Brockporters ran or walked the course.

Later the University of Rochester B-team arrived with their coach, John Izzo. So Bill and I hung out, watched races, ate apples and talked with John.

In the afternoon Bill and I walked around downtown Brockport. We strolled along the canal bank and through the Liftbridge Bookstore.

In the evening we were back to the VFW for dinner and the heart of the reunion. There were a few new faces including Hale Milward. We all talked and told stories. We got Mel to lead us in singing "Hog Calling Time in Nebraska", and everyone sang "Marvel the Mustang". These were songs we would sing on the bus trips home after races thirty-five years ago -- if we won.

It was a bitter sweet time. None of us are young. But for one more evening it was fun.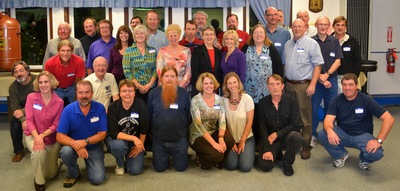 The whole gang
Sunday, Sept 30
On our way back to Manhattan we stopped and saw Will at Bard. He had to dash to a GRE review session, so Bill and I explored "Poet's Walk", fields and woods down to the Hudson.
Thursday, Oct 4
In the evening I went to Central Park to run with the "Central Park Track Club". We started at the Daniel Webster Statue. It seems like that guy has followed me from Hanover. It was a misty warm evening. The coach described the course, six miles at about 7 minute mile pace. I settled into a group and we found ourselves way too fast over the first two miles. The course was "up into the Harlem Hills", which means just the north end of Central Park. Compared to New Hampshire these are hardly hills at all.
After the run I tried to wring out my shirt before getting on the subway to go home. It was so humid that I dripped and I am not certain anyone else in the car wanted to be anywhere near me.
Friday, Oct 5
In the evening we walked down by the river to see David Blaine, "Endurance Performance Art". He has done things like lie on ice or in a plastic box for days. This time he will stand on a pillar wearing a chain-mail suit and have arcs of electricity, "1 million volts", hitting him for 72 hours.
The physics is not so astonishing. I've drawn similar arcs in my intro physics class (okay maybe not quite as big). If you are properly grounded things will be fine -- and you will know if they are not in the first second.
So out on a pier in Hudson River Park they have constructed a large stage with a black roof and walls. I guess you might not want to perform in a rain storm. Also the black helps you see the electric arcs in the daylight. This is a show, with lights and crowds and music, and making people sign safety waivers and handing out earplugs. All part of the hype. It is always fun to watch people.
And then - an hour late - the show starts. After fifteen minutes we go to dinner - leaving David to stand for 71 hours and 45 minutes.
Saturday, Oct 6th
We started the day by wandering down to the lower east side. This is suppose to be an up and coming artsy neighborhood. Places which are identified this way usually mean low-rents-for-starving-artist. It is an area crammed with tenement buildings from the 1860's and 1870's. Four stories tall and covered with fire escapes. At first, as we wandered, it seemed like any other neighbor, which a preponderance of Chinese shops selling a variety of little things. But on one corner we strolled into a gallery, enjoyed some of the pieces, and obtained a map to the neighborhood art.
And then our eyes were opened. Next to that tiny Chinese five and dime, but before the printing press - down the stairs was a gallery. Then three doors later, between the grocers and the noodle shop, was another one. At first it looked like it was closed because of the odd lighting, but the second gallery, in the back has sculptures bigger then the front door. And so we wandered up and down Orchard Street. We have also been tantalized by banner on the street which proclaims "Oct 28 - Pickle Day". We will be back.
Today is also "Open House - New York", which means that a lot of curious places which are hard to get into, throw open their doors. We figured this out late and so high-demand places with sign-up list were already full. Still, we ended up at Poet House and the Lilac.
"Poet House" is a center for poetry and poets in Battery Park City. I think my favorite part of it was the second floor library with wide glass windows overlooking a strip of park land and the Hudson. Today is turning gray, gusty and autumn like and looking out a window seems like a good idea.
The "Lilac" is an old steamship which use to service lighthouses and navigational buoys. It is in a state of moderate restoration. Which means it is afloat and the ceilings have not fallen in yet. I also think restoration is keeping slightly ahead of decay. But that also meant that the ship has a great deal of character. I had no problem imagining Captain Haddock, whiskey bottle in hand, striding across the bridge.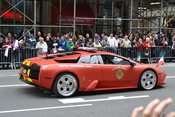 Fast Response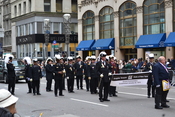 Knights Templar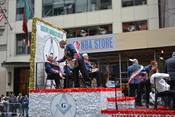 Giuseppe Garibaldi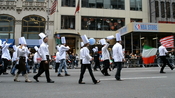 Marching Chefs

Monday, Oct 8, 2012 - Columbus Day
I only saw two references to Columbus in today's parade. On one float the Pinta, Nina and Santa Maria decorated the sides. On a second float Columbus appeared as a patron of a restaurant. What type of restaurant? A silly question. Although it is called the "Columbus Day Parade", it is really the parade of Italian Pride. The number of chapters of the "Sons of Italy" almost rivaled the number of marching bands -- and according to the website there were 100 of those bands.

I also liked the section of volunteer firefighters which all seemed to have cars marked as "*EXTRA* Fast Response Unit", and tended to be Ferraris and Porsches with emergency light. (Did you notice that these are both Italian cars?) Was there room enough for a first aid kit in there?

There were also a number of restaurants represented. I liked the one with about twenty chefs marching in formation, each with white jackets and tall chef's hats. They also had one of their number out front twirling flags, one US and one of Italy.

Several of them featured singers. All of them dramatic and operatic. Some in Italian, and some more popular and English. "When the moon hits your eye Like a big pizza pie, that's amore ...". There were a few tense minutes when one singer was ready to launch into his song only to find that the next float, the "St. John's College Athletic Supporters" were louder then he was. I could see him peering back at St. John's and trying to turn up his amplifier. But St. John's amp went to 11.

One of the marching bands came to a halt right in front of me. Occasionally they stop the parade and let traffic cross 5th Avenue. I could hear the band director and the student leader discussing what to play when someone behind me shouted out, "If you don't know what to play -- play `Freebird'".

And immediately after the last float, behind the police cars which marked the end of the parade there was a fleet of street sweepers.