Micro-Stories
I was walking between Kip's Bay Library and the Science Library when I met a woman looking for an address. The people she asked kept on looking at her slip of paper and telling her, "no, you are in the right spot, it is right here." This didn't seem to satisfy her, or at least she still didn't know what door to walk into for her new job. So I paused and read her slip too, "Between Madison and Park, 30, 31st Street". We were on the corner of Park Ave. and 31st Street. Between Madison and Park would mean a block west of us, and between 30th and 31st street would mean the block south. So clearly the block south-west of the intersection was what was indicated. That is where the two people before me had pointed.
But that block is not an address. I then read the slip of paper again. There must be something we all were missing. And then I saw it as "30 31st" or "#30 31st Street". I walked her to the door of #30 and could see the name of the agency she was looking for through the glass window. She thanked me profusely and went in. <!==============================================>
---
I was having lunch in Jackson Square, a little triangular park on the corner of 8th Ave. and Greenwich Ave., just below 14th street in Greenwich Village. There was a thin woman with light short hair who was working around the park cleaning. She was sweeping up bits of paper and raking up the first leaves of autumn. A second woman came into the park, dark hair and wrapped in a great coat, to eat her lunch. As she ate she pulled out some bread, broke it up and fed it to the birds.

The first woman came over to her and pointed out that there was a large sign requesting that people do not feed the birds. Parks which encourage, or at least allow, bird feeding acquire flocks of pigeons and soon are caked in pigeon droppings.

The dark haired woman ceased feeding and the sweeper worked her way outside the fence and along the sidewalk on 8th Avenue. When the feeder thought she was not being observed she tossed out another handful of bread.

The blond head popped up over the fence. They were too far away for me to hear, but the expression told all. It was the shocked look of a stereotypical librarian when someone has been singing limericks in the reading room! Stern words were spoken and the feeder meekly returned to her bench.

What was hardest for me to believe is that this scene repeated itself twice more before the dark haired woman had either finished her lunch or her supply of clandestine bread.

<!==============================================>
---
Manhattan Journal
Tuesday, Oct 9, 2012
Billy and Kathleen shoved us into a taxi and took us down to TriBeCa. We ended up at an Indian restaurant which was very nice. We were all fascinated by the menu, and order dishes because we didn't know what they were as much as any other reason. We had something build on lotus root and a chicken dish with a long list of ingredients which we referred to as "the complex chicken", a request which confused the waitress for a few minutes.
Oct 10-13
We traveled up to Hanover for a few days, staying with Yorke and Carrie Brown. One evening I ran from campus to their home on King's Hill road. One thing that Manhattan is most certainly missing are hills, and the climb up from Etna was a challenge.
On Saturday I was in a race in Thetford. The morning was cool and Vermont wore a patina of frost. It was about 30-degrees when the race started, across the top of the flood control dam and then down into the basin behind the dam. The first mile was a lot of fun. The leaders broke away, but in the second pack three of us battled to control the race, one guy taking the lead on every up-hill, a different guy on the down-hill, and I would set the pace on the flats. Shortly after the mile mark I broke away and ran the next three miles by myself. Unfortunately I let another runner catch me on the climb back up to the top of the dam and he out kicked me in the last 200 or 300 meters.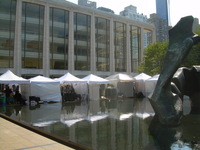 Backs of Craft Booths
Lincoln Center

Sunday, Oct 14
We went up to Lincoln Center to wander around a crafts fair which was held on the side plaza. I was watching the women shopping there when I suddenly realized that half the jackets and scarves they wore could have been bought at that fair. I guess it is not surprising that people with that sort of taste would frequent that type of fair.

We then went north to another street fair which had taken over Broadway from 86ths street to 79th street. Most of the blocks had a national theme, the Italian block, the Greek Block. But I think my favorite was the Japanese Block. It was packed with people waiting in line for food from one of the vendors, as well as happy eaters, playing with chop-sticks and chowing down on squid and many other exotic, but to me unknown delicacies.

Tuesday, Oct 16, 2012
This was my first track workout with Central Park Track Club. Their website says that you should work out with them at least four times before applying to join them, so their coaches can look you over. I put my best foot forward. The runners divided themselves into about five groups and I hooked up with the "D-squad", 10k in 39-42 minutes. We were doing repeat 1000 meters. This is as fast as I've moved in a long time, but it felt good to work with a group.

Afterwards I headed north along the east river with Grace, Guillaum and three others. It was just fun running along the river in the evening, the lights of Brooklyn, Queens and Manhattan reflecting in the water.

Friday, Oct 15
Kristina brought Amir back to the apartment and then we all went to dinner. We have been eyeing "Le Lunchonette". I had a cassoulet and have been inspired. Amir is an applied mathematician who works across the hall from Kristina and has been advising her about sparse data. He is from Iran and it was very interesting to hear his views on America and politics, both here and in his home country.

Saturday, Oct 16
I have this ambition to run around all of the Island of Manhattan. There is a bike path around most of the island, and I have run around the south tip. So today I want to try a new section of the island, beyond my normal circle.

The Greenway

I took the subway A-train to the end of the line at 207th Street, in the neighborhood of Inwood. There is a park here at the very northern tip of Manhattan. I start out by circling some baseball and soccer fields and then followed a path up a hill and into the woods. It was very pleasant and really made me feel like fall is upon us. The leaves are turning colors and starting to fall.

At the top of the hill I can see the confluence of the Spuyten Duyvil Creek and the Hudson River. Originally the Harlem River and Spuyten Duyvil both flowed out of a swampy area north of Marble Hill, but then the creek and the Harlem River were straightened, deepened and connected by the Harlem River Ship Canal.

Down the hill to the edge of the Hudson I continued to the end of the park. Here I lost the path, but a passing jogger pointed out to me that one section was under construction, but there was a detour. The greenway bike path passes through a cloverleaf of the Henry Hudson Parkway and then runs between the lanes of the parkway.

Except for the roar of traffic it is pretty and pleasant. To my right rise Washington Heights, with the Cloister and Ft. Tryon Park perched high up top. The parkway, with the greenway bike path is carved into the face of the bluffs, and there is a rail line at the base of the cliff.

At the George Washington Bridge the path ducks under one lane of the parkway, passes by the Little Red Lighthouse (officially Jeffrey's Hook Light) and continues along the edge of the water. Ahead of me I can see Riverside Church and I know I am approaching Columbia.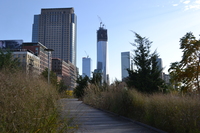 In Hudson River Park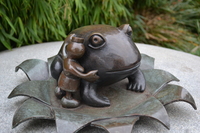 In Battery City Park

Normally the path is as wide as a lane, maybe ten feet, with a line down the middle. In many parks there is a separate walking path, but sometimes when the land between the highway and the river is sparse, walkers, runners and bikers share what space there is. Even when there is a pedestrian path I stay on the bikeway. I'm running at about 8 mph, whereas walkers are 2-3 mph and most bikers are at 10-12 mph. So I reason that I am traveling at about 3/4 of the bikers speed but 2-3 times the walkers pace -- so I'll travel with the bikes.

I pass the "Cherry Walk", this should be especially pretty in the spring, and I finally come into an area I have run to from Chelsea. Through Riverside Park, under the Joe DiMaggio elevated highway, pass the sanitation pier, the cruise ship pier, the Intrepid aircraft carrier and finally to Chelsea Waterfront park and home. About a dozen miles total.

In the afternoon I go out for a walk and cross paths with Kristina near poets house in Battery City Park. I mentioned to her that if I continued another half mile to the Battery I would have traveled the whole length of Manhattan by foot that day. So she insist that we do.


New York Harbor

Sunday, October 21, 2012
After starting the day with newspaper, croissants and tea for breakfast on the roof, we decided to widen our circle and so headed to Brooklyn.

We took the subway to Grand Army Plaza. Yes, there is a Grand Army Plaza in Manhattan, actually where I finished the "5th Avenue Mile" race, but the Brooklyn is in fact grander ("Grander Army Plaza"?)

The plaza also forms the entrance to Prospect Park, which is Brooklyn's version of Central Park with rolling lawns covered with people having picnics and flying kites. It is a beautiful day and I do do not know how many more like this we should expect.

On the "Long Meadow" there was a cricket match going on. Actually it looked to be a cross between a community picnic and match, with frequent breaks in play to stop and eat and talk. I think most of the players were Caribbean, and there picnic smelled mouthwatering.

We eventually crossed to the west of the park onto "Park Slope", this is where Kristina's father grew up. So we strolled down 7th Street to see if Kristina recognized her Grandparent's home from half a century ago.

We ended up on 7th Avenue, which looks to be going through a bit of gentrification. I enjoyed a croissant sandwich, and Kristina had French onion soup before we headed home.

Oct 23 & Oct 24, 2012 - Gramercy Park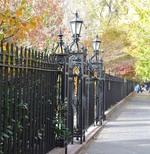 Gate to
Gramercy Park

Oct 24 is our silver wedding anniversary. We debated a while about going someplace exotic and doing something extravagant -- when we realized that we were already in Manhattan. Briefly, we stayed in a luxurious hotel, the Gramercy Park Hotel, and dinned at the River Cafe. For most of the details you will just have to track us down in person and ask us. However, I will describe Gramercy Park itself.

Gramercy Park is a private park surrounded by an old Victorian wrought iron fence. It is owned by neighbors who pay there annual fee, and the hotel pays its fee and so has a key. So when we wanted to go in, a bellhop was sent with us to unlock the gate.

Inside a gravel path bisects the park north to south with a statue in the center. There is also a series of east-west paths, and a perimeter promenade. The whole park is about two acres in extent.

Gramercy is the Dutch name for the area and means a crooked stream or swamp, which was filled in in the 1830's for the park and neighborhood.

At first it appears like any old city park, with benches lining the paths, flower beds and stately sycamore, maple and oak trees. But it doesn't quite have the same feel and it took while to identify the difference. A privet has been planted up against the iron fence which shields you, at least somewhat, from eyes on the street. When you walk the paths of the park, or relax on its benches you are among the privileged class in this gilded cage.

At one end of the park is the caretakers shed -- really a small house. There is also some modern sculpture and at the junction of two paths a fountain babbles away. It was once described as "a Victorian gentleman who has refused to die", and sitting by himself is a nonagenarian who thinks he can remember that queen. So why is this park different then others?

It is better cared for, I see no litter. Over by the caretakers hut one of the key-holders is introducing her granddaughter to the caretaker. The caretaker, who is only a third of the age of the park, moves around quietly tending the flower beds, preparing them for winter. It is that which clues me into the difference.

This is a quiet park. People do not incidentally pass through it. You enter it purposefully. There are children who run around and make small happy sounds, but there are no vendors, street musicians or beggar. There are small birds, but no pigeons.

It had rained in the morning, but now we sit in the afternoon autumn sunshine until we call our gatekeeper and ask to be let out.

Saturday, Oct 27
I had another long run in the morning, exploring a new route. I went up the Hudson Greenway to 96th Street where I entered Riverside Park and continued winding my way north to West 120th Street. I then ran east on 120th, past Columbia and Kristina's building to Morningside Park. Morningside is a park which encases a cliff face, something too steep for anyone to build on. Then south to 110th Street which is also called Cathedral Parkway. Another block on the street and I was into Central Park.

I twisted around a few hills and paths until I found the Bridle Trail. I love running on this path. It is as wide as a lane and made of dirt. Bikers never use it, walkers rarely, and even runners are few. It runs most of the length of Central Park on the west side. With a series of bridges and tunnels it avoids the main park road all the way to Columbus Circle in the southwest corner of the park.

From Columbus Circle it is just a few blocks back to the Hudson River Park. As I was running into Chelsea I pass the Midtown Heliport and a black helicopter with the word TRUMP in gold had just landed. Donald himself was being escorted to a stretch limo by a swarm of aides. His hair really does look the way it is drawn in Doonesbury.

I like this run, about eleven miles, ten of it in parks.