Micro-Stories
I was walking out of Jefferson Market Library and was waiting for a light before crossing the street. A woman who was also waiting for the light, turned and said to me, "I just have to show someone. Look at this!"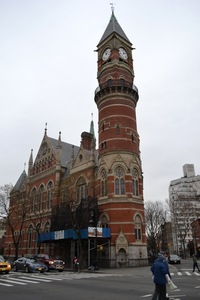 Jefferson Market Library.
An old courthouse where
I do a lot of my writing.

She was in her late seventies with grey hair with a few streaks of brown. Her face showed some weathering as very fine wrinkles, but these were overwhelmed by laugh lines. She was very alive which took me a back, and it was a few seconds before I realized that yes, I did want to see what ever it was she wanted me to see.

She had three medium size manila envelopes clutched in her hands, each of them almost completely plastered over with stamps. "We use to collect stamps in my family", she explained. "But nobody does any more. So I have decided to use them."

The packages probably had a dollar or more worth of postage on them, but no stamp greater then 4 cents. Many of them were forty or fifty years old. There were buffalo stamps and 4-cent girl scout stamps (or were they campfire girls?). There were a large number with scenes from the southwest and with American Indian patterns. A row of penny stamps, a column of 2-cent stamps. The address barely peaking through the colorful quilt of rectangles.

"You have reminded me that I need to mail my Christmas Cards", I said to her.

"Oh, these aren't cards." She looked a bit sheepish, undecided as if she should tell me her story. But then she did.

"These are to Social Security", she told me. "They just cut our paycheck in half because they think my husband is dead."

I did not know how to respond. She must have seen the confusion in my eyes because she continued on quickly. "He's not. It is just that when we were in Colorado in July he had an incident and was in rehab for a while and when he got out Social Security thought he was dead."

"The head of the rehab place told me that when he was released they wrote DOD - Date of Discharge, but to many people that means Date of Death. I don't buy it. I think somebody was filling in a form and just checked the wrong box. Otherwise every time that place wrote DOD and released somebody, somebody would be dead, and they aren't. People would notice."

I told her I was now very glad that she had stopped me to show me her package and tell me her story. I really was glad.

<!==============================================>
---
Manhattan Journal
It has been a busy month, sandwiched between Thanksgiving and Christmas, with Will's Birthday bundled into the middle. I have also been knuckling down and pushing to finish my book; the delivery date is Feb 1. Still, I have been remiss for not having written.
Thursday, Nov 29 We met Billy and Kathleen, Kristina's sister and brother-in-law at a dinner club to listen to jazz. However the whole rendezvous nearly fell apart because the zipper on Kathleen's coat pocket broke, and she couldn't get to her cell phone. "... for want of a zipper tooth the kingdom was lost ..."
Saturday, Dec 1 We took the subway out to Bay Ridge, a distant corner of Brooklyn, to visit Kristina's Aunt and family. There was quite the convergence, with Uncle Roger, Aunt Helen, Cousins Roger, Jimmy, Clair, Joe and baby Charlie. While we were there cousin Luke dropped in unexpectedly. Most of the conversation focused on Hurricane Sandy, while most of the attention was focused on the baby.
In the evening the Central Park Track Club had a banquet at the New York Athletic Club. This was a formal tie-and-jacket event. It is funny to see people whom I have been running with for the last two months and hardly recognize them. I normally see them in dim evening light dress in running gear. Here were bright lights, ties, jackets, dresses and heels. I told Guillaume and Ani that it was fun to eat in a crowded of skinny people all having second desserts.
The guess speaker was Bill Rogers, who had won a number of big marathons in the late 1970's and early 1980's. I got to talk with him a bit afterwards about what it is like to be a runner over the age of fifty.
Sunday, Dec 2 There is a five mile race in Central Park this morning. It is also the last race in the New York Road Runner's Club Championship Series. At this point my club is leading in the men's over 50 category, but we have had a number of injuries and people out of town, so I have been asked to be there. I am still very sore from slipping on snow in Montana, but I'll race.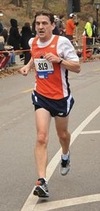 5-mile Race

I arrived at Central Park to see over 4,000 runners getting ready. The New York Road Runners are very good at organizing this sort of event. I registered on-line and picked up my bib-number on Friday. Your bib, that piece of paper with your number on it, has a corner which detaches and becomes your bag claim-check. You attach it to a bag, with jackets, etc inside, and leave it in a pile where it is watched during the race. Later, to retrieve your bag you show your bib-number.

The start is broken up into "corrals" based upon your best time which you reported on your entrance form. My time put me in the top corral, among the first 500 starters. I am not too pleased with my performance. I am still feeling stiff. But since I am trying to be honest, here are the stats.

Tim Smith - Central Park Track Club
placed:233 (out of 4,336)
males 50-55: placed: 13 (out of 141)
Time: 32:22


The good thing, as we learned a week later, is that I scored the last point for the CPTC master team for us to lock up the New York Road Runners - Club title for 2012. The NYRR is the organization which puts together the New York Marathon and a lot of other races.

Monday, Dec 3rd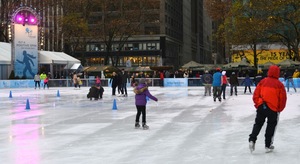 Skating at Citi Pond, in Bryant Park,
next to the Main Public Library

I took my skates to the "Citi Pond", ice skating rink in Bryant Park, next to the library. This rink is here for a hundred days a year. In the summer this is Bryant Park's great lawn. I bought a lock for the lockers, but otherwise it is free. The rink is sponsored by CitiBank. It is also surrounded by a village of temporary buildings full of shops for the holidays.

I talked with one of the guys who works there. He recommends skating before 3:00 when the schools let out.

Tuesday, Dec 4th I haven't been to a new library in a while, so ventured south to the World Trade Center area. I walked past the construction site and then crossed over to Battery Park City. Battery Park City is a neighborhood which was built on filled land in the 1970's and '80s. The neighborhood is an upscale bedroom community for the lower Manhattan financial district. So this is a very new library. There is a children's program going on downstairs, but upstairs is quiet and I find a seat with a view of the Hudson River.

At lunch time I walked over to the "North Cove Marina". This basin is surrounded by a plaza and the "World Financial Center". So most people are in business suits. The temperature is in the 60's and it is sunny!

In the afternoon I went into "Poet's House". Kristina and I had visited here before during the NYOpenhouse Fest. It has big windows looking out over parkland and the Hudson River. A private group runs this poetry library, but it is open to the public. In fact the view is so pleasant that it is hard to write.

Friday, December 7th, 2012 Kristina's folks arrived this afternoon and will spend the night with us. Kris and Charlie live about an hour away by train. Charlie was coming in for a reunion, and we convinced them to let us entertain them. Kris and Kristina went off to the Frick, an art museum in the upper east side, next to Central Park. Later we all converged at Columbia for the Applied Physics Department's holiday party.

We then walked over to St. John the Divine, the Episcopalian Cathedral for New York City. It is massive, and after a hundred years, still unfinished. When you walk in there is no confusing this with St. Patrick's. Catholics and Episcopalian's have a completely different idea of how to decorate. St. Patrick's looks cluttered compared to St. John's.

Saturday, December 8th, 2012
Kristina & Charlie on the High Line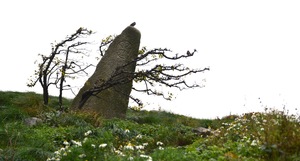 Irish Hunger Memorial

In the morning the four of us wandered down the Highline to Greenwich Village. Kris (from Queens) and Charlie (from Brooklyn) both had stories, independent of each other, about Greenwich village from their high school days.

We eventually visited Battery Park, and Battery Park City. Battery Park City is not a park, but it does contain Nelson Rockefeller Park, South Cove Park and an Esplanade which runs the length of the water front, about a mile long.

One of the most interesting features of this chain of parks is the "Irish Hunger Memorial". The Memorial looks like a hill out of Ireland, covered with heather and stone walls, as well as an abandoned peasant's cottage. If it was from Scotland, I would have called it a croft. To climb the hill first you go through a tunnel under it, and then turn to climb. And even though you are standing next to the world financial center, your eyes are drawn up the hill, which successfully blocks everything but the sky.

The day is cool, brisk, and so we ended our walk at "Josephine's" for Fika before Charlie and Kris head home.

Sunday, December 9th This is our week of visitors. Jane Wang, a friend from graduate school days, stopped to see us. We took her to Cornelia Street Cafe, near Washington Square, in the evening of Jazz. Tonight was the Seung-Hee Quintet. Seung-Hee is the vocalist and she sang her own compositions. I liked the pieces which were in Korean or primarily tonal best, a fascinating voice.

Tuesday, December 11th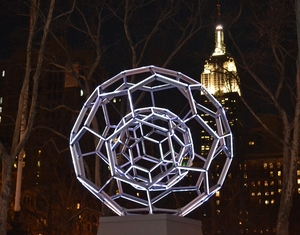 Light Sculpture at Madison Square.

I am still suffering from a sore hamstring, but I can not resist going to practice tonight. It is at the "Armory", an indoor track which I remember hearing about when I was in college. I have not run on an indoor track since I was in college in 1982, but the moment I walked in, all the smells flooded back to me. The rubbery surface of the track, the smell of sweat, and the dry air - because it is winter when you run indoors.

There are perhaps half a dozen high school teams there, some college runners, and then us older types. Actually CPTC is there in large numbers, second only to the high school squads. It was also a chance to see a different side of the club. I train with the road runners, but there is also a track squad, throwers and jumpers.

The track is banked, 200 meters long and tonight is 8 x 600 meters. We divided into five groups with four to six in each group. Normally I am in group D, second slowest, but today in E. And around we go.

It is a long subway ride home from 168th street, but the car is dominated by my teammates and the ride is fun.

Friday, December 14 Yesterday was Will's birthday, but we are celebrating today. I took the train to White Plains, got the car and drove up to Bard College to see him. Will's term is winding down and when we meet he takes me for a walk in the woods just north of campus. We watch the sun set across the Hudson River, behind the peaks of the Catskills.

At about 6:00 a gang of Will's friends started to converge and we head into Red Hook, one of the nearest towns for dinner and a movie. First dinner at the Red Hook Curry House. The Curry House is not the fastest place in the world, so when we are waiting for the check we send half our mob to the theater to get seats. The exodus also seems to claim the attention of the waiter staff.

Tonight is the opening of "The Hobbit". It was a good movie. I will always complain that things are portrayed larger then need be in these movies. Elrond's house is grander then I imagined and the goblin army is vaster -- but still, it was good and fun. I especially enjoyed the unexpected party scene at the beginning.

Saturday, Dec 15 Early in the morning I went for a long run through farm country, between Red Hook and Bard. By the way, there is a region of Brooklyn which was badly flooded by Hurricane Sandy. This is a different place with the same Dutch name. Then brunch with Will and I head back to Chelsea.

Sunday, Dec 16 From 11:00 to 1:00 on Sundays the Frick Museum is free. When I arrived there was a long line and a cold drizzle outside and only half an hour until 1:00. But five minutes later they must have decided that there was room for more, and let about 100 of us in at once. Once in, you can spend the rest of the afternoon there.

The reason I am here is that Kristina and her mother came last weekend and Kristina tells me I must see the special van Gogh. "Portrait of a Peasant" (Patience Escalier) is on loan from Pasadena. It occupies the middle of the north oval gallery, and it arrest everyone. In a museum of great, but classical pieces, this one grabs you by the eyeballs and wouldn't let go! It reminds me of some of van Gogh's self portraits, especially the straw hat. But this peasant has seen weather, hundreds of winter evenings on frozen muddy fields, and hot summer days gathering in the hay.

We came to the Frick a few months ago, so I feel like I know my way around this gallery. So instead of looking at everything, there are two pieces in particular I wanted to revisit. First, I like Constable, and there are several here. But my favorite is "Salisbury Cathedral, from the Bishop's Garden". The sky is black, bellowing and brooding, marking the whole scene as a piece of romantic art. In the foreground are cows and the bishop, oblivious to the weather. And in the middle, the Cathedral itself. It is straight and white and virtuous, and in contrast to the gnarled dark trees near the cows and the raging clouds overhead.

My other favorite is by Johannes Vermeer, "Officer and Laughing Girl". The officer, with his great cavalier's hat is in silhouette in the foreground, but the girl, well lit by a window, is smiling and maybe even laughing. It is not a shy laugh, she surely is delighted and enjoying what ever story the officer has just told her. She is, as far as I can tell, the only person in the whole collection (over the age of eight), who is enjoying herself!

One final stop in the east gallery is Francesco Guardi's "View of the Giudecca and the Zattere", a scene looking across one of the broad canals of Venice. In front of it stood two men talking, both of them with thick New York accents. I felt like I was listening to Columbo talk to Woody Allen. In this case Woody is the taller and thinner of the two, with jeans, grey sweater and white hair. Columbo is short, stocky, okay - rotund, wrapped in a dark blue windbreaker and Brooklyn accent.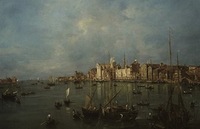 View of the Giudecca
and the Zattere

Columbo: The horizon, it isn't really straight, it kinda' curves a bit funny
Woody: Well, maybe it is because we are viewing it from high up.
C: How do you mean?
W: I means, maybe it is the curvature of the Earth.
C: Yah, but you can't really see that.
W: From high up.
C: So, like -- you would see the disk?
W: The sphere, the ball of the Earth -- like a tennis ball.
C: Your kidding me!


I loved this conversation about the curvature of the Earth and perspective and when I crossed paths later in another gallery, I was disappointed in how ordinary their conversation had become.

Monday, Dec 17, 2012 I was walking out of Jefferson Market Library and was waiting for a light before crossing the street. A woman who was also waiting for the light, turned and said to me, "I just have to show someone. Look at this!". ... But I expect you have heard this story before.

Tuesday, Dec 18 After track practice indoors at the Armory I put on my outer layers and was walking with teammates to the subway station when one of them asked me where my coat was. It was about 40 degrees out. I told him that this was all I wore and was plenty warm, but he was still concerned. So I told him I had just moved from northern New Hampshire. "Oh that is okay then", he replied, with some relief. "I thought maybe you were from Scandinavia or something."

Friday, Dec 21, 2012 - Winter Solstice Robin finished his term on Wednesday, today Will and Linnea finished their term and arrived in the evening. Linnea flies out in the morning.

Sunday, Dec 23, 2012

Bryant Park, Citi Pond & Library

In the late afternoon Kristina, Will and I went up to St. John the Divine to hear Evensong. It is two days before Christmas, and I expected to see more people here. Originally Kristina was inclined to sit towards the back of the Cathedral, but the place is so large that that would be sixty or seventy meters from the choir. So we moved up, and then the Deacon caught us -- as well as everyone else who was there for Evensong, and convinced us to sit up above the transept, in the choirstalls opposite the choir. These are the very fancy wooden seats with embroidered cushions where I expected only the bishops and deacons to sit. They are very comfortable. Also we were then facing the choir and so could see and hear well.

When we left the organ was still playing. But as we approached the door he finished and the cathedral still reverberated for awhile. I told Will that actually the organist had finished fifteen minutes ago and was home having supper -- but the cathedral had unusual acoustics.

Monday, Dec 24, 2012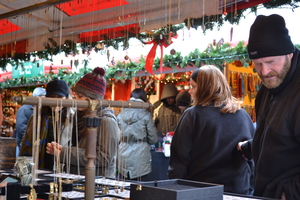 A number of open air market are set
up throughout the city.
This is at Columbus Circle.

I had a little bit of last minute Christmas shopping, most of it completed at the Gingerbread Man booth at Union Square. Back at the apartment Will, Kristina and I packed up to head to Kristina's folks home in Connecticut. It seems like a third of the stuff we are carrying is food, and so I tell Will, "It is true, there is no food anywhere in Connecticut. We are preparing to feed the masses."

We took a taxi to Grand Central Station, because of all the supplies we are toting, and then the Metro-North train. Kristina and I have said that we felt a little bit like characters out of a Spencer Tracy/Katherine Hepburn or perhaps Nick and Nora Charles (Thin Man) movie, as we ride the train out of the metropolis for a weekend in the Connecticut countryside. There was even a ride waiting for us at the station in Fairfield. Charlie, Kristina's father, fetched us back to the house.

In the evening Robin arrived. He has been in Hanover visiting friends for the last few days.

Tuesday, Dec 25, 2012 - Christmas Day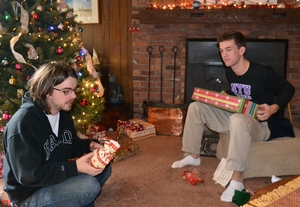 Christmas Morning

This household does not leap out of bed on Christmas morning, which means I had a quiet hour with my coffee. Eventually the rest of the household joined me. I expect that it was a lot like your Christmas morning, so I will not dwell long on it, except to say it was pleasant.

In the afternoon we went to New Canaan, where Kristina's brother's family is, and where we delivered most of the produce which had been available in the markets of Manhattan over the weekend. The chairs were groaning underneath us by the time we finished feasting. Young Charlie hustled us out of the house before floor joist gave out. Will and Robin are bound for Hanover to see friends, and Kristina and I were delivered to the station. What a glamourous life we lead, riding the train back into that city of bright lights (and a 500 square foot apartment)!