The week between Christmas and New Years is a bit odd, a bit of limbo. I should be working on finishing up my book, but it is also the holiday season. After Christmas the boys headed north to Hanover to see friends. Kristina and I returned to Manhattan, and .... <!==============================================>
---
Manhattan Journal
Wednesday, Dec 26, 2012
I was writing in the morning so Kristina wandered south towards TriBeCa. That seems to me to be a good excuse to talk about the names of some of the neighborhoods of this city. "TriBeCa" means, "Triangle Below Canal street". In truth, it is a more of a trapezoid, but I am interested in the names. There are a few other neighborhoods with similar names; SoHo, NoHo, NoLIta, and one from Brooklyn called DUMBO. See if you can decipher them.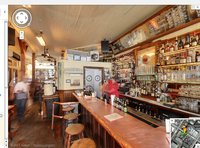 Lucky Strike restaurant
on a sunny day.
(GoogleEarth)

In the afternoon I followed the bread crumbs (and text messages) Kristina had left and walked south through Greenwich Village, across Houston (pronounced HOW-sten) and into SoHo, where I finally crossed paths with Kristina. It is a cold day and so we ducked into "The Lucky Strike", a restaurant, for a cup of coffee.

The Lucky Strike is an old building, hunkered down with years of wear on Grand Street. Despite its name, Grand Street is not. Likewise, I half expected a bar and restaurant named after a cigarette to be a smoky dive. It too is not. It was a warm and friendly place, quiet in the mid-afternoon; the hour between late lunch and early dinner.

We soon found ourselves perched in the front window and could not think of any good reason for walking on. So when our cups ran dry we ordered lunch. I fished a book out of my pocket, Kristina curled up with the newspaper and the sun slipped towards the west.

I enjoyed that afternoon, which means I will never again be able to retrace our steps to that particular spot.

[If you have yet to figure out the names: SoHo = South of Houston, NoHo = North of Houston, NoLIta = North of Little Italy (sometime NOLIta), DUMBO = Down Under the Manhattan Bridge Overpass.]

Thursday, Dec 27
In the evening Kristina and I were sitting in our apartment in Chelsea trying to decide if it was a holiday or work day. We did do some work during the day -- but perhaps evenings belong to the holiday season? The holiday spirit won out over the work ethic and we headed south, taking the subway to the West 4th Street Station.

There are all sorts of things you can say about this neighborhood. First, West 4th Street itself is oddly laid out. It is in the area where the old colonial streets of lower Manhattan collide with the grid system of streets and avenues of most of the island. So 4th street starts as a grid street, headed from the East River straight across the island towards the Hudson. It runs parallel with all the other streets, until it hits 6th Avenue by this subway stop. Here it starts to curve north into Greenwich Village. Since this area of Greenwich Village dates back before the English colony, back to the Dutch (when it was called, "Greenwijck"), the curved roads should not be a surprise. But when 4th cross 5th, 6th, and so on up to 13th street it appears as if all order has collapsed (I read someplace that it crossed itself, but that is not really true).

This is also the "Hub of Hipsters", only a block from New York University, where students go to do what students do when they escape campus. I have told people that I think a quarter of the NYU graduates move here right out of school, and then move two more blocks into the village every time they move up a tax bracket. The lights are bright in the middle of the night and the sidewalks are full and noisy -- but only two blocks away the night is different.

We have been to the "Cornelia Street Cafe" before, down in the basement, to hear Jazz, but we are trying a new spot tonight. I think "Caffe Vivaldi" must share a common back wall with the Cornelia Street Cafe, but here we are at street level. The Caffe is warm on this cold night, with a gas hearth at one end, and a musicians at the other end, and 30 to 40 warm bodies packed tight between to listen. The Vivaldi's format is to have a group play for an hour, pass the bucket for the band twice, and then move on to the next group. Often they will have three groups play in one evening.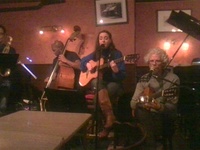 Kay Lyra and band
at Caffe Vivaldi.
(cell phone)

The first group was the "Fred Gilde Ensemble"; saxophone, trumpet, piano, bass and drums. They had a classic jazz sound, very upbeat and good. But the most fun was watching the changing of the bands. One group disassembling drums, coiling up cables, and the next group trying to simultaneously do the reverse. Only the piano stayed put.

The next group was led by their singer and guitar player, Kay Lyra. She was from Brazil and sang all of her songs in Portuguese. When she started with "The Girl from Ipanema", it all seemed so familiar that the language didn't matter. After singing she would start to introduce the next song in Portuguese, but then stop and start again in English. At one time she told us, "I can't believe you would come out on a night like this (referring to the cold). In San Paulo people would just stay home." I thought to myself that if New Yorkers did the same they would have to hold up for two or three months a year.

Friday, Dec 28
I finished typing the final draft of my book. There is still a month of proof reading and drawing figures, but when I typed, "We can look at stars and cells and atoms and galaxies and, even if our understanding is incomplete, we can comprehend them all. We can take in all the scales of nature and marvel at the world.", that seemed like an important milestone.

In the evening Kristina and I met at MoMA - the "Museum of Modern Art". It is open free on Friday evenings. The line to get in wrapped around the block, but it is a big museum and the queue moved quickly. I expect that there are so many people here this evening because it is the holidays. We will have to come back in February and see again.

There is something special about seeing a painting which you have always heard about, and there is something about watching the way people respond to that painting.

As we came into one of the main galleries there was Georges-Pierre Seurat to the left (pointillist) and Paul Cezanne to the right. Both of which are peaceful, restful. But in the middle of the gallery, with its back to the door was something which was causing a stir, one of the celebrities of the museum.

The crowds around van Gogh's "Starry Night".

I was amazed by the crowd and the energy which engulfed "Starry Night", by Vincent van Gogh in one gallery and "The Scream", by Edward Munch in the next gallery. These are the rock-stars of modern art. I was also surprised by the number of cameras and smart phones clicking away. Surely an on-line photo will be of better quality than what you can click with a camera held over head. I tried to photograph the crowd.

There was a Jackson Pollock, I think the original of the reproduction hanging in the Westhampton Beach cottage. And then a whole room of Claude Monet, including a water lilies with autumn colors; yellow, orange and russet. Henri Matisse and Pablo Picasso, but we ran out of time and never found the Salvador Dali. We will have to return.

To celebrate the completion of my book we went to the "Cafe Loup", on West 13th Street, just in the north edge of Greenwich Village. It was easy to believe that every table had a secret author or the angel who was bankrolling an off-broadway play. The waiter was entertaining and introduced Kristina to a new wine. He told us, "When they first introduced this wine they told us it was `Earthy', but I thought `dirt'." I guess it grows on you.

Saturday, Dec 29
In the afternoon I take Will's novel, his senior writing project, to what we call the "Cafe on 7th". That is easier for Kristina and I to text to each other then "Cafe Champignon". I also expect that the spell checker on our cells might reject the French spelling. With a scone and coffee I read the first two chapters of the novel. Will is a good writer! But there are complex elements of mixed timelines, and I think to myself that it is like cajun cooking with lots of spices and pepper. You will either see this as making the whole opus great, or you will be overwhelmed and turned off.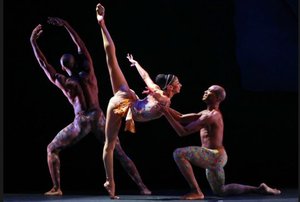 Alvin Ailey -
American Dance Theater Company.
(from Alvin Ailey's website)

In the evening we dress up and went to the "New York City Center Theater" to see the "Alvin Ailey - American Dance Theater Company". The tickets were my Christmas gift to Kristina. The first piece was called "Adren Court", we expect named after the Arden Forest in Shakespeare's "As You Like It". It has that dream-like quality. It makes me think of classic ballet -- but on steroids. The Alvin Ailey Company is very athletic in every move they make.

The second piece was called "Episodes". It is more edgy, more of what I had expected. Often the stage is lit in stripes, which act as sidewalks where all the action of street life takes place. The last piece was "Revelations", originally choreographed by Alvin Ailey himself. It is a very strong narrative about the black experience, very much in the spirit of Porgy and Bess. Energy and grace under the searing hot Sun of a Georgia Summer.

Sunday, Dec 30
One of Kristina's students from ten years ago has invited us to a party at her folk's apartment. They live on the upper west side, overlooking Central Park. When we walk in we expect to only know Laura, the former student. But much to my surprise we also meet John Kenney and his wife. Both of them are members of the Central Park Track Club. So maybe this town is smaller then I first thought.

Monday, Dec 31, 2012 - New Year's Eve
In the late afternoon I went up to Columbia and met Kristina and we walked over to St. John the Divine for the "Peace Concert". You can pay for reserved seating, up in the front. But two-thirds of us took the free seats in the back of the cathedral. I am glad we were early, even if it meant waiting in line for forty minutes in the cold, because the Cathedral is packed! Kristina fetched coffee and pastries filled with cherries and sweet cream cheese while we waited. I am guessing that there are something like 2,000 of us. It is such a contrast to the Evensong a week ago.

Most of the concert was classic choral pieces; Mozart, Bruckner, Oldham, Mendelssohn, Beethoven, with a orchestra accompanying the cathedral's choir. But St. John the Divine also has an "Artist in Residence", and for the past few years that has been Judy Collins. From where we sat she was a small woman who climbed up the podium, her white hair barely visible at that distance. But I am not certain if she needed the microphone! She can still fill that tremendous space like nobody else who had stood on that podium. First she sang a piece she had just written, inspired by a collection of drawings by children; the recent Sandy Hook shooting was mentioned several times in this Peace Concert. Then she led the whole audience/congregation in singing "Amazing Grace". I think that is one of the most universally known songs -- and one that a large/huge - group can sing at the drop of a hat.

In the evening we wandered over to Seventh Avenue to a restaurant/bar for dessert and to watch people as the New Year arrived. I often think we are the only couple in Chelsea over the age of thirty. The group at the next table, five guys and a dozen women were "dressed to the nines", and ready to get out there, party and dance the night away. They soon left, undoubtedly headed for some place with a bit more life. We had second desserts.

At about 11:40 we too took to the streets. Time Square is also on 7th Avenue, but at 42nd Street, and we were at about 17th Street, so a little over a mile away to the north of us. Also the famed "ball" is not visible from the south. Still, we started walking north. We had reached the plaza in front of Penn Station/Madison Square Garden (about 32th Street) at the stroke of midnight and decided this was as close to the mayhem as we needed to get. We could see fireworks from the square and the Empire State building (a block east) put on a light show!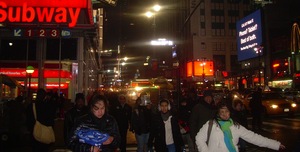 At Penn Station Plaza.
Waves leaving Time Square.

There was a general sea of jubilation. Old white bankers and young black street vendors giving each other high-fives. Random people giving police men and women hugs. At that moment all of New York was feeling pretty happy about life and feeling friendly towards their neighbor.

It is half a mile from here to Time Square and in ten minutes waves and waves of people started flowing down the avenue past us. Since there is space in the Penn Station Plaza we stood for awhile and let the flood flow around us. But eventually we chose to let the current carry us, sweeping us south back to Chelsea.

Tuesday - January 1, 2013 - New Years Day
I ran across the island to the East River and up the "Greenway Bike Path". From 38th Street to the 59th Street Bridge there is no path and I had to run up 1st Avenue. This is the area around the UN and the only section of Manhattan which is not encircled by the Greenway. I then continued north on the Greenway to 71st Street. I finished by running to Central Park and taking the subway home.

The reason I mentioned this is because it means I succeeded in one of my goals for this sabbatical. I have now run all the way around the island of Manhattan.

Saturday, Jan 5, 2013
It is a sunny day and there is a park on the upper east side that I ran through in the fall, which I have wanted to return to. So Kristina and I took the subway north-east, and then walked out to Carl Schurz Park. This park is built above the FDR expressway, but if you didn't know it, you might not realize that six lanes of traffic are roaring along below your feet.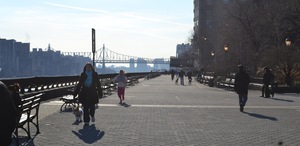 The Promenade at Carl Schurz Park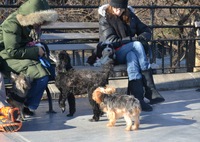 The "Dog Bark"

The park overlooks the East River, with a long promenade which is also part of the greenway. You feel like you are high on a bluff above the water, however from the river's point of view you are walking on the roof of the highway. In fact the expressway is open to the river, so when you stand at the rail you can hear the traffic, but mainly as a distant mechanical growl.

We parked ourselves on a bench on the promenade and read newspapers and books and soaked in the sunshine. I sometimes think that in the winter we should move weekends to track the sunny days. Of course there is the fear that there might not be two sunny days each week -- but when the sun does shine --.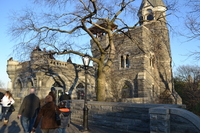 Belvedere Castle.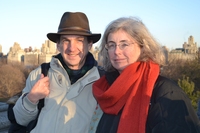 Roving Explorers
of this island.

When walking we paused by the "Dog Bark", a fenced area for small dog to play and cavort, chasing balls and each other, while their dog-parents watch with admiration. There is a curious dog-culture in this city which probably needs its own essay.

We wandered west, found coffee and eventually crossed into Central Park, walking past Cleopatra's needle, the Great Lawn and eventually climbing up to Belvedere Castle.

There are things which are hard to explain in Central Park -- like why in the world is one of Cleopatra's needles here? I think the real answer is that Paris and London have one. The needle is nearly 3,500 years old which means it was old when Cleopatra moved it to Alexandria . It is a reddish granite, covered with hieroglyphs. Some day I'll have to take the time to read everything inscribed upon it.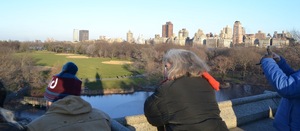 Viewing the Great Lawn.

The Great Lawn makes sense to me, especially as it is now laid out as baseball fields. In the summer there is a continues stream of teams and games using it.

And then there is Belvedere Castle. This is truly a Victorian folly which makes no sense as a castle, but it does afford a really nice view of the park and the city. It is situated in the center of Central Park, on a rocky knoll. On a sunny day -- even this first weekend of January, it is a magnet for wedding parties. We climbed the spiral staircase up a tower. From here we could look down to the courtyard below and watch a wedding party, tuxedos, satin, a cloud of bridesmaids, photographers, aunts in gaudy colors and uncles smoking massive cigars.

In the evening we took Will to the Caffe Vivaldi to hear the "Katie Smith Band". A singer from New Jersey. It was fun to be out and about with Will.

Monday, Jan 7, 2013
I was working in the 42nd Street Library (the main one, with the lions out front) and had taken a break from writing. There is a little cafe in Astor Hall, the entrance hall, under one of the grand marble staircases. Here I often get coffee and eat the sandwich I brought from home. It is a small place with maybe eight or nine tables and two dozen chairs. Often, especially midday, there are more patrons then tables, but more seats then patrons. I was at a table when a woman was caught seatless. She was standing near me with coffee and croissant in hand, scanning the place for any open space.

I have been caught in that situation myself fairly often, and so called to her to share my table. She accepted and introduced her self as Posey Gruener, "my family dropped the umlaut ages ago". She told me that she was a radio producer, but what she did now was interview architects. I found her project intriguing, and she found my book also fascinating. So instead of finishing our coffee and getting back to work we ended up interviewing each other for half an hour.

She told me that there is an app put out by the American Institute of Architects which you can have on your smartphone, and when you walk by an interesting building it will tell you. Not only will it buzz in your pocket, but you can listen to some famous architect, or architectural historian talk about that building. Her present project was to supply content to that app. She said she would interview someone for an hour, and try to reduce what they said to three minutes -- sometime a near impossible task.

I asked her how much preparation she had to do to get ready for the interviews. She told me that she didn't like to be overly prepared, since she thought that if she too was surprised that was good. But also she had to know enough about the building to know if something was not being touched upon.

I think I'll try to share my table more often.

Harbor and Staten Island Ferry.

I left the library a bit earlier then usual, and so texted Will, who is staying at our apartment. I invited him to join me at the South Ferry Terminal, next to battery park at the south tip of Manhattan. We then rode the Staten Island Ferry to Staten Island and back. It is a free ride -- I think part of the way that New York City tries to tie Staten Island into the metro.

The sun sets as we head to Staten island. On our return the harbor is inky black, but there is a constant flow of boat and ship traffic. Green and red, starboard and port lights coming and going. We think if New York City as a finance capital, or art and entertainment hub and forget that it was first a port before anything else.

Jan 11
I met Kristina at the "Center Bar", in the Time Warner building next to Columbus Circle. It was all very posh, but we were dressed for the place since we were headed to the opera.

Okay - the truth is we were going to an operetta, and when it comes right down to it, Gilbert and Sullivan is actually pretty goofy. The New York Gilbert and Sullivan Players were putting on the "HMS Pinafore". The writer of the program notes tried to convey the idea that it was still and important piece of social commentary, even a hundred years later. Maybe. But I think the reason we go to see these productions was best summed up by the director, who said, "it's just silly."

I like the reframe of one of the songs. The Captain and Sir Joseph ("polished the handle of the big front door . . . now I am the Ruler of the Queen's Navee!") have been trying to convince the daughter, Josephine, that "love can level ranks", meaning that she can marry the First Lord of the Sea. She is embolden by these words because she would really like to marry a "tar", one of the common sailors. And if "love can levels ranks . . ."

So they toast the future and sing;

Captain: For a humble captain's daughter--
Josephine: For a gallant captain's daughter--
Sir Joseph: And a lord who rules the water--

And so I am thinking about the phrase "gallant captain's daughter", and wondering if "gallant" is attached to "captain" or "daughter"? She is on the verge of defying them a marrying her true love - the common "tar". Of course this is why Gilbert's lyrics are clever and the real question is why am I analyzing this?

The answer is that I have been working too hard editing and proofing my manuscript. I need to get away from it. Soon -- we are taking a family vacation next week.

Saturday, Jan 12
In the evening the Central Park Track Club had their annual awards banquet. This year it was at "Battery Park Garden", a restaurant in Battery Park, overlooking the harbor. I am told that normally it would be beyond our budget. But with so much damage in that area due to Hurricane Sandy, the restaurant was desperately looking for clients.

I think I know a bunch of people in the club, and Kristina would like to meet some of them so we both go. When we walk in the door I realize what a small fraction I really do know. There are four squads in the club, and I have been training with only the road racers. There is also a track squad, a throwing squad and jumpers. So I have met about thirty members before at the Tuesday and Thursday practices. I forgot that there are in fact four hundred members. Eventually we found some of the group I knew and ate at a table with Chris and Ani.

After dinner there were speeches and awards and recognition of achievements. The club had four olympians this year, including one guy who ran the fastest 100 meters in South America in 2012. Then the dance floor opened.

Most of the club is between the ages of 22 and 32 and the dance floor was very loud. So Kristina and I escaped downstairs were we found a gathering of older members, the 50+ squad. I marvel at some of these people, in particular two women in there late 70's who are still competing in half marathons. One of them had been recognized at the dinner for a lifetime in the club. She told us that when she had arrived from France in about 1980, she had felt intimidated by New York. But the club had welcomed her with open arms. "And now", she proclaimed with a thick Parisian accent, "I feel like a real American!"

Sunday, January 13
Will is back from his math conference in California. Also Robin is only a mile away at New York University. So the four of us had dinner together in our apartment. It felt very family like.

Jan 16 - 22
The four of us flew to Florida, to spend a week in the Keys. Since that really is not part of our Manhattan adventure, I'll leave it to you to ask us in person what we did there.