Contemporaneous
Neighborhood Classics at PS 142
Feb 11, 2013

It is clear to anyone who knows me that I have no qualifications as a music critic, so I will only call this a commentary or a report on an event.

Shortly before the Contemporaneous concert I received a text from Will bring this event to attention. Two easy subway rides and I was actually there early, where Dylan greeted me warmly. It also gave me time to settle in my seat and read the program notes which starts out;
Contemporaneous, a New York-based ensemble of 20+ musicians, performs the most exciting music of this generation, music that describes our world and captures the spirit of the present moment.
Okay - I can buy that. But what worries me is not the ensemble, but the audience. Contemporaneous is trying out new stuff, it is not even stuck in the ultra minimalist of two decades ago. But the audience? We clap politely when we are quite sure that a piece is over. There were a lot of gray hipsters in tweed in that auditorium. Which got me to thinking about the Contemporaneous's generation.
Their's is a generation for which I have great hopes and aspiration. Their's is a generation which does things well when they work together. In fact that meshing is the hallmark of their generation. So here is my suggestion. (But since it comes from my generation -- maybe it should be ignored.)
At the beginning of the performance, when a voice usually comes on over the public address system saying, Please turn off all electronic devices. No recording of the performance is allowed. Instead, Please mute the ring tones on your cells and smartphones. However we encourage you to share this concert in real time with friends everywhere. Post your tweets, write your blogs, send your emails -- as long as the subject of the missive is this event. Share the music, share what you observe about the audience. But please do it in a way such that your neighbor can also enjoy it.
The bit about blog was for older people like me who enjoy a longer format.
I had not prepared myself to post my response in real time. But I did carry a scrap of paper and a pencil in my pocket upon which I scribbled feverishly. So what follows is my non-real-time tweets/blog -- with lots of post production editing.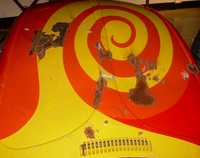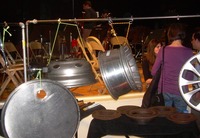 From the Clunker Concerto
They started by beating on the forehead of my first love - a VW bug. For the Clunker Concerto the orchestra is augmented by an array of junk car parts. The hood of a groovy VW bug, heavy steel disk brakes, exhaust pipes, and fenders played with a bow like a cello. But those really are only gilding, accents. Musically, the Contemporaneous Orchestra was still the foundation of the piece.
There were two little boys who were the only ones in the audience brave enough to sit in the front row and they loved it! When the junk got clanking they were on the verge of breaking out in laughter. It is a good thing they were not sitting back two rows with the tweeds, their joy may have been stifled, suffocated, by proper concert etiquette. I am guessing their were in second grade and had met the musicians during the day. Now, however, when the hood was thumping and the brakes were ringing they had to run away! So they proved themselves not only adventurous, but sensible. One of the junk-percussionist was watching them and found there joy contagious. What happens if a musician is so responsive to the audience being wrapped up in the piece that they can not continue?
The composer of the second piece stood and introduced it: MINDJOB. He told us that it is about thinking of funny things at inappropriate times. I sometimes worry that to be avant-garde it is more important to be inappropriate then good. Which now draws me into a bit of a spiral. Avant-garde can take itself very seriously; ask the East Village elite in black turtle neck sweaters and tweed who sat behind me. So can I listen to avant-garde with serious ears, yet have comic flights flirting through my head?
The music itself clowned around. Parts which could only be called 'toons buffooned about the piece. But in the back of the stage the piano sat up straight, a bit of a school matron trying to inject a sliver of classic culture into the piece. Actually this was more important then I first realized because it helped us recognize the other instruments as clowns and pranksters.
The piece turned jazzy, but a much richer then what I have been listening to in the basements and small restaurants of The Village. I guess that is what you can do when you have forty accomplished musicians instead of merely a handful.
Mom, what's happening? a small voice behind me asked.
Half the audience arrived late, and the boys in the front row are starting to wear out.
The composer of the next piece explains to us that Try is about composing a piece. It is about trying out a motif, letting it develop, and then resetting, and trying again. I go back and forth on whether it is a good idea to have program notes or an introduction. Shouldn't it be apparent what the piece is about? And do we see only what is proclaimed in the title?
Try is a lot more shrill then the previous pieces, a lot more undirected energy with the bows in the string section of the orchestra sawing away -- and then silence. Then the piano would come in and restore order. Why is it that the piano is never unruly. Again the strings take off -- chasing leaves and squabbling like kids in a school yard (do kids at PS 142 ever squabble?) The small boys in the front row are bewildered by the silent periods -- as is half the audience. After this pause is their more, or is it now really the end? And then it was.
The last piece was introduced by Dylan. It was entitled increase, and Dylan simply told us that, Well, the name is obvious.
The whole piece is based upon a fairly elementary beat pattern, a simple theme, which grew over a few minutes to something louder and more complex. Two minutes in I was left with the question, where can it go from here? The music then simplified and regrouped, and once again started to increase. This time with a new layer of richness; growing stronger and more complex. In the third cycle their was a level of maturity. It didn't need the piano to impose discipline. It was as full and complete and self-satisfied as the music need be.
So what about this orchestra? First, the musicians are all good. The music is well executed. Or at least their music is better then my ears. But what catches ones attention is what they have chosen to perform. The pieces are experimental and contemporary. But they are not the stark minimalist which I had expected. I had expected an imitation of the Kronos Quartet, but I don't think that is what you do with forty talented musicians. As an orchestra they have the ability to be richer then a quartet and so picked music which reflected that.
So was there a progression across the four pieces? I think so. From crashing clunkers, to goofy mind-games, to trying to put a piece together, and finally the successful increase. Now only if this orchestra can teach us to me a modern crowd of ears, a contemporary audience -- what ever that means.
http://www.contemporaneous.org/
<!==========================>
---
Manhattan Journal
Sunday, January 27, 2013
We went to the Winter Antique Show at the Upper Eastside Armory. Yes there were some amazing antiques there, but by far the most interesting thing to watch was the upper eastside society. The Park Avenue / Upper Eastside contains a world of wealth which seems to, in some sense, be unaware of the fact that we are in the twenty-first century. The great problems of life really are not trying to match Louis XIV furniture. Or did they just adopt that voice for our entertainment?
Tuesday, Jan 29
I was working at Jefferson Market Library, which is only two blocks from New York University, so I met Robin for lunch.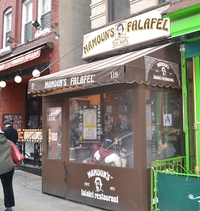 Mamoun's Falafel
- a hole in the wall
- best falafel anywhere

He took me to Mamoun's Falafel. This place has been described as, a hole in the wall, and as the best falafel anywhere! Both descriptions are close to the mark.

The heart of a falafel sandwich is the falafel ball, a ball of ground chickpeas which have been formed into a patty and then deep fried. Here the balls were spicy, hot and crisp -- fresh from the fryer because of the constant demand.

The place is about 8 feet wide and 15 feet deep, half of that space filled with people standing in line. Robin tells me that in better weather the line winds down the street. There are only two tables in the place and we are lucky to snag one. One of the guys in line was telling the counter man and the cook that, I live in Florida three weeks a month now, so I can't be here every day. But I have been working on my recipe, trying to imitate you guys. The cook was happy to hear this and offered pointers and they compared spice suppliers. And every thirty seconds, another satisfied customer headed out with a steaming, spicy, crunchy, falafel in hand.

Thursday, Jan 31
Just after noon I finished packing up my manuscript and sent it off to Oxford University Press. A few key strokes and my editor at Great Clarendon Street in Oxford had some new bits in her email box. It was shortly before she left for the weekend, just enough time for her to acknowledge that she had received it.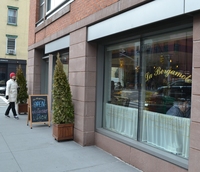 La Bergnmote
- cafe on Ninth Ave.
I needed to celebrate. So I walked down to a bookstore where I bought myself an Inspector Maigret mystery by Georges Simenon. It was a cold and blustery day and so I settled myself into a new cafe, La Bergnmote, about three blocks south of our apartment on Ninth Avenue.
With coffee and an eclair in hand (I was celebrating), I made my way to a window seat. I set down my fika (can I call it by a Swedish name in a French cafe?) and started emptying pockets of books and glasses and unwinding my scarf, hat, gloves and coat. Sometimes a great and complicated process.
There were two women at the table next to me, and I had done my best to not disturb them as I doffed my outerwear. One was all browns and grays and disappeared into her coat. The other, however, caught my attention even before she spoke. She was rail thin and had bleached white hair which had been sculptured with a razor. She wore wool of small black and white checks and radiated an aura of Chelsea artistry.
Oh I just love Simenon's Inspector Maigret, she told me. So I handed her the book to look at. I didn't know that there were any I had not read. I told her that I had just read in the introduction that there were seventy-five novels, and although I am a fan, I know I have not read anywhere near that number.
What I like, especially, is the description of food, she told me. Comfort food. I agreed with her. Although it does so make me want to be in Paris, she continued. This gave me pause. In my view the world of Inspector Maigret is so often filled with rain, fog and dampness rising off of the Seine.
It is like going to a Parisian Cafe in the comfort of your own apartment, I told her.
Ah, but you have done both! she proclaimed. The comfort of Maigret's cafa as well as this one! she smiled and with a sweeping gesture reminded me that I was camped in La Bergnmote.
I turned to my book and opened it to page one;
The chicken was on the stove, a fine red carrot, a big onion and a bunch of parsley, with the stems sticking out, surrounding it.
Friday, Feb 1
We went to the Morgan Museum and Library. We are becoming adept at the free hours of unusual museums. The Morgan Library is a classical Victoria gentlemen's library with gilded balconies and deep rich colors.
Saturday, Feb 2
I walked down through East Greenwich Village towards the Lower Eastside with the intention of rendezvousing with Kristina later. As I was walking through Stuyvesant Square there was a woman with her young daughter yelling at an elderly lady over a hedge.
I've got your number - weirdo! the woman called out.
I'm not crazy, the elderly lady replied.
Yah, you are, the woman called over her shoulder as she walked away.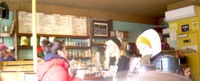 The Triple Shot World Atlas Cafe
- cafe on Clint - lower East side.

Later, after crossing Houston, into the lower east side, I stopped at The Triple Shot World Atlas Cafe. How could I resist a name like that? I took my coffee and scone to a common counter which stretched a cross the main window and sat on a stool reading. Two 20-somethings sat next to me and were discussing their friends, trying to match-make. The weird and the chic -- it is just oil and water.

It made me think that weird is a catch all -- too easily used.

Later, but before I finished my coffee, I was talking with a mother and daughter who had taken over the match-maker's stools. The daughter was a playwright and assistant director. The mother educated educators from the west coast. They were in Manhattan for a girl's time on the town, and were enjoying each other's company immensely. I gave them my list of free things to do on a Sunday.

Monday, Feb 2


I was in Biena Cuit, a cafe next to Sheridan Square in Greenwich Village sipping my coffee and reading when I realized that at the next table the baker for the cafe was being interviewed. One woman leading the interview. A second woman, her assistant, just out of college, feverishly taking notes on her iPad, as well as bobbing and nodding. And then the baker, in an apron and with a mist of flour. He was being interview to potentially take part in a local chef's contest, to be broadcast on cable.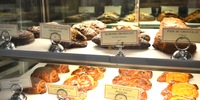 The bakery case at Biena Cuit
It was interesting to listen to the way they all postured and played their roles. The baker describing the meticulous selection of ingredients and how and when to chill dough, the interviewer describing the mechanics of the contest and the assistant saying little, but agreeing with everyone.
And then there was the portfolio. The baker had brought out a tray of his craft -- things I had not seen in the bakery case. Dainty pastries with a flour from Montana. Apparently the berries in the tarts had been flown in from the ends of the earth -- or perhaps a bit beyond. The creams and the cardamom probably had passports.
Wednesday, Feb 6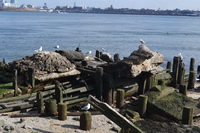 Wooden Storm Drain
into East River

I walked over to the East River, across the Williamsburg Bridge, around the old Brooklyn Navy Yard and to Montague Street in Brooklyn (about 9 miles). As I was walking on Flushing Ave, past the navy yard, I met a big, very happy black man. He was some type of city inspector and was walking with his co-worker, a small, very cold hispanic woman. His voice boomed as he joked and talked whereas her's was lost in the hood of her parka.

Hey! I love your hat! he shouted to me. He was wearing a very similar one.

I tell people, I called back, if you are going out in any weather, and pointed to my hat.

He laughted and gave me a thumbs-up, then turned with his co-worker to enter the naval yard.

(The navy yard is now an industrial park with dozens of small companies, including light manufacturing and high-tech.)

Williamsburg Bridge
over the East River

Williamsburg Bridge
and the J-train

Williamsburg Bridge
detail
Thursday, Feb 7, 2013
My editor at Oxford has decided that this book needs an index. So it is back to work.
Friday, Feb 8, 2013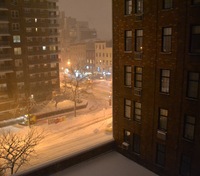 9th Ave. from our apartement

The whole city is holding its breath in anticipation of snow this evening and tonight. After supper I walked down to the river and around the neighborhood to see how people respond to it. The wind is driving the snow out of the west -- blinding when you are walking by the Hudson.

There are chains on the bus tires and still the food delivery guys on bikes make their way through traffic (Nor rain, nor snow, nor dead of night will delay a pizza or chinese take-out from its appointed destiny.)

Saturday, Feb 9, 2013
After last night's snowstorm the day is quickly turning brilliant. I wanted to see Central Park and so took the subway up to 72nd street, by the old Dakota where John Lennon use to live, and walked into the park.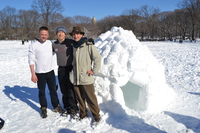 Igloo Construction Crew
As soon as you cross the avenue and step into the park, the air is filled with the shrieks of sledders. The snow on all the good hills -- actually all the hills -- is already packed and polished by hundreds of sleds. There are no runner sleds anywhere which might be a good idea. Most sledders seem a bit our of control, just following gravity down the hill bumping who or what ever might be in the way.
I walked past a pick-up game of football in the sheep meadow, and then noticed that beyond the game someone was starting to build an igloo.
I have a passion for igloos. I find them fun to build, an engineering challenge and a project which you don't have to maintain or clean up afterwards; they literally melt away. So I introduced myself to Gabe and pitched in.
The snow is 8-10 inches deep and I think it is great packing snow. Gabe has build one or two igloos before and thinks it could be better. He has brought five gallon pails which we fill with snow and form bricks. In the past I have always packed snow in a mound and then cut blocks but it is Gabe's igloo so I follow his lead. However, when it comes time to curve over the roof, this is something I am good at.
Kevin has joined us now, and we have eighty to a hundred spectators. I position myself inside the igloo and Kevin and Gabe hand me blocks. I spiral the wall around, leaning it in a bit more with each tier. Since the blocks come out of pails they look like big marshmallows. They are also thicker them I am use to and tricky to taper. At one point Gabe stopped, crawled inside the igloo and looked at what I was doing. That, he said, is impressive. The walls were at about 45-degrees and accelerating inward.
As I dropped the keystone in place to finish the dome I could hear the crowd outside clapping -- although the sound is muffled inside by the snow. I find it curious how many people want their picture taken in front of the igloo. I joked with Gabe and Kevin that in two days we would just have to google igloo central park to find it. (It took a bit of digging, but I found pictures posted on reddit.com.)

Family playing in snow

Igloo in the city

Crowds enjoying Cental Park

Top of a sleding hill

Sledding hill

Toy-Boat Pond
Sunday, Feb 10, 2013
In the evening we went to the Film Form, on Houston in SoHo. This is an independent theater which is showing a series of 1933 films. We saw Dinner at Eight. All about millionaires in the 1930's going broke, but still they must all smile and be on time for dinner at eight. Very New York. I now see things about East Side and Murray Hill that I wouldn't have understood before we moved here.

Monday, Feb 11, 2013
In the afternoon Will emailed me to tell me about a concert by Contemporaneous. One of the founders of Contemporaneous was Will's roommate for two years at Bard, so I know Dylan. But this is where this report started. So, having gone full circle, I think this is where it will end.

(Next time - Chinese New Year)