Wednesday, Feb 13, 2013 - Robin's Birthday
In the evening Kristina and I delivered a large chocolate cake to Robin at his dorm. We expect that it may have been completely devoured before we walked the mile back to our apartment.

Friday, Feb 15
There are a number of museums which are open free on Friday evenings. So we often spend Thursday evening pouring over the list of potential sites we may grace with our presence. Today we looked kindly upon the Whitney Museum of American Art. The Whitney is a bit of a hodgepodge. It is primarily modern art. But modern art, cutting edge, radical stuff of the 1920's, is -- well -- a bit dated. In fact some of the displays seemed a bit dim and dusty.

It is true that they are some glorious Georgia O'Keeffes. But a lot of modernism was a cry out against urban life, industry and the machine. Somehow that seems like the work of such a different generation. Maybe when the Whitney moves into its new home in Chelsea in 2015 it will also join the 21st century.

Sunday, Feb 17
We went to the Chinese New Year celebration in Chinatown. This is about two miles southwest of us, between SoHo and the Lower Eastside. It is true that the Chinese New Year was a week ago, but apparently the celebrations can go on for a number of days.

It was a blustery and cold day, so we picked our spot on Eldridge Street in the sun. From where we stood we could have been in China. There are far more signs on the shops in Chinese then in English. Many of the people around us were speaking Chinese and I think you could live here your whole life knowing only Chinese. True, it would be a world only a half a dozen blocks wide, but it is a complete community. Even the street signs are bilingual. On that sidewalk most certainly the dominate language was Chinese, but I think this is in part because Chinese from throughout the northeast converge upon this parade.

We could hear the parade before we saw it. The flow of noise snaked its way up those old twisted streets two blocks ahead of the first dragon. Their is nothing subtle about this parade. It is all over-the-top glitz, from the dancing dragons to the sequins sewn into the costumes. White mask and traditional robes on one float with ancient music, followed by a thoroughly American high school marching band, with chinese characters embroidered into their uniforms. Then a float by a neighborhood club with confetti cannons. The street was thick with confetti, it fell like snow during the parade -- a blizzard as the wind repeatedly carried it aloft.

And then Dragons. Most of them were one-person dragons, but some are operated by a crew. The solo dragoneers danced and bounced and swirled and tried to frighten the little kids who stood on the sidewalks, but these kids are made of brave stuff and would only laugh and giggle and reach out to try and rub the dragon's nose. The twenty-legged dragons were equally unruly, swooping through the parade, with waves flowing down their spines, and then out to there long, long tail, usually supported on thin poles or wands.

There were kung-fu schools and boy scout troops, church groups and business councils all marching in the parade -- every one of them shouting and laughing and making as much noise as they could.

After the tail of the dragon at the tail of the parade passed we slipped into a coffee shop to warm up, and them I walked over to Sara Roosevelt Park, where the parade had ended but the celebrations continued. Plenty of vendors were ready to sell me fresh hot spring rolls and who was I to say no. Here I watched traditional family dancing and listened to traditional Chinese music, while kids (wearing Yankee caps) raced through the crowds toting dragon kites. However the day was cold, so soon I took the subway back to New York.

Wednesday, Feb 20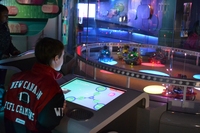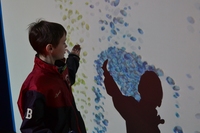 Sony Wonder Technology Lab

This week is school vacation week for my nephew Owen. Owen is ten and in fifth grade, and I thought to myself over Christmas that I don't know this young man as well as I should. So one day he took the train in from Connecticut and we rendezvoused at Grand Central. There we dismissed his father and headed off on our own. I gave Owen a Metro card so he could ride the subway. I think swiping the card and pushing through the turnstile was one of the high points of the morning.

Our first stop was the "Sony Wonder Technology Lab", an electronic playground. In part it was a exploratorium, with robots you could program, in part a video arcade. I think my favorite thing was a table, the size of a pool table, which had a touch screen for a top. Half a dozen of us stood around it at a time and "played" it. As music played it graphically streamed down the length of the table and you could reach and grab part of the music and remove it from the stream. You could grab out the drums or jazz line, or push a new guitar sound into the flow. So as a group we "edited", or composed the music stream.
| | |
| --- | --- |
| On the Intrepid | In the Submarine |
Our next destination was on the Hudson River, but our subway stop was next to St. Patrick's cathedral, so we stopped in for a few minutes.

On the river we boarded the USS Intrepid. This is an aircraft carrier from the second world war. The ship now houses a air and space museum with dozens of aircraft and even some space capsules. But I think Owen's favorite part was just the miles of corridors -- the labyrinth of passageways which fill a big ship. Next door was a submarine with even smaller hatches and more circuitous passageways.

We then caught a crosstown bus, met Charlie and after a late lunch Owen headed north.

Thursday, Feb 21
I have wanted an excuse to visit Staten Island (besides the ferry ride) and since today is sunny I set out for Snug Harbor. I took the subway to the southern tip of Manhattan and then boarded the Staten Island Ferry. This ferry is free and affords one of the best views of the harbor and city -- and is always worth riding.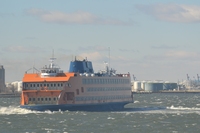 Staten Island Ferry
Greenhouse at Snug Harbor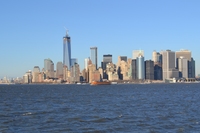 Manhattan from Ferry

On Staten Island I disembarked at St. Georges and walked along the shore in a park for nearly a mile. You can still see the havoc caused by Sandy. Massive breakwaters and retaining walls have shifted, some even dropping into the harbor.

After Manhattan, Staten Island seems positively suburban, small apartment buildings and lots of single family houses and nothing over six stories tall. About a mile and a half from the dock is Snug Harbor. Snug Harbor was established in the 1830s and operated until the 1970s as a retirement home for sailors. It occupies a few dozen acres, a park like campus, populated by solid granite buildings. These old dormitories and workshops now house a hodgepodge of groups. The Staten Island Historical Society maintains one building, next door is a museum of nautical art, behind that a children's museum, gardens and so forth.

When I walked into the first museum I think I startled the receptionist. It is a windy Thursday in February and I don't think she expected to have any visitors. Still, she gracefully set her book aside and told me about Snug Harbor and that museum.

Next door I went into the nautical art gallery where I again startled the staff. Actually they were already full of the "Staten Island Community Chorus". They practiced here every Thursday. As one of the staff told me, "the most talented group who think they don't know how to sing." The director of the museum came and asked me for my zip code, they like to show their sponsors where their visitors come from. I told him that I lived in both Chelsea and New Hampshire. His eyes lit up, "A New Hampshire zip code would be very nice!"

Out back there was a greenhouse crammed full of plants. I think a lot of the plants from throughout the grounds were stored there through the winter. The door was unlocked, the sign was welcoming, but the greenhouse was abandoned today. So I wandered slowly through it, imagining spring, before walking back to the ferry.

Saturday, Feb 23
I made a list of used bookstores, and with that in my pocket I wandered about SoHo. It is raining hard.

Sunday, Feb 24
Kristina and I set out to wander around the Red Hook neighborhood in Brooklyn. This is an area which we have been told is an up and coming art community, but also was very badly hit by Hurricane Sandy.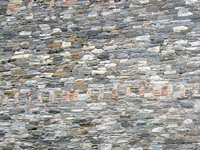 Stonewall of old Warehouse

Maps can be pretty democratic. My map marked an area area 10 blocks by 20 blocks as Red Hook, but didn't tell me which end the hipsters hung out at. We, of course, started at the wrong end, the end dominated by abandoned warehouses.

Curiously enough, in the middle of Red Hook is an Ikea. I think if the day had been less blustery we would have walked by it, but by that point we were ready to slip out of the wind for a bit. And then we were in Sweden again. True, the staff were Brooklynites and the shoppers clearly New Yorkers, but the store was designed with a Swedish sense of space and efficiency, including a cafe where they think you would be hungry. They served Swedish meatballs with lingonberry sauce.

Once warmed we made our way to the most "Hook" part of Red Hook. Hook is a Dutch term for a point of land. On the tip is a Fairway market, a place known for some of the best produce in the city, but now closed from Sandy damage. There is a buzz of activity inside even on a Sunday and they are determined to open next week.

We settled at the "Brooklyn Crab", a seafood restaurant. I think this place would have been hard hit by the storm, except it was build on stilts so you could see over the lower buildings next door and out to New York Harbor. It was warm, the shrimp, fish and chips were good and hot, and the locals were ready to tell us about the high points of the neighborhood, most of which are closed on a Sunday afternoon in the winter.

We will come back in the spring.

Tuesday, Feb 26
Went to a lunchtime Bach concert at Grace Church on Broadway, just south of Union Square. A nice organ in a old stone chapel.

Wednesday, Feb 27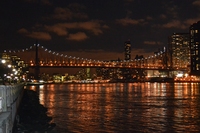 59th St. Bridge & Manhatten
from Roosevelt Island

I interviewed Trey Taylor on Roosevelt Island. Trey is one of the co-founders of Verdant Power, a company which has put some tidal turbines in the East River -- next to Roosevelt Island. He was a successful businessman who ten years before retiring decided he wanted to do something very different with his life and something which may effect the future. Verdant has spent the last decade testing turbines and only last fall received their full license to go online. He tells me it is only a few dozen kilowatts now, but they expect to be producing multiple megawatts in a few years.

Friday, March 1
I had just finished my run through Central Park in front of the Guggenheim because I was going to walk over to the New York Road Runner's head quarters on 89th to pick up my number for Saturday's race. Walking next to the park were two older women, hunched over, dragging a cart full of odds and ends. The coats they wore were ragged and easily half a century old. These were not the blue-bloods one often associates with the upper eastside, if anything, the opposite. As I came up behind them I could hear them talking. Then one paused, looked across the street at the Guggenheim and proclaimed;

"He was so linear before he built that thing."

(Do down trodden people spend more time discussing Frank Lloyd Wright then I realize?)

In the evening we went to see a performance by the Martha Graham Dance Company. What struck me was that the troupe was both blessed and cursed by its legacy. Martha Graham was very avant-garde in the 1930-50's, a trail blazer of modern dance, but in an odd sense it seemed a bit old fashion now. The dance was a series of poses, with each position a private language, a cypher which we could read. It was very different from Alvin Alley which was all motion. If dance is a narrative Martha Graham is all nouns and Alvin Alley all verbs.

I was also struck by the fact that the men in the Graham pieces all played the same role and were very two-dimensional. In the first piece the lead male role was the classic greek Jason (of the Argonauts and Golden Fleece). Strong, stoic, rigid. And then in most of the following pieces, the men remained Jason. The women could explode with joy, or wither in tragedy. They suffered rage and love -- but the men were only strong, stoic and rigid.

Actually there was one piece which did break the mold. The troupe recently had commissioned some reinterpretations of classical Graham dances. This one piece I found delightful. It was fluid, a half dozen male dancers connected and intertwined. Like a clockwork machine made of sponge rubber and elastic.

The young woman sitting next to me was enthralled with the performance and asked me what I thought. I told her that I some times think artist mistake "serious" with "good". That, in my opinion, it would not hurt to add a bit of joy and grace to the mixture. She then told me that she was a student at the Martha Graham School. At first I think she was a bit offended that I was not bowled over by the performance. But I think she eventually understood what I was trying to say.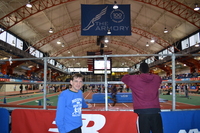 At the Armory Indoor Track

Saturday, March 2
I went up to the Armory Track to see my old high school cross-country coach. He is now cross-country and track coach for the University of Rochester. They are here for the ECAC (Eastern College Athletic Conference) indoor track championships. After a gap of nearly 35 years it is interesting to watch my first running coach again coaching. He is aware of a great many details of running which I never saw as a teenager.

Sunday, March 3 - "Coogan's Run"
The Central Park Track Club (CPTC) was in full force at this race. The race is a 5k (3.1 miles). It runs up Washington Avenue, into Fort Tyron Park, around the Cloisters, and then back down Washington Ave. There are between 5,000 and 6,000 runners in the race. This meant that when I was at the 2.5 mile mark, with a half mile to go, I was still meeting runners who had only started running and had only covered half a mile. For this to work every runner has an electronic tag in their shoelaces which gives them a personal start and finish time. Also they split the runners into "corrals". The fastest 500 in the first corral, the next fastest in the next corral, etc. You await the starting gun in your own corral, but when it goes off the tapes between each corral are dropped.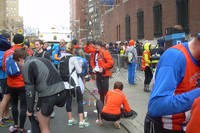 After the Race.
CPTC in Orange

It is a hilly course and was not a very good race for me -- I'll just leave it at that. But it was good to be running with a team. There were over 60 runners wearing our teams orange, white and blue uniform (the colors on the flag of New York City -- and the Dutch flag of 1624), and I finished in a pack of three CPTC runners.

Afterwards we ran a long warmdown by the Hudson. It is windy, but sunny. Then we cheered the daughter of a teammate who was in the children's race. I think that eight year old girl was astonished to have such a large fan club - 20 of us in orange.

The team then reconvened at the Harlem Tavern for brunch. Harlem has been very gentrified and matched none of my 1960s-70s based preconceptions. The Tavern, a restaurant with a sports bar at one end, is full of a whole spectrum of people. I talked a long time with Nicole, a teammate who is also a personal trainer. It is one of those jobs one hears about but never really puts a face on. She was disappointed in her performance and was thinking about how to describe it to the athletes she works with -- especially those who were also in the race.

Monday, March 4
Explored Fort Greene Park neighborhood in Brooklyn in the late afternoon. Found a good cafe and will have to come back sometime.


Brooklyn Bridge
from Brooklyn Heights

A Good Cafe
by Fort Greene Park

Empire State Building
from Brooklyn
Tuesday, March 5
Robin and I met in the evening and went to the Banff Mountain Film Fest. There is a film festival at Banff in Canada every year and at the end they pick the best films and make a road show. We have seen them since about 2005 with the Boy Scout troop in Hanover, so Robin was delighted to see that they visited New York City as well. The films are short outdoor adventure documentaries. Mountain biking, skiing, rock climbing (thousands of feet up with no rope). This years best film was about two guys skiing from the coast of Antarctica to the south pole and back. It was full of misfortune, beauty and actually very funny.
Friday, March 8
Another Free Friday museum, this time at the International Center for Photography. The exhibit was of works of two photographers, Roman Vishniac and Dawid Szymin (also known as Chim or David Seymour). Most of their works were black and white photographs around Europe before and after the Second World War. They were inspiring images which made me think about why do my photographs look so static and bland.

Union Square Saturday Morning Market
Saturday, March 9
It is an open-studio day along the High Line. In truth, there are far too many studios for anyone to visit them all, unless you satisfied yourself with a sprinting tour. We picked a densely packed region and just wandered. There is an old massive building on 26th street with dozens of studios. We took the freight elevator to the top floor and let gravity help us return to the street level. Studios with yarn sculptures, and people made of plants, as well as photo exhibits from Brooklyn and Africa. Pens and paint, splashes of color and fine details. Rusty metal what-nots, acrylic, paper, cardboard and wood.
One studio which struck a cord with me was showing large paintings of the Large Hadron Collider at CERN. This is an accelerator like where I use to work only much larger. The artist had drawn detailed, almost blueprint quality drawings of the machine on one side of a semi-transparent mylar. He then splashed color on the other side to create a sense of the reaction going on inside of this machine. I especially enjoyed hearing how he explained the exhibit -- and what is a Higgs boson -- to the visitors. He said that one thing which had attracted him to this topic was that these experiments represented massive collaborations.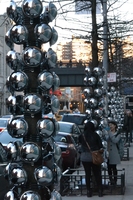 Darlek Trees

The trees along part of 24th street have sprouted bumps which remind me of Darlek's from Dr. Who.

That evening we went to Caffe Vivaldi where we heard Kristina Hoffmann sing -- a golden voice. Afterwards I got talking to the Caffe's owner, Ishart Ansari. He was telling me that he had been in court recently, a dispute with his landlord about access to the basement. He told me that his landlord had a table full of very expensive counsel. On his side he had caffe patrons who had volunteered to represent him. And they won!

I have always thought that Caffe Vivaldii looked like something out of a Woody Allen movie. So later, I was looking up Ishart Ansari -- trying to figure out how to spell his name, when I came across a photograph of him with Woody Allen at the restaurant. Apparently Woody Allen and Al Pacino have filmed three films there; Bullets over Broadway, Whatever Works, and Chinese Coffee.

Tuesday, March 12
The Central Park Track Club had its start of the season team meeting at the Armory track. Coaches and captains talked about what happened last year and laid out plans for next year. Afterward we had an intersquad relay race just for fun. A mini-relay carnival. Ten teams with six runners in each in a non-standard medley. Afterwards about forty of us descended upon Coogan's, a restaurant near there famous among runners. Scores of racing shirts decorate the ceiling.

Wednesday, March 13
I met David Biello, the editor for energy and the environment at Scientific America. He gave me some advice on how to break into science writing.

Thursday, March 14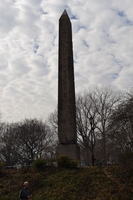 Cleopatra's Needle
in Central Park

Are we becoming dance affectionatos? We were off to Lincoln Center to see the Paul Taylor Dance Company. I liked it more them Martha Graham and less then Alvin Alley, whereas Kristina places Graham over Taylor. But first off Lincoln Center itself is a place to see -- or perhaps to be seen in. A great many of the "beautiful people" of Manhattan Culture were on display, champagne in hand.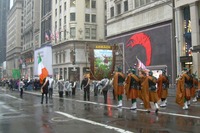 St. Patrick's Day Parade

The first piece, `Le Sacre du Printemps' took `The Rite of Spring' an somehow wove a story of gangsters, a kidnapping and rehearsal for a ballet around it. The second piece `Last Look', is described as Taylor's `glimpse of Armageddon' -- I kept think of `Lotus Eaters'. However, for me the last piece saved the evening. `Esplanade' is just fun. It is a frolic, the lusty month of May, just missing the pole. Which may mean the first piece was also in jest -- I just didn't get it.

Saturday, March 16
We went and watched the St. Patrick's Day Parade. Where in the world do you find that many bagpipes! I think there may be more in this one parade then in all the British Isles combined.

Sunday, March 17
I went up to the Museum of Natural History. One of my favorite things was to watch people, especially kids, as they rounded the corner and walked into the dinosaur room. I could see them stop, frozen, and then their lips silently sound out the words, "Triceratops", "Stegosaurus", "Tyrannosaurus rex" and "Apatosaurus".