Friday, March 22, 2013
Sent all my replies to the copyeditor, then met Kristina at the New York Historical Society Museum. We continue on our quest to find more Free Friday Museums.

The museum has a restaurant and bar where we hung out for a while, eating olives and watching the daylight fade over Central Park before we went into see the exhibit.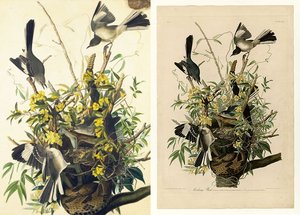 Audubon's Northern Mockingbird.
Original & lithograph

One hundred and fifty years ago the New York Historical Society bought the complete collection of Audubon's watercolors from his widow. These included most of the paintings upon which the lithographs for the book "The Birds of America" are based, apparently over 400 paintings and drawings. For me, what was exciting, was to turn a corner and see things which I recognized -- only better. I have seen the lithographs, but they seem almost two-dimensional compared to these originals. Mass producing detailed and colorful art in the 1820s was not simple. I also liked looking at some of his earlier pieces done in a traditional technique. To paint a bird, go out, shoot it, nail it to the wall. And then there is this coming of age moment where all of a sudden his birds are alive. They are flying. They are fighting snakes and calling out to each other.

In a few places the exhibit had the lithographs next to the originals and you could see were the printers had to cut corners. Where detail is lost. In the original there is a gentle blending of colors which make the lithographs look like paint-by-numbers.

Saturday, March 23
Kristina's cousin Luke and his friend Mar visited us. We took them to the Caffe Vavalldi were we had dinner and listened to music. One of the groups included a jazz french horn player who was great. And then he started to assemble his Alp Horn! His Alp Horn was about three and a half meters, or a dozen feet long, which meant that it stretched across half of the caffe's dinning room. The deep tones made you think of bull's bellowing in the mountains -- and then he played jazz!

Sunday, March 24
It is spring break at Bard, so Will stayed with us for a few days. Robin walked over from NYU and we had a family dinner.

Monday, March 25
Kristina is off to Alaska and Utah and Will is off to Hanover.

Wednesday, March 27
I took a day to explore Pelham Bay Park. It is at the north end of the #6 subway, up in the Bronx. It is an hour long ride, but after about 110th street the train is on an elevated line and you can watch the city flow by.

Pelham Bay is on the west extreme of Long Island Sound. It is the biggest park in the NYC system, three times bigger then Central Park. It was a little over two miles to walk through the park from the subway station to the beach, and then an additional mile out to a point of rock where I had my lunch.

I felt like the first section of the park, the picnic grounds belong to that neighborhood, but as my trail pushed through woods, past wild turkeys, riding stables and a golf driving range it became clear that this was a city facility. Finally the beach.

When the park opened (it was a WPA project) mayor LaGuardia called it "The Rivera of the Bronx". It actually reminded me of Hamlin Beach, north of Brockport, more them anyplace else. Crews were out and active, repairing the damage from Sandy, smoothing out acres of sand. The beach is a crescent maybe 3/4 of a mile long. The sky threatened to rain, so I eyed the picnic shelters as I walked a long the beach.

At the end of the beach the park goes a bit wild and I walked out on a granite peninsula. Across the waters is Queens. But the shore is tree lined and you can forget that you are still in NYC. Although if I look southwest I can still see the towers of the Throgs Neck and Washington Bridge.

I sat at the edge of the sound and watched buffleheads and mallards. In many ways this strip of land reminds me a bit of maine (the granite) or the archipelago east of Stockholm. It has dozens of islands dotted with strange buildings from another age.

My walk back to the subway was long and circuitous, through pine groves, across flats of salt grass, through beech and maple wood lots. Occasionally, high up in a woods I would come across a small sand bar, the high-water mark of Sandy.

Friday, March 29
Bill Snyder is making one of his semi-annual visits from Tokyo. We walked around Fort Tyron park, and then met the boys (Will is back from NH) for dinner at a Korean Restaurant. There is street referred to as "Little Korea", a block south of the Empire State Building. This is a block north, but still part of that neighborhood.

I know nothing about Korean food and was happy to turn that responsibility over to Bill. Bill lived in Seoul for a number of years and speaks a pretty good Korean. In fact I enjoyed watching the waitress's face as it slowly dawned on her that Bill was not the usual ignorant Euro-American. Not only does Bill speak a few languages, as a linguist he is attune to the subtleties of sound and use.

Saturday, March 30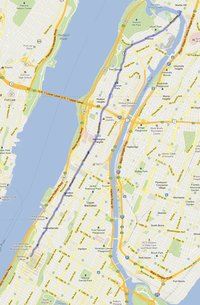 A walk down Broadway

One of Bill and my goals, dreamed up last fall, was to walk the length of Broadway. The whole trek is about thirteen miles, and because of a number of complications we do not really have enough time to do this. So we picked out the section we knew less, the north half. Thus we got off the subway at Marble Hill and headed south.

Marble Hill is a curious piece of land. Originally it was part of the island of Manhattan, and Broadway crossed to the mainland just north of here at King's Bridge. At that time Manhattan and the Bronx were separated by a few big creeks and swamps. But when the Harlem Shipping canal was built, they pushed a straight cut just south of Marble Hill, connecting Spuyten Duyvil (Dutch "Spouting Devil" - a place with wild and erratic currents) to the Harlem River. But the people of Marble Hill insisted that they were born Manhattanites and so should remained. So Marble hill is part of the Borough of Manhattan, even if it is not part of the Island of Manhattan.

We headed south, across the Harlem River and into Inwood. Inwood has the feeling of being its own town. The sidewalks are alive with street vendors, and it seems as if people talk to each other as if they have passed each other daily for years, and their kids are on the same sports teams.

Across Dyckman, Broadway becomes a lot more residential and there is a lot less sidewalk traffic. Above us, to the west are Washington Heights, where the Cloisters and Fort Tyron Park are located. Broadway slowly rises up a bluff.

We stopped for lunch at about 170th street, a very simple Italian restaurant. This is the neighborhood were Bill lived just before he moved to Japan. It is also near the indoor track I ran on this winter and the Coogan's Run race of a few weeks ago.

Across Broadway is Columbia-Presbyterian Hospital, on the site of the home baseball field for the old "New York Highlanders" in the 1880-90s. The Highlanders eventually moved north into the Bronx and thus became "Yankees". Below the ridge we are on, known as Coogan's Bluff, was the Polo Grounds. Actually Polo Grounds II & III. Polo Ground I was just north of Central Park. The Jackie Robinson Housing Project and Jackie Robinson playground are on the site of the Polo Grounds III. Apparently in retirement Jackie Robinson worked a lot for this Harlem neighborhood.

We continued south. It is curious how we go through sections were the sidewalks are packed with people and the shops busy, and then a number of blocks which are apartment towers, and the sidewalks are dead.

We stopped at 116th street, just into Columbia. Bill and I have been on most of Broadway south of here -- and I need to meet the boys and head to Connecticut.

Sunday, March 31, Easter
Will, Robin and I join the Lynches, etc. (Charlie, Kris, Billy, Kathleen, Kristen, Charlie and Owen) for a traditional Easter in Easton. Too much good food and by the end of the day we were all moving slowly. But in the evening Will is on the train back to Bard and Robin and I return to Manhattan.

Tuesday, April 2
I interviewed John Feldschuh. I saw his studio a few weeks ago and am toying with the idea of a article about science and art. His most recent series was of the Large Hadron Collider, a massive accelerator near Geneva which has probed matter at a scale a thousand times smaller then a proton. He overlays drawings of the accelerator with splashes of color, meant to make us think of the energy and collisions within these machines.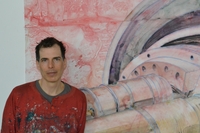 John Feldschuh

Although trained in physics, Feldschuh is very interested in "process art",

"I started looking at what happened when I did process painting, allowing paint to do things that I wasn't completely in control of." From that point, to his most recent exhibit on particle physics was a voyage of exploration. He saw that the way paint flows mimicked neurons, dendrites and the world biologist see through a microscope and he used this in one series. In another series he turned to the stars and some recent NASA images. "The whole notion of capturing the entire universe in one image", he said, "it is a mark of our ambition it is the ultimate expression of the sublime." But then he asked why do astronomers pick such simple colors for their data? So he repainted some of the most famous cosmological images, but with a new pallet, with colors selected because of the way they make us feel.

Thursday, April 4
Recently I joined SWINY - Science Writers In New York. Yes, their logos is a furious looking pig. So now every two weeks or so I get an email announcement. Some are events sponsored by SWINY, some are science related events which SWINY members may be interested in.

This evening there is a public lecture on Sandy from the point of view of a meteorologist and climate scientist. The speaker, Adam Sobel, is from Columbia, in fact in the department of applied math and physics which is where Kristina is now based. He talked about how Sandy unfolded and how the forecast evolved over the days leading up to landfall. One of the curious points he discussed was the fact that Sandy was reclassified from 'Hurricane' to 'Tropical Storm' just before making landfall. Locally that his been a very important distinction. Hurricanes are "Acts of God", and so not covered by a lot of home owner's policies. In government circles, when the storm made that transition official storm warnings were dropped. He spent a lot of time describing his conversation with the Mayor's office explaining to them that even though the peak winds had dropped, the tide surge would be huge and the storm was so broad that it still carried more energy then Katrina - which was a Cat 5. Sandy was a "perfect storm", a hurricane which collided with a winter, continental storm.

Afterwards there was a reception and I talked with a number of people from the Lamont-Doughty Earth Observatory and made connections which may help future projects.

Saturday, April 6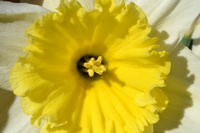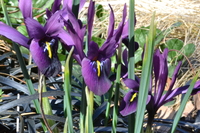 Queen's Botanical Garden

I took the train out to the Queen's Botanical Garden. As we neared the end of the line the #7 keep filling up with a lot of father-son pairs, as well as a few father-daughter and clusters of guys. It all of a sudden occurred to me that these people where wearing a lot of orange and blue, with "NY" and the occasional "Mets" embroider on shirts and jackets. The stop before mine is for "CitiField", home of the Mets. The old Shay stadium is on the other side of the tracks.

In truth it is a bit early in the season for the garden, with only daffodils and a few tulips in bloom. Still, it was nice to get out into the sunshine for a few hours.

When walking back to the subway station (elevated here) I explored that neighborhood a bit. It is a Chinatown, so I had spring rolls from a vendor out of a tiny kitchen under the tracks. I was getting so use to hearing Chinese that I was surprised when I met three Chinese girls, Junior High, who spoke the language of all-american kids. Actually it is curious to listen to these Chinese speakers. Hardly a sentence goes by without a piece of English slipping in; "iPhone", "Obama", "Mets".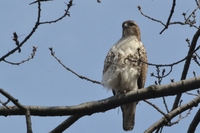 Hawk in Central Park

Sunday, April 7
Walked through the northern section of Central Park, by the Loch and through the Glenn. I met an elderly birdwatcher who pointed out a Red-tailed hawk.

Wednesday, April 10
I have written a program which calculates where the shadow of the Empire State Building will fall depending upon the date and time of day. I call this my Manhattan Sundial, and today I went out to confirm that it was working right.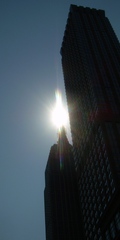 Sun aligned with
Empire State
Building
There are so many tall buildings in midtown that it is rare for the sunlight to actually get all the way to the street level. But I found a gap between two buildings on 37th St where I could see the tip of the Empire State Building. According to my calculations, if I stayed here I should see the sun pass behind the tip in about ten minutes. So I sat down to wait. I soon realized that the doorman in the lobby of the Strand Hotel was watching me. So I went into the lobby and introduced myself and told him what I was waiting for. He was so interested that he came out of the hotel and stood with me waiting for the occultation. Afterwards he turned to me and said, "Everyday I see that building, but not with your eyes."
Later I tracked the shadow across Fifth Avenue and then to Madison Ave. In truth, the tip of the building is so far away that it only blocks part of the sun (the penumbra) and so there is only the faintest of shadows.
Kristina returned from her trip in the evening.
Thursday, April 11
I went to the SWINY (Science Writers in New York) workshop on how to write a brief intro. The place is full of a lot of wannabes , like me.
Friday, April 12
Kristina and I went to the Met in the evening. We first sat up in the balcony of the entrance gallery, having hors d'oeuvre, sipping drinks and enjoying the music. After being restored we wandered off to the special exhibit they have on Fashion and the Impressionist. Apparently the Met has a huge fashion collection which includes of number of dresses which are featured in the paintings of Monet, Renoir and other well known French artist of the time. One thing which impressed us was how petite -- and short the women were. This may in part be due to the way the dresses were displayed, but they all seemed to be under 5'2'' in height.
Saturday, April 13
We went to the New York Antiquarian Book Fair at the Fifth Avenue Armory. These are not used-books, these are antiques. One could easily spend thousands of dollars here. There was even a Gutenberg Bible for sale. This is the sort of event that Lord Peter Wimsey would visit New York for. Dealers from all over the world were here, which made me wonder, how do you ship these collections from Paris or Tokyo or London?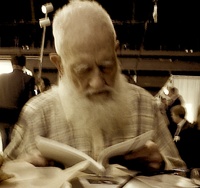 Man with Catalog

Things I over heard:
book seller #1) Hi John - you have a number of dictionaries?
book seller #2) Yes - what can I do for you?
#1) I need to look up a word.
#2) I have a word for you -- B-O-R-I-N-G
#1) Ah, that would be a book fair.


I talked a while with Ian Brabner from Wilmington, Delaware. He had no customers at that moment and so was willing to talk. He told me:

"We do most of our big sales on Sunday. You know, people see it on Saturday and need to ponder it and talk it over with their spouse and then come back on Sunday."

"It is a very expensive show, but it is the same reason as why you set up shop on Madison Avenue. The clients are here."

"I sell a lot to libraries and institutional collections. But that works differently. They see something here, and then they go back and need to consult with a board or committee before they can commit."

At one point my feet were tired and so I sat with coffee and listened to people drift by. These tend to be affluent upper-eastsiders, and one could not write scripts as good as the original. Across the table from be sat a wizard of a character, reading catalogues. I was never able to see his eyes through his bushy brows.

Sunday, April 14
Walked around Union Square in the morning.

Sunny morning in Union Square and near home

Yorke and Carrie Brown visited us midday and we took them up to the roof. It was our first time up this season. It can still be a bit too breezy up there to spend much time basking in the sun.

Friday, April 19
I went up to Columbia University to hear a discussion between Jeff Sachs (head of the Earth Institute at Columbia) and Joe Scarborough (former congressmen and now conservative political commentator). The discussion was tame and mainly focused on Washington being a broken system.

Afterwards I met Kristina and we walked through Morningside Park, a corner of Harlem and into the north end of Central Park. We walked over Great Hill, by the Loch and through the Glenn, eventually arriving at the Museum of the City of New York. It was closed by the time we got there. So we continued south on Fifth Avenue to the Guggenheim, which was also closed. So we gave up and headed to Chelsea and had tapas at Salines, a few blocks from home.

Saturday, April 20


My Black & White submissions to the group

I have joined the NYC Photographer MeetUp, and this is my first meetup. A meetup is an event listed online, often with an organizer, a theme and a location.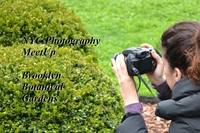 Slideshow of photos from
Brooklyn Botanical Garden
NYC Photographers Meetup

We are meeting at the Brooklyn Botanical Gardens and have been given the challenge of shooting photographs in black and white. The gardens are free on Saturday mornings from 10:00 to noon. So about 80 of us were lined up at the gate at 11:00. We broke into small groups and spread around the gardens. I walked around with "Ben", (Benoit) who has just moved to New York from France. These MeetUps are simple ways for people new to an area to go off and do something with other people. Half the group seems to have been members since the start (3-4 years), and the other half have moved to NYC in the last year.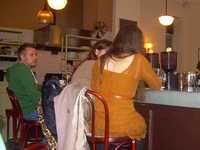 Cafe in Greenwich Village
The garden is gorgeous, so many of the magnolias are in bloom, and the cherry trees are just starting. There is a Japanese garden around a pond. I think one of my favorite things was to watch kids watching the goldfish (carp) in the pond. There are open grass stretches where kids run and people lay out picnics.

In the afternoon Kristina and I do what we are really good at. We wandered aimlessly, find street fairs, and end up at coffee shops.
Sunday, April 21
The weekend continues in its beautiful, spring like mode and we headed to the Conservatory Gardens, which is in the northeast corner of Central Park, next to the Harlem Meer. It is not as big as the Brooklyn Botanical Gardens, but it is bright and everything is in bloom.
We eventually wandered south to what is officially called the "Conservatory Water", the place I think of as "Toyboat Pond", where dozens of toy sailboats ply the waters. These boats are radio controlled, which I think is just the tiller control. Most of them are rented at the pond, but a few fancier ones are personal treasures. You can also buy captain's caps where they rent the boats. I enjoyed watching fathers and sons or daughters, with a remote control and a white cap, sail their yachts. Ever since I saw this pond I have assumed that this is were Stuart Little (E. B. White) raced his sailboat.
Monday, April 22



Crossing the
George Washington

I interviewed Mark Cane about climate models at the Lamont-Doughty Earth Observatory. Lamont is part of Columbia, but located about fifteen miles north of campus. There is a shuttle bus to Lamont and it was nice to get out of the city for a few hours.

In the afternoon, just as I finished my run I was walking by a playing field in Chelsea Waterfront Park. The place was being set up to host an event related to the NFL Draft. The NFL did something similar in August to start the season. Tents and pavilions were set up, and until things really started there were two rather bored security guards left in charge.

I stopped to talk with them and ask about the event. They didn't know much about the event. The first guy, a big, broad shouldered black man was looking forward to the draft. He didn't play football anymore, but was expecting a few of New York's NFL players to make appearances. He told me that he mainly weight lifted now, and extolled the virtues of free weight over using lifting machines.

The second guy was also black, but tall and thin, twenty years older (about my age), and passionate about chess. He told me that he use to play in Union Square, but someone stole his clock and so now he only plays at the Madison Sq Chess Club. He walked with me a bit and when we were out of ear shot of his partner he confided to me, "He is young and don't really know everything he thinks he does. There really is a time and place for lifting with a machine. Sometimes you got to work on one muscle, and that really is the way to do it."

Wednesday, April 24
I was on the High Line watching two guys hand paint a billboard.

Friday, April 26


This evening we went to MoMA (Museum of Modern Art). They had an exhibit which I wanted to see. "Henri Labrouste: Structure Brought to Light". Labrouste was a French architect who designed some of the libraries in Paris in the mid-nineteenth century. He was famous for using open steel arches and vast glass ceilings. At first his designs look conventionally Victorian. But he was the original. Designs before his were heavy, dark and solid. His were functional and light.

http://www.moma.org/visit/calendar/exhibitions/1319

That evening we ate at "Le Pescadeux", a French-Canadian restaurant in SoHo. The night was warm and so they had opened the front wall, folding it back so we sat out almost on the sidewalk. There was a happy party at the next table and a large number of faithful patrons. A woman in her early eighties was walking her dog and stopped to talk with the owner -- while one of the staff ran into the back room to find a treat for the dog. A man at the next table asked her if she had lived here all her life. "Oh no, hardly", she replied, "Only sixty-seven years."

The NY Times has declared this the best bouillabaisse in the city, so that is what I ordered. Although very good, there were some community meals in the Maritimes which may rival it.

Saturday, April 27
We, a long with a few thousand of our neighbors, went to "Sakura Matsuri", the "Cherry Blossom Festival" at the Brooklyn Botanical Gardens. For every pedal which has fallen off of a magnolia tree, a half dozen tulips have burst into bloom. And the cherry trees are near peak. At one point, while walking through the cherry esplanade, a gust of wind dislodged thousands of cherry blossom petals. A boy of four was running, bounding around the trees shouting, "Its raining flowers!"

The festival is also a celebration of Japan. In the center pavilion we heard the group "Taiko Masala", as the programmed described them, "Traditional taiko drumming and martial arts, Brooklyn-style".

Over half the people there could have been Japanese and a number of them wore traditional Japanese costumes and carried silk sun umbrellas.

What is curious to me is that this presents of traditional Japanese costumes has led to another groups presents; people dressed as Manga and Anime characters. I was impressed by the detail of these costumes, intricately sewed, with dozens of layers of lace, wigs, hats and more.

We also overheard the discussion of a Dr. Who meetup, but I did not notice crossing paths with them.