Ari, Robin, Fritz, Nick
Jay Buckey, John Wallace, Tim Smith
---
The plan is to hike up Mt. Moosilauke on the Beaver Brook Trail. We talked about coming down on a compass course, bushwhacking down next to Stark Falls Brook. But also we have been warned away from that challenge. The Beaver Brook trail might be enough of a challenge in itself. It is reputed to be one of the most difficult section of the Appalachian Trail (AT) in New Hampshire. It is so steep that in placed iron rails have been set into the rocks. In any case, we have been told that especially near the stream we should expect to encounter a great deal of ice and so we came equipped with both snowshoes and crampons.

It will be a long day, and so the Venture Patrol rendezvoused at the community center at 8:00 and we were on the road heading north by 8:05 - a prodigiously early start for us. It is a long drive up through Lyme, Orford, Piermont, Haverhill and North Haverhill, then east out of the Connecticut River valley and into the mountains. Moosilauke lies there, a gentle giant, waiting for us. As you approach The White Mountains from the west or southwest, Moosilauke is the first 4,000 footer which you come upon. Fans of Moosilauke, or especially Moosilauke Ravine Lodge proclaim it as the "Western Gateway to the White Mountains". Although as we gaze up its flanks from a distance it seems like more of a barrier then a gateway.

The Beaver Brook trails raises up 3,100 feet, or 1000 meters (1 kilometer!) from the Kinsmen Gap to the summit. This long climb and challenging grade is what has drawn the Venture Patrol here. They are trying to prepare themselves for a climb up the Franconian Ridge.

We arrive at Kinsman Notch at 9:30. There is a group of three women who are just shouldering up as we arrive, they too are headed to the summit. It takes us about half an hour to repack our packs, adjust snowshoes, debate crampons and finally hit the trail. We have a strong and good natured crew who are a delight to hike with, but no one seems to be in much of a rush.

Our trail winds across a flat-ish open wood for half a kilometer, and then drops into the ravine cut by Beaver Brook. As we start to climb we almost immediately leave the hardwoods behind.

Beaver Brook in the summer must be a series of cascades and I expect that the ravine is perpetually filled with a mist. Being on the north and steep side of a mountain I can imagine that it is cool, green and damp. But the winter is different. First, most of the brook is under ice. Sometimes we can hear the rush of rapids and falls, but it is encased in ice and obscured from view. Also we can not hear it as much as I would expect. A steam two meters wide and half a meter deep plunges over a cliff ten meters tall and we can hardly hear it. That is because on top of the ice is often a very thick layer of snow which muffles everything.

I can guess where the famous iron rails might be, for there are some very steep section where we are almost on hands and knees. But the rails are at least a meter or more below us buried in the snow. The snow has the effect of evening out the terrain. The shelves and the cliffs which one may encounter in the summer are all just a great continuous rise, as worst pitched like a steep roof, but no more. In the end we never used our crampons. We never saw ice, only snow, and the snow was so deep we wouldn't venture far without snowshoes. Modern snowshoes also have metal teeth, or crampons, sometimes called "Bear Claws", build into them, which made hiking this pitched trail possible and relatively straight forward.

We met a few other hikers on our way. The first was a young man in his mid twenties who raced past us. I think he was late joining the group of women we met at the trail-head. We also hiked several kilometers with a man who was carrying skies. He was planning to ski down the ravine - an idea we marveled at. We asked him if he would like to pass us, but he laughed and declined. He didn't have snowshoes and said if he preceded us he would be wallowing in the powder, whereas if he followed the seven of us and our snowshoes there was a firm, packed, easy and clear trail.

A little over two kilometers up the trail we diverge from the brook and meet a group of hikers who have spent the night at the Beaver Brook Shelter. Then had lost the trail yesterday on there way up, so we have not been following there print. However from the time we meet them, to the turn off for the shelter the trail was packed and easy. We left the skier at the shelter turn off and continued to the Ridge Trail Junction. Fritz is breaking trail for us here, but the trail junction marks the end of the really steep section of the hike, and to celebrate we stop for lunch. We have climbed from 1,800 feet to 4,000 ft on our way to 4,800 feet. So this is three-quarters of our elevation grain, but only just half of the horizontal distance. Still we are all in a good mood.

So it is about 2-3 kilometers from here to the top, but we have done most of the elevation gain and were looking forward to an easy finish. When things look easy - be-weary. We were skirting the base of Blue mountain when one of the scout tripped up on his snowshoes and took a bad tumble. He got up and brushed himself off an tried to push on, but took a second tumble almost right away. He had twisted his hip and wasn't walking right, and his snowshoes were a bit unfamiliar and larger then he needed. It became apparent that he could continue as it was. We tried switching him to a smaller pair of snowshoes - which definitely helped - but not enough. He could walk downhill alright, but was in pair walking up, and we still had 2 kilometers over and 250 meter up to go.

It became clear to me that this was going to stop our ascent, but the patrol sat down and talked it out. I asked them if we could go on or split up or what? They all immediately know we could not go on or split up, but I was delighted to hear their reasoning. Fritz explained that we had a plan for many problems and that part of the plan involved us staying as a group. For example, the scout had split up the emergency gear, the stove and tent and sleeping bag, and that if we were two groups neither group would be fully prepared. Way to go Fritz!

So we turned back.

One of the benefits of turning is that we now have a lot of extra time in our day. This meant that when we came of an opening where we could see the Franconian ridge and even the presidential we could stop and get out our compasses and take bearings on these peaks and name them. Lafayette, Lincoln, Haystack, Liberty and Flume, and beyond them, the distant giant - Washington.

Ari and Robin also took the opportunity to try some off trail snowshoeing. I think none of us had really appreciated how deep the snow was. Even with snowshoes it was easy to plunge in up to their waist. They also learned something about "Spruce Holes", pockets of air in the snow formed by the branches of spruce trees. As they reported, "When you sunk in it was a challenge. You would like to pull yourself up with a tree. But if your near a tree, that is where the spruce holes are."

Down the mountain we went, past the turn off for the shelter and back to the brook. Here we saw the ski tracks left by the guy who had hiked up with us. We were amazed. He had skied down the stream, avoiding the few open gaps in the ice. At times skiing straight over what must be a waterfalls in the summer. I thought to myself that this would have been worth seeing at the Banff Film Festival.

The trail is well packed and we often slide down sections on our bottoms, which makes things not only quick - but fun. The three women and solo man who we say in the morning have gone to the top and now join us - taking their turn sliding on the steep sections of the trail. Most of the trail is a 20-30 centimeter trough because of the way we have packed it with snowshoes, so sliding down is fast and sun - but also well controlled.

Near the bottom we leave the brook, cross a maple grove and reach trails end by 3:20. The hip is just fine and we are all in good spirits. I was surprised that no one really dwelt on the fact that we did not reach the summit. We had two training goals, first to see if we are physically strong enough to climb something that steep and the answer was clearly yes. Secondly we were looking for crampon experience - and that just was not going to happen. In the end it was a fun day in the snow and sunshine with a bunch of good people. And that might just be enough.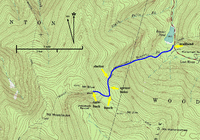 Map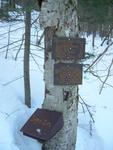 Starting up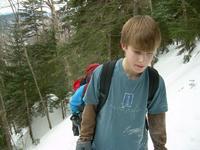 Nick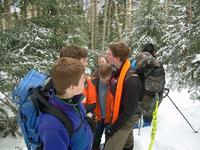 Rest on the way up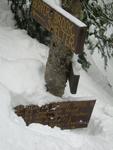 Turn-off for Shelter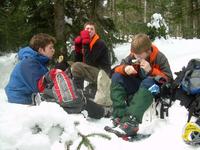 Lunch Break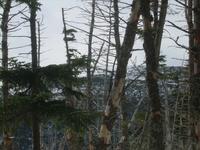 Moosilauke from Turn-around point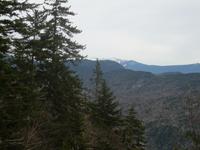 Franconian Ridge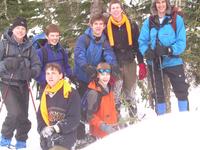 The Crew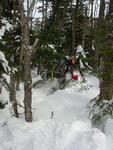 Off Trail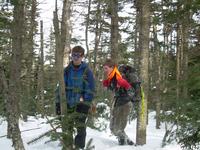 Off Trail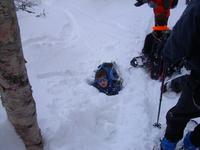 A Spruce-Hole? (faked)