I arrived in the Big Valley an hour before our rendezvous time, so instead of zooming in on the Genesee Expressway I came through Avon and then dropped south down Rt 39 in the same way we returned in vans and busses from countless meets all those years ago. The stone railroad arches just south of Avon reminded me of a run along the railroad bed, once all the way to Avon, including pushing through brambles and briars for the last section. Then the valley opened to my right, as big as ever, and the road names started to come back to me; Huston Rd., Root Tavern Rd. and the always popular Nations. I turned down Nations and time slipped back three decades. Perhaps the Geneseo Oaks have added a bit to there girth, but not so much that one would notice. The road itself, flanked by trees which stand like color guards, looked unchanged. I continued down the side of the valley to the railroad bed and Jaycox Creek, the drainage of Dismal Swamp. In my memory it is always cross-country season in Geneseo. The great oaks showing their russet wardrobe. I stopped by the railroad bed and scrambled up over a horse gate and onto the old railbed. A few runners, as well as sheep and cattle, have been this way, but not many.

Continuing down Nations I came across the Genesee Valley Hunt Clubs race and trials. My landlady, Mrs. Chandler, had been an active member of that club, and I well remember a crashing about in the kitchen below by room when members of the hunt would return and storm her house for breakfast. Did they leave the dogs and horns outside? I do not know.

Today the tents are set up, and the great cauldrons of chilly are heating, but my race is in town.

So little has changed. If anything the village of Geneseo looks cleaner and brighter then in my memory. I still had time and so drove past Suffolk Hall where I first lived and gazed upon the valley and then parked near the gym.

I understand that the campus is not in session, that it is fall break, but you would never know it from this parking lot. There are soccer games on Holcomb Field and there is some sort of cheerleaders contest in the "New Gym", (the Merritt Athletic Center). These young cheerleaders, many of them elementary school age were sporting the names of towns I have not thought about since my high school days. Honeoye, Penfield, Dansville and so forth.

I walked over to the starting line, a bit uncertain as to who or what I would meet. In our emails Andy had said we would, "run, jog, walk, saunter, stroll or crawl around the course". We are talking about a collection of a dozen people between the ages of 45 and 55. It seems to me that if I was to randomly net a dozen people of that age there would be a few of them who couldn't even walk the 5k. So what should I expect? I really and deeply hoped to run the course. Since last spring when the first invitation went out, I have been running three times a week. But who else have

So I arrived wearing my corduroys (with my black shorts underneath), expecting to walk. Upon my second lap of the gym this guy came up to me who reminded me of a kid from West Babylon with a afro. The moment he opened his mouth with a, "Real fine tiger!" I not only knew it was Rich Firth, but I also knew that we really had not aged so horribly, and we were really were going to be able to run the course.

Soon Andy Smith, Mary Jo and their son Luke joined us. Then Brendan Bryne and Joe Bianco wandered in. Then Ray Bowmen, who was after my time and Mark Smith, who was before my time arrived. Finally Pam Snyder, Gary Rocco and Johnny Lacitignola appeared.

Before arriving I had told my son that I was a bit afraid that I would find that we were all grey, fat and bald, and that by seeing this in people who are my contemporaries, whose ages I really did know, that I would see that we were were all old. But that is not what I saw. We actually looked pretty good - considering all those years.

I saw a bunch of alumni bouncing around trying to stay warm on an October morning as if Martin had called us to a "Lions vs. Tiger" inter-squad meet. Maybe the last seat in the van to the SUNYAC was on the line, but we had all be up a little too late to care.

And then, with a mighty "TIGER CHARGE" we were off, loping across Merritt Field and up Mary Jamison Lawn. If only it had not been fall break, I like to imagine the faces of modern Geneseo students haveing a late Saturday morning breakfast in MJ as ten old tigers went sprinting (waddling) by. We rounded onto the sidewalk and past Jones, Steuben and Monroe, past Erie and into the Letchworth quad and the out into the athletic fields. There are a number of tennis courts and new parking lots here, but we negotiated those with the help of a few alumni geographers. And then - as if it had landed from space - was the new track.

"Real runners wear their tracks on their jackets", I told Brendan. When we were in Geneseo, occasionally Rich Ceronie would unroll the blue prints of the future track, but otherwise the only track we had was printed on the back of our jackets.

The old course has fallen in disuse. Perhaps a few brave soles, maybe the same few who still run the railroad bed out to Nations, had run here. But no race in a long time had past this way. I understand that the Geneseo Invitational (the heir to the RAC?) is now in Letchworth and on-campus races are a thing of the past. Were there too many collision between harriers and pedestrians? There is still a path, but it is rutted and overgrown.

At the stream we all paused, not only to regroup but to try and hunt up the old water jump. I felt like the scene in the Narnia story Prince Caspian where the four children are seeing their castle hundreds of years later. Nature had reclaimed it and made it nearly unrecognizable. The stream has cut its bed much deeper and the trees and bramble have grown to obscure the fact that there ever was a cross country course here. In fact, to climb the other side of the ravine was a hands and knees challenge.

We didn't dash through the middle of Holcomb field, for there was a soccer game going on, although we felt that if they had understood that BVS was in town the game would have been temporarily suspended. Beyond Holcomb and up the hill.

This hill had always been one of my favorite parts of the course, not because I was good at hills, but rather because most other runners were worse. I must confess that the hill did not tower over us as I had expected and remembered, but maybe that is because back then I had just arrived from the flatlands of Brockport and now I am arriving from a town nestled between the Green and White Mountains.

Half way up the hill is Saratoga Terrace, right where the Tundra had ought to be. It seems to me that this building might get in the way of sledding on dining hall trays. Past Doty Hall and into the town park, around a few gentle oaks and the old cabin and back down again. Under the arch between Sturges and Fraser and into the Old Quad.

Even if it is fall break, I was happy to see a few undergrads sitting in the gazebo gazing out on the valley. "Oh-Ha-Daih", what a beautiful valley. Below Blake and above Jones and Steuben Hall and then down Newton Hill past the infirmary were Jane Kentner use to preside and back through Letchworth Quad. Actually I was amazed as to how few new buildings there were. The new science building, Saratoga and the track. But beyond that, a lot of nice new paths and landscaping which made the place look younger then it did 27 years ago, but still very much the same campus.

Brendan and Johnny tried to constrain themselves as we passed the track and headed towards Merritt Field, but then something snapped and the race was on. Pam and I also joined in and most of us sprinted in the last 200 meters showing some real PMA. We will save the second lap of the 10k course for some other day.

Coach Woods had told us to use our old locker room. Schrader has not changed much. Keith's Cage is not there and campus security seems to be in that corner of the building, but I think that the scales in the locker is the original. It is the same one we weighed ourselves on after the spaghetti festival at Ceronie's house. Dale and I gained half a dozen pounds that day. And the showers!

Schrader Gym still holds some of the finest showers I know of. The water is hot and plentiful. Just outside the shower are still some chairs you could drag into the shower if need be, if you have just returned from Weeweewalinda Land, Fowlerville or Dismal swamp, and needed a forty minute - or maybe an hour - under the restorative blast of hot water.

We were all to meet at noon at the fountain on Main Street. The Alumni office was sending a student photographer to meet us. But we were slow out of the showers (they are great showers) and, well, we just didn't seem to know how to hurry. When I got there a student with a camera was waiting. I introduced myself and he was clearly relieved that he had not missed us.

Pam McCall joined us here and after a photograph with the old bear, whose light is working better then I ever remembered, it was time for lunch. But first a few more faces. Brendan's wife Sandy joined us and then out of the blue there was Dale Teed! This was a complete surprise. He had somehow talked his new wife, Anita, into coming up for the day. And then there was Rich O'Carroll (of course), who had driven up this morning from Port Jefferson.

We got subs at Aunt Cookies (didn't Margaret Ketchum work there - or was that in Brockport?) and took them down to the village park by the cabin and ate. A few photographs of all of our beautiful children circulated, but expect for Andy and Mary Jo's son, our children are in high school or are already at college, and too busy to traipse around with their folks.

On the agenda which Andy and Rich had cobbled together a few weeks ago there was listed a required team meeting at the Vital Spot and then a trip to Fall Brook Falls. The Vital Spot doesn't open until 4:00, so we ended up on the back deck of "Club 41". I don't remember if this place had the same name in 1980. My personal circle didn't extend this far north on Main street.

It was pleasant sitting in the sunshine, several photos of Marty were prominently displayed on the tables, and pitchers of beer started appearing. I think it shows something about the curious world in which I now live that I had not seen so much beer since I left Geneseo. We talked about old times and especially about the people who had not made the reunion.

But it is such a lovely day, bright October sunshine and autumn colors and as the shadows of the afternoon marched across the deck it was time to move on to Fall Brook, it was time for a tramp in the woods. But people are hesitant to impose their motion on others and so in the end only about half of us headed south out of town to the head of the Fall Brook gorge. The geology is all shale and slippery clay here and Little Pam had a bit of a challenge clambering down the side of the gorge in heeled shoes. Fortunately someone has equipped the descent with an assist hand rope and we all descended with minimal slippage. The mud which be-speckled us wouldn't be noticed in the dimmer corners where we will spend the evening.

The falls cascades as it has always and a few young people (undergrads) were repelling down the cliff face. Beneath the falls the air is cool and moist. But the bottom of the gorge is already in deep shadows and the afternoon is well advanced by the time we hoist ourselves up the side of the gorge. In the time standing at the water's edge I thought to myself that the stream, the shale, the yellow and golden maple, oak and beech leaves, have not changed.

Back in town we reconnected with the tigers who had remained at Club 41, and went off to the "Geneseo Family Restaurant", nearly in the shadow of the Lamp and Bear fountain. We took over the front of the place, and Coach Wood, the present Geneseo cross-country and track coach joined us. He is part of the class of '69 and so a decade before my time. But I remember him from my high school days. He was then coach of York High, whose team had an impressive winning streak and dominated Livingston County. Mike Woods had brought with him a stack of team photos from about 1970 to 1985, the Kentner years. The stories and the memories!

After dinner we finally had our mandatory team meeting at the Vital Spot. The place has lights! Well at least some. Also I could see across the room as never before, the effect of the smoking ban. The floors were neither spongy nor sticky. Actually it felt like the place had become a middle aged solid citizen. Maybe a lot like us. It had as much to do with my memory of the Vital Spot, as the people around the table resembled the BVSers of 25 or 30 years ago.

Henry Rono made his appearance here. He may be a bit crinkled and creased from a quarter century of storage, but he looked remarkably well. I now recognize the track upon which he is running. It is Hayward Field at the University of Oregon in Eugene. I trained and raced on that track in 1983-84, but in my memory, it was always in the rain.

The two Pams started planning our next reunion, either at a Geneseo 5k, or the FallView (Skyline) Marathon in a year. They past around a piece of paper, forcing us to sign "in-blood", a contract requiring us to return. Big Pam also had two of her old house-mates who still lived locally visit us. But the night was young, and so we pushed on to the Idle Hour.

Elmo Sanchez wasn't there when we walked in. It wasn't clear if he was out back scraping mud out of the carburetor of his VW or if he was out on some Red Howler patrol. But the Idle Hour itself was doing well. Brighter and cleaner then I remembered. We were told stories about the old movie theater marquee across the street and visits to rooftops. The bouncer at the door found us some tape so we could hang Henry up on a column to watch over us.

But now the hour was getting late and tomorrow morning I am to be in New Hampshire, so I said my farewells and headed out. You will have to ask others how the evening ended.

I walked across campus to my car which was by the gym. I past the new integrated science building which is one of the few major changes on campus, and then stopped momentarily at the gazebo by Sturges. Across the valley were the lights of Piffard, Leicester and York. The Valley is still there and as big as ever. I like to think that Elmo might be out there tracking howlers and tomorrow some lone runner will be running on River road, Striding across the valley.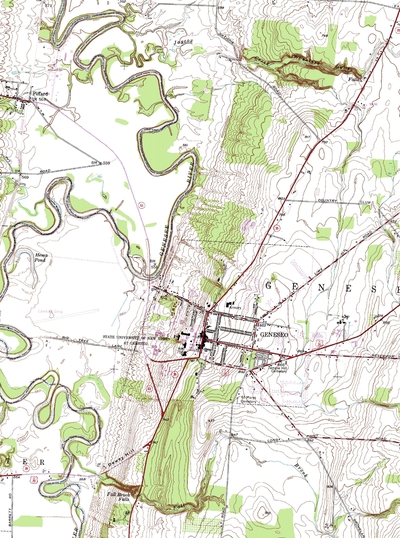 Nations Rd.

Geneseo Oak

Nations Rd.

Railroad embankment on Nations

Railroad bed

Sheep on Nations

Big Valley from South Campus

Start of run.
Tiger Charge!
Joe, Johnny, Pam, Tim Andy, Rich, Mark, Brendan, Gary, Ray

On Main St. by Fountain
Gary, Joe, Mark, Rich, Ray, Brendan, Andy, Pam, Pam, Tim

Picnic in village park

In Village Park
Johnny, Rich O. Andy, Joe, Mark, Rich F., Gary, Brendan, Ray, Dale, Anita, Pam, Pam, Tim

Team Meetng?
Club 41 - Brendan, Tim, Little Pam

Trip Marty
Tim, Pam, Sandy

Andy at Fall Brook

Andy and Pam

Big Pam looks up

Tim at Fall Brook

Dale and Anita

Two Pams

Two Pams

Pam, Tim, Andy, Mark, Pam & Gary

Two Pams

Down the gourge

Downstream

Fall colors

Team meeting at the Vital Spot

Andy and Henry

The Vital Spot

The Idle Hour

Henry, after all these years

A discussion with Henry

Henry Rono
as he wanted to be