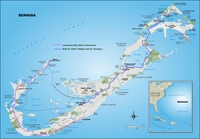 Map of Bermuda
and some highlights


Lunch on Christmas Day with our toes in pink sand.

Well, at least that is the plan.

Bermuda was sunny, windy and rainy. It was warm when you were in the sun and out of the wind, and chilly when you were in the wind and spattered with rain. It was also warm when you were in a pub and surrounded by soccer fans, or at a fancy restaurant surrounded by family.

Let me try to be clear at the start. Compared to New Hampshire and the eastern seaboard, which was being shellacked with a blizzard, Bermuda was tropical. Days were in the sixties. But it wasn't quite the weather we had hoped for. Still, I had a good time and Kristina and I enjoyed having Will and Robin to ourselves for a week.

Why Bermuda? We have been talking all autumn about doing something different this year for Christmas. Also we didn't really have a family vacation this last summer. Everyone's life, with rockets and summer jobs and soccer camps was just too complicated. So maybe - this Christmas - just the four of us. Much as I love to have Will and Robin's friends around, I enjoy just the boys as well.

So we scheduled a few days of our family sequestered on an island, far from the madding crowd. But it also had to fit between Ari's Eagle ceremony and the Hanover High School Holiday Dance.

Will arrived home from college on Monday and the High School had their last day on Wednesday followed by the dance. We think this may be the first time Robin and Will have been to the same social event since they went to movie night in elementary school. The dance went on to the wee hours and the boys had not slept when it was time to head to the airport.
---
<!=======================================================> Thursday, Dec 23, 2010
Hanover, NH to SurfSide, Burmuda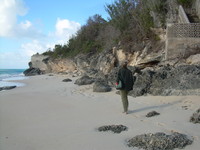 SurfSide Beach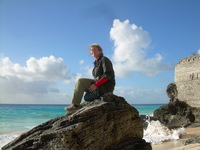 Kristina, Rocks and Ocean

The alarm went off at 2:30 AM. There is always a few loose ends to pack up, but we were on the road by 3:30, with a few flakes of snow in the air as we headed towards Boston. Our road heads southeast rising up over the Sunapee mountains and here we were caught in a true squall, most of the next fifty miles the interstate was reduced to a pair of black tracks on the white snow -- and sometimes even these disappeared.

Beyond Concord and down through Manchester, Lawrence and into Boston and Logan Airport the snow changed over to sleet. By the time we landed in Bermuda even the sleet was gone. We took a taxi to our hotel and then walked about half a mile to a scooter rental place.

In Bermuda you are not allowed to rent a car. The roads are narrow, the traffic is already thick and the lanes are reversed - English style. So you are not allowed to rent a car. We knew this ahead of time and had planned on renting two, two person scooters; Robin and I would drive. However when we got there we learned that the law had recently change. You do not need a license to drive a scooter, but you do need to be over 18. So Will, who doesn't have a driver's license can drive, and Robin, who does have one can't.

After lunch the boys were exhausted from there all night holiday dance, so they went back to their room, while Kristina and I explored down the coast on our scooter. We bought fish and vegetables along the roadside. Our room has a kitchenette, so we cooked dinner at home that evening.
---
<!=======================================================> Friday, Dec 24, 2010 - Christmas Eve
SurfSide & Hamilton, Bermuda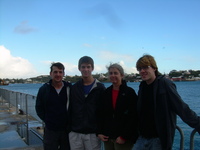 The Family in Hamilton
Christmas Shopping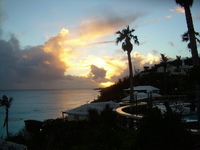 Sunset at SurfSide
from our room

The weather is fickled today; sun, then rain, then wind and then repeat. Since most places will be closed for Christmas and Boxing Day, Kristina and I went grocery shopping in the morning, buying as much food as we can balance in the basket of our scooter. We also made reservations at a fancy restaurant for Christmas Dinner.

After rendezvousing with the boys we took the bus into the city of Hamilton. We do not yet feel confident enough in our scooter abilities to drive in town. The busses are simple to use and I like to let somebody else drive down the left-hand lane.

Kristina had read about a pub/sports bar named "Robin Hood" where we had lunch and watched Cricket and Rugby. The "Ashes" cricket series is going on between England and Australia, and we saw a bit of a T20 (Twenty20) Caribbean Tournament. In Rugby we watched the London Wasp play the Dragons from Wales. It is a curious mid-Atlantic sports bar, mainly English, but also showing US basketball and with advertisements building up to the New Years US football bowl games.

Our main purpose for coming to Hamilton is to do our Christmas shopping. We walked around the downtown for awhile and split into two groups. Will and I shopped for Kristina and Robin, and they did the reverse. After an hour we re-paired ourselves and continued.

One of the buildings in downtown has a old balcony and a brass band took up residence there and played Christmas carols for us busy shoppers. Brass bands and a sprinkle of rain and sun can help you into the Christmas Spirit.

We finally converged at a coffee shop and took a taxi home to where we cooked Wahoo (fish) for dinner. We then played rummy as we have on family vacations since we first went to Campobello.
---
<!=======================================================> Saturday, Dec 25, 2010 - Christmas Day
Warwick Long Beach & Dockyard, Bermuda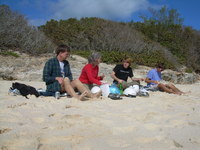 Christmas Lunch
Warwick Long Beach

Early Christmas morning and no boys came in to bounce on us. The day started slowly with coffee and toast and a walk down the stairs which are cut into the cliff face and down to the beach.

Eventually the boys did converge upon our room and we opened presents. The theme this year is small and able to be packed in carry-on, which means a number of CDs and books.

After the morning celebration we packed a lunch and headed out on out scooters to explore the south and west end of the island. There is a string of parks and public beaches on the south coast of Warwick and Southampton Parish. We stopped at Astwood and then moved onto Warwick Long Bay and Beach. Here we sat in the pink sands and sunshine and watched the waves roll in. We read our books, walked the strand and splashed in the saltwater. Eventually we partook of our Christmas Lunch; ham and cheese sandwiches, grapes and root beer.

After lunch we mounted our scooters and continued down the coast. Bermuda narrows at Southampton Parish, and then becomes a series of islands connected with bridges. Somerset Island, Watford Island, Boaz Island, Ireland Island South and finally Ireland Island North. Here the road ends at "Dockyard", the old Royal Naval Dockyard.

The sun was bright on the stone fortress, but it is Christmas Day and the place is deserted. I expect that the studios and pubs do bumper business on a sunny day in May -- but today we shared this nineteenth century citadel with only a handful of other lost people.

After a walk around the fort we mounted our scooters and headed back.

The roads are narrow and the posted speed limit is between 35 and 50 km/h (20-30 mph), but as fast as I feel I can push the scooter it always seems as if soon there is a line of traffic behind us. Fortunately there is a bus stop with a pull-over lane every half mile or so, and we used these quite often.

Back at the beaches the boys continues on to the hotel while Kristina and I stopped at Horseshoe beach. The beach is as busy as any place we have seen today, with maybe 2-3 dozen people scattered across a quarter mile of sand. You can tell it is Christmas since every fifth person is wearing a classic red Santa's cap, complete with faux fur trim.

Back at SurfSide there is a little time for a walk on the beach. But this is December in the northern hemisphere and soon darkness descends upon us, even with a million stars overhead.

In the evening we iron shirts and dress as best we can and then ride our scooters over to the Lido Restaurant at the Elbow Beach Resort. The big resorts are about the only places which have open restaurants today. The dining room is all white linen and real silver silverware. Outside the windows the wind is blowing down the beach. The night is pitch black, but the lights of the restaurant light a small patch of the beach near us, and the sand is so white you can almost believe that there is snow out there.

The food is delicious and we steal samples from each other. Some of the renditions of Christmas carol give us private chuckles, but we still enjoyed ourselves.

Finally we mounted the scooters once more, Kristina in her fancy dress, and roared off through the night. Back at our room we have a few hands of rummy, read our books and head to bed.
---
<!=======================================================> Sunday, Dec 26, 2010 - Boxing Day
Surfside & Horseshoe Beach, Bermuda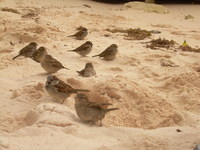 Birds & Picnic Crumbs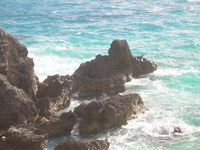 Surf at
Horseshoe Beach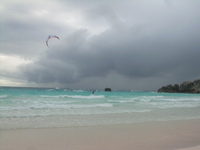 Kite-board at
Horseshore Beach

It is Boxing day, so most places are closed. The wind has shifted and is now blasting out of the south, so we are unprotected here at SurfSide. The window in our rooms rattles and the tree just outside has its palms pointing north like a windvane.

Robin and I sat and watched Manchester City play Newcastle at Saint James Stadium in Newcastle. City (my team) won 3-1. Later Robin, Kristina and I returned to Horseshoe Beach while Will stayed at SurfSide, curled up with books.

Bermuda was originally volcanic, and the modern island is just the rim of several old cauldrons, peaking up above the waves. It also is build of coral and limestone, but sometimes you encounter the unmistakable lava, the rock which is laced with air pockets and looks like swiss cheese. The horns of Horseshoe beach are volcanic pumice.

We walked to the west end of the beach and found shelter from the wind among the lava formations. They form a curious labyrinth of paths, micro bays and tiny beaches. In one place I found a chamber 2 meters across with a beach and even waves which had wound there way around a number of bends. I was sheltered from the wind by three meter tall walls, except a window on the wild Atlantic the size and height of my face. Outside, the waves rolled and crashed on the shore.

We picnicked in a sheltered place in the sun and read our novels, tossing crumbs to the birds.

After awhile we walked the length of the beach and watched two guys on kite-boards. This was the day to do it! One was really good and would race the length of the bay in half a minute, hopping from wavecrest to wavecrest. The other guy did a lot more swimming.

It was starting to rain, and when we got the the far end of the beach, furtherest from scooters and shelter it was pouring and gale force winds. Of course by the time we battled our way back to shelter the rain had stopped.

After drying ourselves out we fetched Will and went back to Elbow Beach for dinner. This time to the less formal side were we had a samplers' dinner of a dozen small plates. And them home.
---
<!=======================================================> Monday, Dec 27, 2010 SurfSide to Salt Kettle B&B, Hamilton, Bermuda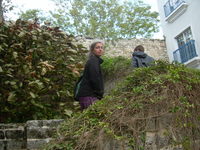 Kristina & Robin
Park in Hamilton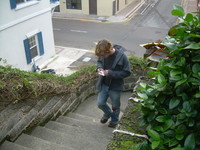 Will
Writing Notes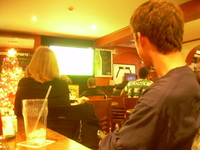 Watching Soccer at
Robin Hood Pub

Will and I made one last traverse of the SurfSide beach before we moved. The tide should have been out, but with the winds howling in from the southwest the surf was running high and in many places where we should have been walking on the sands we found ourselves climbing the rocky shore. Occasionally we would wait for the waves to recede, jump down to the sands, run to the next rock and jump up on the cliff face just before the next wave. I would like to have run through the surf barefoot, but the rocks is that highly abrasive pumice; most unkind on naked feet.

Then it was time to pack up. We are spending the next two days at Salt Kettle House B&B on the other side of the island. Kristina and Robin took our luggage in a taxi and Will & I followed on scooters.

Salt Kettle House is on a sheltered inlet across the harbor from Hamilton. It seems tame after SurfSide which was perched on the top of the cliff overlooking the endless Atlantic. Here we look half a mile across the harbor to the wharfs of Hamilton.

We have a tiny cottage behind the main house and right on the water. Hazel, our eighty year old land-lady, says that it use to be the servant's quarters -- and before that probably the slave's quarters. It that two bedrooms and two bathrooms, a galley size kitchen and a main room with a fireplace and a bay window looking across the waters.

We missed the ferry boat to Hamilton, it landed 100 meters from our B&B, but we waited half a minute too long for the rain. But the sun came out and so we scootered into town. We poked around the Cathedral and then the old Fort Hamilton, and eventually found our way to the Robin Hood Pub in time to watch Arsenal vs. Chelsea.

This soccer match is a true "Derby", and ancient cross-London rivalry. The pub was divided, with four or five blue-shirted Chelsea fans on one side and eight of ten red-shirted Arsenal fans on the other side of the room. Mixed among these two camps were were about 80-90 fans who were ready to cheer, scream, applaud and hoot as two of the most successful clubs battled on the screen.

We were at a table with some Arsenal fans. I think they had marked us as ignorant Americans until Robin enlighten them about the careers of all the players of both sides.

Fortunately our side of the room -- that is Arsenal -- won.

After the game we went to "Silks", a Thai restaurant, and got take-out. We took it back to our cottage and enjoyed it in front of the fire.
---
<!=======================================================> Tuesday, Dec 28, 2010
Salt Kettle B&B, Flatt's Village, St. George's & Hamilton, Bermuda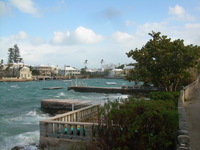 From our cottage window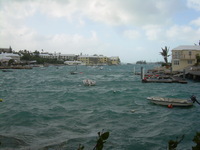 Off Salt Kettle Point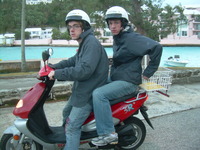 Will & Robin at
On their Scooter

In the morning I went for a walk on an old rail-trail which runs down the spine of the island. It was a delight to stroll along it, through the backyards of neighborhoods, past patches of farm land and even through a bit of jungle. I knew this trail was here, halfway between SurfSide and Salt Kettle, but I had just not got around to exploring it.

The walk back to our cottage was a bit tricky. most of the small roads are lined with tall stone walls and it is a good thing the traffic is not too fast, for there is not much room for a pedestrian on the side of the road.

Today is our last full day in Bermuda and so we mounted the scooters and head northeast to explore. Our first stop was in the small town of Flatt's Village were the Bermuda Zoo and Aquarium is. Part of it was closed do to a power outage (this continued wind is play havoc). But we still wandered through a lot of it, especially the outside zoo. Kristina found the Galapagos Giant Tortoise particularly arresting. She had not imagined them to be so big. I enjoyed the flock of Flamingoes. How can they twist their necks like a pretzel, shove their head under a wing, stand on one foot, and go to sleep?

Across the bridge and up a narrow street is "Rustico", and nice Italian restaurant where we had lunch. Most of us had a thin crust pizza which were really good!

After lunch we headed to the village of St. George's. We have two bus passes from the B&B, so Will and Robin locked up their scooter and bussed it to the end of the island. Kristina and I followed on our own two wheels. The wind nearly toppled us a few times - or so it seems, and after crossing the causeway near the airport I found my lip salty due to the spray.

St. George's would probably be an interesting town in warm weather. It is very old with a number of building dating to the seventeenth and eighteenth century, and with a rabbits warren of lanes. But today it was closed and the wind and chill made us just want to find a coffee house -- which we didn't succeed in. So we agree to return to a pub we knew of in Hamilton.

We scootered and bussed back to Flatt's Village, then scootered to the Robin Hood Pub for nachos and to watch Manchester United vs. Birmingham City (3-1). Have we fallen into a rut?

After the game the boys headed back to the cottage, promising to get the fire going. Kristina and I swung through downtown Hamilton one last time and brought Chinese take-out home. After being blown about all day it felt nice to walk into that cozy cottage with a roaring fire.

One last dinner together, rummy and books around the fire.
---
<!=======================================================> Wednesday, Dec 29, 2010
Salt Kettle, Bermuda to Hanover, NH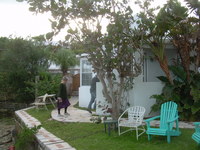 Kristina & our Cottage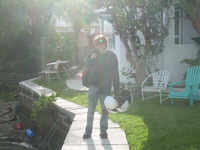 Will ready to Scooter

We checked out after breakfast and left the scooters to be picked up by the rental people, and took a taxi to the airport. When we got there we discovered that our flight was delayed for hours. This was due to the snow storm which has swept the eastern seaboard. As Robert Burns wrote, "The best laid schemes o' mice an' men (and airlines ) Gang aft a-gley" [often go awry].

As the hours went by we read and read those books we had hoped would be filled with pink sand, and our departure time seemed to drift off into the future, like living in Zeno's paradox. Eventually, late in the afternoon, we took off.

The real concern was that we had wanted to get to Hanover in time for Ari and Paul's Eagle Scout Ceremony. So when we touched down in Boston we raced through the terminal, and drove north back into winter. We made record time getting to Hanover, and although we missed the formal ceremony, we were there in time for the reception!

One last thing I dreaded. A foot of snow had fallen since we left and when we finally got home we would have to dig out enough of the driveway to get the car off of the street. Fortunately we have great neighbors! Four of Robin's friends had shoveled the driveway and we could simply drive in -- just in time to feed the cat.

Salt Kettle B&B, Bermuda
---
<!=======================================================> TPS - Jan, 2011