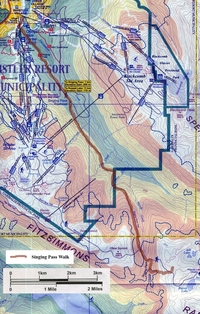 Map of the trail to
Singing Pass
Singing Pass
Whistler, British Columbia
July 11, 2011
24 km (15 miles)
Harmony Creek is in flood and has washed away its bridge. I met a few other hikers for whom this barrier was insurmountable and so marked their turn-around point. But Harmony Creek is only half way to Singing Pass and so must be crossed somehow. It is not the depth of the water which made the creek impassable, but rather the rage with which it cascades down the rocks. It's furor made you look down stream and contemplate the consequence of a slip and being rushed and tumbled to the next plunge pool.
Cautiously and meticulously I charted a route a bit above where the bridge had crossed the cascade. With boots tied together and slung over my shoulder I could stepping stone half way across the creek. I then probed the bed with my trekking pole, finding one stable, less slippery yellowish-gray slab-like rock I could step on. I then planted my pole downstream, and in a moment was in and out of the stream and on my way.
<!=========================>
---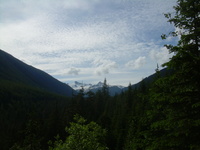 Looking up the
Fitzsimmons Creek Valley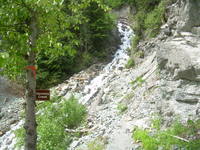 Harmony Creek,
without bridge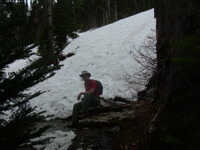 Resting by the snow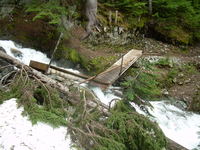 Flute Creek

This raging stream had come as no surprise. I had started my day by stopping at the Whistler Village Information Center. I was planning on hiking to Singing Pass, but was looking for a better map and any more information about the trail. A young man tried to dissuade me from Singing Pass, and pointed out several alternatives, but I was persistent. The trailhead was only a few hundred meters away. Finally he recited the reasons not to take this trail: First, part of the trail had been wiped out by a landslide. This, I reasoned, would mean I should allot more time, but it also would mean the trail would be less populated. Secondly, the bridge over Harmony Creek has been washed out. I now became really interested this trail. Finally, they told me they were not certain about where the snowline was, and reaching the pass might not even be possible. I was sold on this trek.

The most difficult piece of navigating of the whole hike would turn out to be the first 300 meters. There was a sign next to the road, but the next section had been torn up for a down-hill dirt bike park. Finally the trail. It starts broad and simple with a constant 10% grade. The first four kilometers was at one time a `forest service road' (logging road), which soon took me to the site of the landslide.

I had read on-line about the landslide, it was noted on my map and I had been informed about it at the information center. In great detail I had been told that you use to be able to drive this 4 km stretch to the true trail head -- but no longer. So I expected the slide must be recent. So when I finally got to it I was surprised how mature the plant growth was. I can see that whole trees may slide and then continue growing. In fact the roadbed was still there, just ten meters below where it had been. But still, based on the growth around the slide I think it must have happened a decade or more ago.

Finally I passed the old trail head at 4 km where a sign warned that the bridge over Harmony Creek was out, twenty-five minutes later I was wading in that rage of melt water.

At Flute Creek the two logs which formed the back-bone of the bridge had snapped in the middle and the bridge settled into the stream's ravine. The deck of the bridge was pitched down at forty-degrees and slick with constant spray and algae. I gingerly picked my way plank by plank down to the break, and then up the other side. Flute Creek doesn't play light and airy tunes. It crashes and rages and deafens you.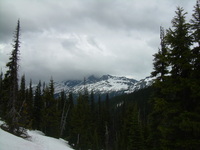 Decker Mountain and
Blackcomb Peak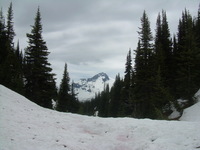 Corrie Peak through
Singing Pass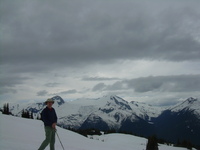 At Turn Around &
Cheakamus Glacier

Harmony Creek, Flute Creek and Singing Pass. There clearly is a theme here. When I spread out my topo-sheet and study Whistler mountain I see that coming down the southeast ridge is "The Musical Bumps Trail". Those bumps are Piccolo, Flute and Oboe. I will soon be crossing Oboe Creek, and I'll follow Melody Creek into Singing Pass. Who or what was the "Whistler" which started this all?

The farther I walk the more snow I am in, at first a few patches next to Flute Creek, but within half an hour the woods are under a continuous blanket. The snow is old and solid and I only sink an inch or so, but it is also slippery and so slows me. I can only make out a few footprints before me, however in places ski tracks are very clear. I expect that you can ride the chairlift up the west face of Whistler, then back country ski down the Musical Bumps Trail to Singing pass, and then down this trail back to the village. It would be a 20 km, all downhill slide -- and on a beautiful sunlight day with gleaming white fresh snow ... .

This last winter they had unusually deep snow here and someone marked the trail for those skiers with orange flagging tape tied to the branches of the hemlocks. The depth of the snow is reflected by these ribbons tied to branches fifteen feet or more over my head.

The trees thined as I approach the pass. Some years, and maybe late this August, this will be a meadow, with Melody Creek thirty meters to my left. Today it is a field of snow.

The pass itself needs no marker. It is a distinct saddle point. To the east and west it rises to Fissile Peak and Oboe/Whistler Summit. To the north and south it drops away with Melody and Singing Creek. The vale around Singing Peak frames Corrie Peak across a valley which I know holds Cheakamus Lake, based on my map, but obscured from view.

The pass is beautiful as a landscape. Lush dark green trees in contrast with the snow field, and peaking through the tree tops, the Spearhead Range to the north. It is a peaceful landscape. It is also my goal, but I still have an hour until my turn around time. So I decided to continue east towards Russet Lake.

I've lost the trail in the snow field, but it is clear that all I need to do is go east, and up and up. I find myself kick stepping up out of Singing Pass. I leave the trees behind me in the sheltered environment of the pass.

After about forty-five minutes, sweating like a pig, I find a single patch of meadow in the snowfield and decide that this is my picnic meadow. The high point and turn around point of this walk. It is only when I set down my day-bag and turn around that I realize where I am. I am (almost) on the top of the world. I have a 220+ degree panoramic view! To the north is the Spearhead range with Decker Mountain and Blackcomb Peak. West of me is Whistler, and beyond that more snowcaped peaks, Mt. Callaghan, and maybe even Famine Peak. But it is the view south which blows me away.

"Black Tusk" is a black horn sticking up through the snow and marks the western end of the McBride Range. East of it is Helm Peak, Corrie Peak, Castle Tower Mountain, Phyllis's Engine, Mount Carr and Mount Davidson. These last four peaks hedge in a basin which is filled with the Cheakamus Glacier. In a straight line it is about 8 km away, but through my binoculars I was climbing that river, that flood of ice, over crevices and past seracs.

Back in the alpine picnic meadow, a chipmunk sniffed the air ten meters away, awaiting what ever crumbs I left behind. On hands and knees I contemplated the alpine flowers: Pasqueflower, Springbeauties and Spreading Phlox.

Pasqueflower
Anemone occidentalis

Spreading Phlox
Phlox diffusa

Western Springbeauty
Claytonia lanceolata
I've finished my bread and cheese, leaving few crumbs for the chipmunk, and start to make my way back down. The descent is so simple. Down the snow fields to the pass, across the snow covered meadows and into the woods. It was here that I met the only other hikers, a couple from Vancouver Island who were thinking about turning back. I think it had only been ten or fifteen minutes since I had left the pass, and so told them that they had to continue, and they would be there in less then twenty minutes. I have often wondered what they ended up doing.

The kilometers melted away like snow in summer sun. Down past the broken and missing bridges and off of the snow. Down into the forest of cedar, hemlock, fir and spruce. And then down again into Whistler Village. The village is crazed and buzzing with downhill bikers and shoppers. I long to be back up on that alpine meadow.