<!=========================================================> Thursday - June 30, 2011 - Day 1
Hanover, NH - Santa Fe, NM

While flying across the country I started this trip's Journal and thought about my collections of journals which now span 20 inches of shelf space and 36 years -- and started with a trip to New Mexico.

Flying over the great plains I was struck with how brown everything is. In the northeast we have had a wet spring and then to contrast that with the drought here, made things appear even drier. We flew across the high plains of New Mexico and then up the backside of Sandia and had the floor of the world fall below us as we crossed the Sandia crest and before us was Albuquerque and the Rio Grande Valley.

Will, Robin and I drove up from Albuquerque to Santa Fe to join Kristina. Will was struck with how far away the horizon is. Fifty miles? One hundred miles? Overhead rain clouds gathered and dropped their load, but most of it never reached the earth. Instead most of the cloud's nectar evaporated before it hit the ground.

We can also see the smoke from the wild fires near Los Alamos and Bandelier.

In Santa Fe we found Kristina and walked around the old town. I was struck with the color of the cathedral's stone. In "Death Comes to the Archbishop", Willa Cather describes it as "honey". I would add that it is a light, new honey.

We ate in an old open courtyard/plaza, tex-mex food with lots of New Mexico chili sauce on everything.
---
<!=========================================================> Friday - July 1, 2011 - Day 2
La Fonda, Santa Fe, NM

Early in the morning, while the air was still cool and before the conference started, Kristina and I went for a walk along the Santa Fe River. The sky was clear and blue already, unlike in Hanover where it takes a few hours for the morning mist to clear. At this hour there are more people on foot then in cars: walking, running, or pulled by dogs.

Robin came to breakfast with me, and then I went to look at old churches. I started with the Loretto Chapel, famous for its spiral staircase to the choir loft. The staircase is spectacular, but the staircase as originally built, with no handrail or banister must have been thrilling. The idea of this free standing spiral, with two full rotations and no center support is delightful -- even airy.

I walked over to the San Miguel Mission church. This church dates back to 1610, and brings to mind the Franciscan Monks who left Spain to face the "devils" of the New World. They may have bared themselves to the "savages", but here there was refuge. This mission church is a fortress with walls maybe eight or ten feet thick. Today those walls still protect me from the harsh glare of the sun. It is cool in this sanctuary.

Outside they are re-plastering the old adobe. They are using clay and straw and volunteer labor. If I was here a few more days it would be tempting to climb up on the scaffolding and get my hands into the mud and help out.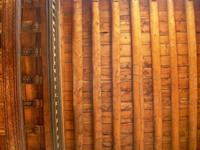 Ceiling of San Miguel Mission

The boys and I rendezvous for lunch and then met Kristina on Canyon Road for an afternoon of poking into art galleries. Kristina's favorite was a old photo of a southwest Indian on a horse in a canyon. But this old photo has now been printed on glass and in gold and black, which gives it a soft and warm feeling, a glow.

The galleries tended toward modern, abstract art and southwestern inspired art. By that I mean both art with the symbols and style of southwest Indian culture, and art of the southwest landscape and colors.

The entire collection made me think about how so much of this art is not geared towards the average American home. Much of it is too large for most of our spaces, and most is beyond the financial means of the average person. Which, I guess, points to more wealth in this country then I realized.

We ended the walk on Canyon Road at a tea shop - ice tea today. Then returned to the hotel for a swim.

Today is the first of the month, and so most museums are open free. Before dinner we went to the Georgia O'Keeffe museum. Her work was on display in the first gallery, and then some contemporaries of her's in later galleries. Her's was by far the best. One display included a quote from her explaining why she painted such large flowers. She said that when she painted (1920s) buildings were exploding in size, and so should her flowers.

An amazing sunset from the La Fonda's belltower. The golden sky with pillars of smoke from the wild fires west of here.
---
<!=========================================================> Saturday - July 2, 2011 - Day 3
La Fonda, Santa Fe, NM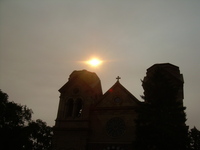 Sunrise over the Cathedral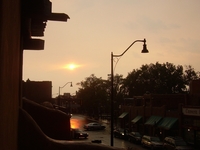 Sunset over the plaza
after the rain

This morning Kristina and I slipped off to a cafe while the day was cool, where we sipped coffee/latte and read newspapers in the most lazy of manners. This morning we will all explore individually and rendezvous at noon. I went north to check out Fort Marcy Park, and the Cross of the Martyrs, places I'd seen on the map. I end up at the "Hide Out Cafe" on Canyon Road. This cafe has a shaded patch of garden behind a gallery where I sip a cappuccino and read essays about hiking in the desert.

The whole family converged on the Santa Fe Plaza and then we had lunch at a roof-top cantina. After lunch the boys bought straw hats. Will's is a cowboy hat with plenty of curls, whereas Robin's is more of a straw fedora with an oversized brim.

Kristina and I walked up the hill with the Cross of the Martyrs. It is about half a mile from the main plaza. From it you can see the mountains which ring this area. The Pecos to the southeast, the Sandia due south, the Jemaz to the west, and the Sangre de Cristo to the north. Dark clouds are gathering and we see a few lightening bolts to the north.

Before it rained Robin and I got in a run, just a few miles north on Bishop's Lodge Road - out into the sage brush and countryside.

That night we dined at Milagro. Its plaza is covered with a glass roof, which is good since it rained briefly. I had some very good stuffed peppers.
---
<!=========================================================> Sunday - July 3, 2011 - Day 4
Santa Fe, NM - Taos Junction, NM

We have to be to the rafting "boathouse" in Taos by 8:30, so the alarm went off at 6:00. I know the boys would never pick 6:00 as a time to get up, so I especially appreciated there efforts this morning. We were getting into the car as the cathedral bells chimed seven times.

North through Espanola, and then we followed the Rio Grande towards Taos. Los Rios River Rafting is buzzing with activity as rafts are stacked on trailers and strapped on busses. Whereas we are the only group headed out for an overnight, there are dozens of people headed out on full day trips down the Taos Box with us, and half days trip on the Taos Race Course. Somehow order rises out of chaos, and by 9:00 we are on an old school bus, grinding our gears and headed north.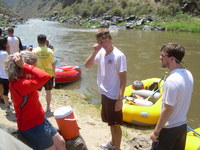 Rio Grande Raft Trip
The details of the river trip can be read at: Rio Grande Raft Trip.
The separate journal covers the time from boat launch until we leave the water the next day.

Briefly:
We put in at John Donne Bridge, floated through a number of Class III and Class IV rapids, with a stop for lunch. We ended the day at Taos Junction where we camped and our river guide cooked and cooked for us.
---
<!=========================================================> Monday - July 4, 2011 - Day 5
Taos Junction Campsite - Taos, NM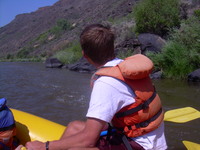 Robin on the Rio Grande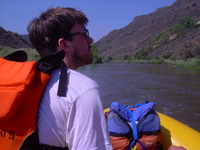 Will on the Rio Grande
Briefly:
Morning breakfast in the campsite was followed by a slow drift to Pilar, where we stopped for lunch. Then the afternoon was a quick and wet ride through the Racecourse.
At the end of the raft trip a van met us and returned us to Taos. Fifteen minutes later we found our hotel, "Inn On The Rio". It felt good to get out of the sun!
This afternoon the innkeepers, Robert & Julie Cahalane, are hosting a Fourth of July picnic for guest and friends. The Inn is an old "Motor Inn" from the 1950s, with about a dozen rooms. We meet eight couples and one other family and sat under an old silver cottonwood, next to the pool. I think many of these people return here year after year. A number of them are from Texas and talk about coming up to Taos to escape the heat and humidity. We also meet "Storm", their dog. Half wolf and half golden labrador. A massive and friendly dog.
In the evening we went into town - about two miles away. Taos downtown is dead on a holiday evening. Only the ice cream shop was open. On the way back to our rooms we stopped at "Smith's", a large grocery store, and bought a deck of playing cards. That night we played Rummy, something we have done on family vacations since going to Campobello many years ago.
---
<!=========================================================> Tuesday - July 5, 2011 - Day 6
Taos - Angel Fire Mountain - Taos, NM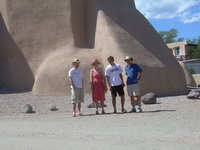 San Francisco de Asis Mission
in Ranchos de Taos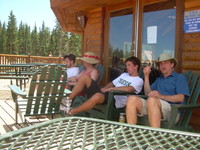 Family at Angel Fire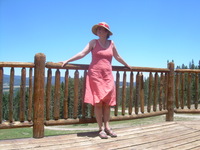 Kristina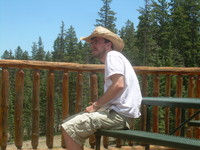 Will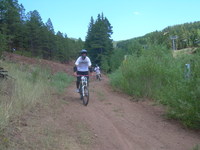 Robin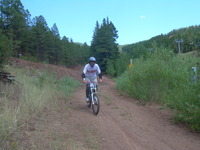 Tim

They server breakfast from 8:00 to 9:00. So at 8:00 I get a cup of coffee and sit in the early morning sunshine. A bit before 9:00 Robin and Kristina join me for breakfast. We also save a plate of food for Will.

Today we are off to Angel Fire Ski Area. But first we pack a lunch and stop at San Francisco de Asis Mission Church in Ranchos de Taos. This is an old massive adobe church, again a refuge from the sun and heat. It is well know to artist, having been painted by Georgia O'Keeffe and Del Smith, and having been photographed by Ansel Adams.

Then east. It is a pleasant winding drive up Taos Canyon, through Kit Carson National Forest, to Angel Fire. All the National Forest and National Parks in New Mexico are closed due to the wild fires near Los Alamos. I expect in part to keep people from starting new fires, and in part so staff can be directed to these fires.

We get to Angel Fire at noon and ride the chairlift to the top for our lunch. North of us are the Sangre de Cristo mountains, with Wheeler's Peak, the highest point in New Mexico in the middle. To the northeast, in the Cimarron Range, is Baldy, part of Philmont Scout Ranch and a peak I climbed in 1975.

After lunch Will and Kristina rode the chairlift for the afternoon, Robin and I went "Downhill-" or "Gravity-Biking". We had rented bikes and some "body-armor" (helmet, shin-, knee-, forearm- and elbow-pads), had a lesson and a lift ticket.

In some respects gravity-biking is more like skiing or snowboarding then biking. Rarely do we peddle, and almost never do you sit down. You stand on your peddles with knees slightly bent. You turn by leaning and banking, and when you hit a bump, if you push off you can catch air. For me, the hardest part was learning to trust the equipment. I would see a rock or gully which would reshape my road bike's wheel to resemble a potato chip. But this bike is build for this, and the best thing to due is to ride over the bumps at a good speed.

The bike has tires two and a half times wider then a road bike. It has disk brakes so you can stop on a steep slope with only two fingers pulling. It has shocks and an oversized frame. Finally it has a very low seat, which ends up being at about the right height when your back wheel is a foot higher then the front wheel because you are hurling down the side of the mountain.

We rode the chairlift to the top and made three runs. The first two with our instructor - Kayle. He would stop every quarter mile on that first run and describe what was coming. We learned to ride "berms", the banked curves and to just shoot over washboard surfaces. Robin even got a few good jumps - he says you pump the bike and jump much like you do on a snowboard.

Kayle tells us that we are doing well and attributes it to our skiing/snowboarding experience. The second run we do more "blue trails" (moderate - they are marked like ski trails), and "single-tracks", winding narrow trails through the trees. On our last run we ride down "Combi", "Sierra" and finish on "Lemonade", a blue trail with lots of great berms.

Back in Taos we have dinner at "Doc Martin's" in the Old Taos Inn. It was good southwestern food smothered in chili sauce. A man on a guitar played Johnny Cash ballads and other similar songs. Then back to our rooms to play rummy.
---
<!=========================================================>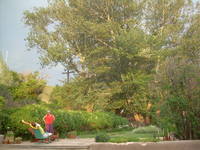 Kristina & Robin under
the Siver Cottonwood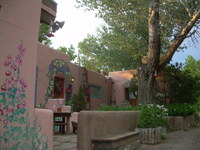 Inn On The Rio
View north from Inn
Wednesday - July 6, 2011 - Day 7
Taos, NM - Pueblo de Taos
This is going to be a leisurely day.
In the morning Kristina and I went into town and spent a long time at a weaving shop and gallery. We thought the looms to be as interesting and beautiful as the cloth which was woven on them.
In the afternoon Will joined us and we went to the Pueblo de Taos.
The pueblos are about a thousand years old, and the two main pueblos apparently still look now much like the way the conquistadors described them. The two main differences are that they use to not have any ground level doors and now many rooms operate as shops. Before the modern doors, you went up ladders and down roof holes to get in. The ladders could be pulled up for defense.
It is very hot and I think my favorite spot was on a bench next to the stream which separated the north and south pueblo. The stream was lined with cottonwood and red willow. In the native language Taos means "place of the red willows".
Will bought an owl and Kristina a bear family made of clay.
The rest of the afternoon was spent pool side with a good book. In the evening we again went to Doc Martin's where a woman was singing with a three piece band.
At the end of the day we taught Kristina to play "Hearts".
---
<!=========================================================> Thursday - July 7, 2011 - Day 8
Taos, NM - Al Johnson's Horse Camp - Bull-in-the-woods - Santa Fe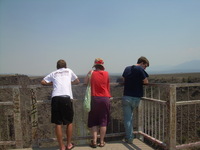 Rio Grande Gorge Bridge

We checked out of Inn On The Rio and headed north, first stopping at the Rio Grande Gorge Bridge. Four days ago we had floated under this arch. Today we stood on the bridge, 200 meters (650 feet) above the water and watched a line of rafts float under us and through "high bridge rapids". But we can not tarry, we have an appointment with Al Johnson's 'Pope-mobile' in the Taos Ski Area.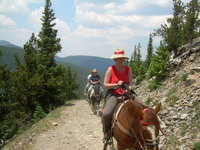 Kristina & Will Riding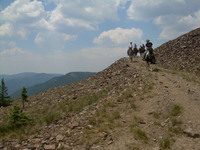 Will & Robin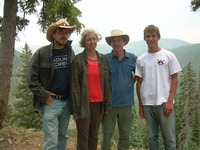 All of us

A few miles later, after winding up a canyon next to Rio Hondo, we arrived at the Taos Ski Area and met Al Johnson. His horse camp is a few miles back on a jeep trail, so he has met us and another family here with his truck. On the back of the pickup is a plexiglas box with bench seats inside. We climb in and bump our way up to the horse camp.

Most of the land around here is closed because it is in the National Forest. But Al and neighbors own a section of the mountain "Bull-in-the-Woods", and so takes us for a trail ride.

Al is a character and loves to talk. As the horse make their way up the mountain he tells Robin about competing on rowing machines, and he also tells us that he is the brother-in-law of Frank Shorter. His assistant is leading the line of horses and near the peak his horse stumbles. My horse, "Boots", is startled and takes off down the mountain, but I managed to "reign him in". I understand that phrase better now.

From the peak we can look 4-5 miles south to Wheeler's Peak. These mountains are above treeline and the alpine meadows look green, lush and inviting.

This peak really is the turn-around point for the week. At 11,617 ft, it is a good summit to head down from. Down to the horse camp, down the jeep trail to Taos Ski Area and our car, and then south through Taos, through the Rio Grande Canyon next to the Race Course, and finally to Santa Fe for the night.

We had our last family vacation dinner at the Coyote Cantina, the roof-top cantina where we had lunch before.
---
<!=========================================================> Friday - July 8, 2011 - Day 9
Santa Fe - Albuquerque, NM

The boys have a late morning flight out of Albuquerque, so we are on the road shortly after 9:00. At the airport they check in, and Kristina and I check our email all day looking for text-messages from them so we can follow their progress. A two hour lay-over in Phoenix turns into five hours, but they eventually fly on to Manchester, New Hampshire, and then Robin drives them home to Hanover.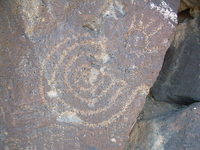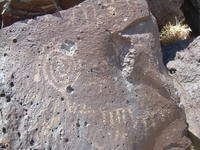 Petroglyphs

Kristina and I go into Albuquerque's old town for lunch and end up at a really wonderful crepe shop near the cathedral. We then go west of town to the petroglyphs. However, when we arrive at the trail head the sun is glaring and the oven like heat is oppressive, so Kristina finds a shady, somewhat cooler spot to wait while I hiked back to the cliffs.

The petroglyphs are everywhere! I had expected a few rarer ones, but that is not what I saw. In fact their sheer abundance makes them look more like graffiti then art. Still their abstraction and age holds my attention.

We cross Albuquerque and take the Tramway up to Sandia Peak. The peak is also in a national forest, so we are not allowed to leave the walkway between the tramway terminal and the "High Finance" restaurant - a place where my father took me to dinner in 1987. The sun is still bright, but at over 10,000 feet the air is cooler then in the city.

Back down the mountain we circled Sandia and headed north on the "Turquoise Trail", the back road to Santa Fe. We stopped in the town of Madrid. This was an old company mining town which almost disappeared. When it was nearly a ghost town it became popular with artist, hippies and the counter-culture. We sat at an outdoor patio with a salad and cold drinks and watched the people. We were about the only people without dogs. The women in long skirts and handmade vest, the men in cowboy hats and jeans. At one point one guy tried to sing "king-of-the-road", but couldn't remember many the words until the two women at the next table chimed in with every last verse.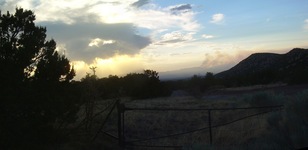 Sunset & smoke from wildfire

The faces all had the southwest sun-baked and weather beaten appearance, but we had the impression that whereas some really worked with dirt and cattle, others had trust funds and art galleries. But here, this evening, they were all just citizens of Madrid, New Mexico.

As the sun set we drove back to Albuquerque, stopping on the high prairies to watch the sun go down, and see the column of smoke from the wildfires to the northwest.