<!=======================================>
---
If my "A Walk Across Wales" was a adventure, maybe I need to classify this is merely a tour. Still it was full of walking coastline, downs and forest, and talking with all sorts of Brits.
---
Thursday, August 4, 2016
New Hampshire, Boston, London
I have an evening flight, and an afternoon meet at Mevion. So I took the bus to Boston in the morning, the train from Boston to Littleton, and Mevion. Had a meeting and took the train back into Boston. I feel like I have had a full day of traveling and I haven't even got to the airport.
I met Will on the Commons and spent some time walking around, going to coffee and seeing his work-share space. Finally off to Logan Airport.
My flight was delayed getting out of Boston, but once in the air, event less.
| | |
| --- | --- |
| Rose Fitzgerald Kennedy Greenway Conservancy, Boston | Not all the flower gardens are in Britain |
---
Friday, August 5,2016
Gatwick, London, Chester, Conwy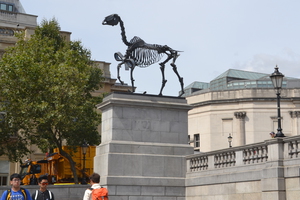 What is this in Trafalgar Square?

I had bought my train ticket to Wales online before leaving New Hampshire, and was unclear about how to pick them up and what I would do if I missed the train. As it turns out if you miss a train you still can get on the next one, provided it is not peak. But you will lose seat reservations.

A fast train into Victoria Station, where I found the "Left Luggage" office, pack half my stuff into a box, and shipped it to my last night's B&B in Wales. I felt almost giddy, light and free with only a dozen pounds on my back. I have two hours to get to Euston Station, so decided to walk. The first few blocks are a bit confusing, but once I could see Westminster Abbey I felt like I was on familiar grounds. The abbey, House of Parliament, Big Ben, then up Whitehall. I have been here before, and these places are so familiar for literature, there is no mystery, no discovery here.

Up through Trafalgar Square, and then new territory to the north. I've never walked through this area, but all the names are familiar; Soho, Charing Cross, Leister Square, Tottenham Court and finally Euston Station.

On the train to Chester I was talking with a women and at one point a women who was traveling to house and dog sit for her daughter. At one point she looked serious, leaned forward, and asked me, "Is it really possible that American might vote for Mr. Trump?" I told her that Hillary Clinton was leading in the polls, but that the American electoral system is complicated, and that it is possible. But then with a sigh she replied, "Then again, who are we to lecture other countries on responsible politics after Brexit."
| | |
| --- | --- |
| Trafalgar Square | Chester |
<!===============================================>
---
August 5 - 10, 2016
See: A Walk Across Wales

<!========================================>
---
Thursday, August 11, 2016
Harlech, Wales - Penzance, Cornwall, England Today is a travel day. I started early in Harlech and the plan is:
| | |
| --- | --- |
| 07:17 Harlech | 08:45 Machynlleth |
| 09:06 Machynlleth | 10:17 Shrewsbury |
| 10:24 Shrewsbury | 11:53 Newport Gwent |
| 12:15 Newport Gwent | 13:58 Taunton |
| 14:49 Taunton | 18:33 Penzance |
The night before Kristina emailed me that she would be on the 13:33 from Reading to Penzance, seat E25. If I make all my connections, that is the same train which is in Taunton at 14:49.
The leg from Harlech to Machynlleth is a two coach train, first along the coast and then up a very green valley. Breakfast between Machynlleth and Shrewsbury where I share seats and table with a women and her four year old daughter, bound to the big city of Shrewsbury for the day. At one point I recite the A.A. Milne poem 'The King's Breakfast'. She knows this poem and is delighted, but at the end ask me, "but why do you say `budder' instead of `butter'?" ("a bit of butter on his bread"). I too have wondered the same thing, but has not realized that this is my American accent.
In Taunton I climb aboard coach-E and since seat 26 is unoccupied I politely ask the women who is dozing in the window seat if I may sit there. Kristina is a bit groggy (jet lag), but delighted to see me.
In Penzance we find our hotel, then walk along the promenade to the village of Newlyn where we have dinner at a classic, ancient pub.
| | |
| --- | --- |
| Harlech Castle from Train Station | Coast of Wales from Train |
<!========================================>
---
Tip of
Cornwall
<!========================================>
---
Friday, August 12, 2016
Cornwall, England - Penzance & St. Ives


Porthmouth Beach - St.Ives

We found the local bus station in Penzance, got a pass for the weekend, and rode a double decker over to St. Ives. "How many are going to St. Ives? - Two".

St. Ives apparently is presently considered the most desirable and upscale seaside destination in the UK. In fact I tried to get reservations there, but without any success. It is filled with a number of nice beaches, an old harbor, and lots of people.

We had our lunch on a small beach near "The Island of St. Ives Head, Lookout Station". We then wandered west on the South West Coast Path for an hour, enjoying the rugged coastline outside of town. The sun came out and light up the wild flowers for us to enjoy.

We later circled back to town for afternoon tea on the beach, and then took the bus back to Penzance.
| | |
| --- | --- |
| Coast near St. Ives West of Clody Point | On the South West Coast Path |
| East, back towards St. Ives | Family playing Cricket on beach |
| Brits in the surf | Kristina - In search of tea? |
<!========================================>
---
Saturday, August 13, 2016
Cornwall, England - Penzance, Mousehole, Paul, Land's End & Porthcurno
We took a bus over to Mousehole (pronounced "Muzzel"), a pretty little fishing village near Penzance, and walked around the harbor for awhile. Then, instead of taking the bus back, we walked up the bluffs, through the village of Paul, and found a bus stop at a cross roads in the countryside.
While walking through Paul we talked with a man distributing flyers from the local Methods church. When he learned we were from American he said, "Do you know what we call America? The next parish over."
The ride out to Land's End was a thrill; down tiny lanes not much wider then the bus. We, on the upper deck, were constantly pushing through the tops of hedges and tree branches. How we passed cars was not always clear to use.
The countryside is filled with ancient standing stones ("The Piper", "The Merry Maidens", . . .), tiny villages and medieval crosses. We eventually make it to Land's End, but don't get off the bus here. Land's End seems to be a large parking lot, and a gift and tea shop. We continue on to Porthcurno.
At Porthcurno there is a beautiful beach nestled between rock cliffs. The sand is clean, and the water is a Caribbean blue, but with a bracing British temperature. The day is gloriously beautiful.
| | |
| --- | --- |
| Streets of Mousehole | Mousehole Harbor |
| On the beach at Porthcurno | Porthcurno Beach |
| Flowers on the cliffs of Porthcurno | Coastline west of Porthcurno |
| Tim | Kristina |
<!========================================>
---
Sunday, August 14, 2016
Penzance to Winchester
It was a long, but very pretty train ride to Winchester.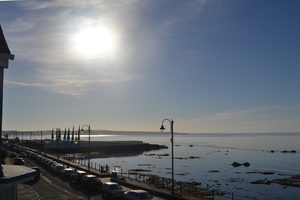 Mount's Bay, from our hotel in Penzance

<!========================================>
---
Monday, August 15, 2016
Winchester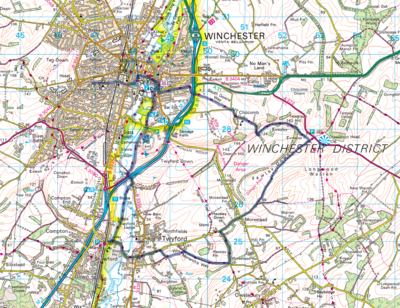 Walk from Winchester to Twyford and the Southern Downs

Kristina and I headed to the Winchester City center for breakfast, then she went to her conference while I wandered off to explore.

Originally I had planned to walk out on the Southern Downs, but from the city center the first path I found was the "Itchen Navigation", which was very pretty and sucked me downstream. Watched swans, climbed St. Catherine's Hill, the site of a Iron Age hilltop fort, and generally followed the water towards the sea.

At one point a thunderously noise boat came up the river with side splashing and cutter bar churning up the water and cutting cattails. I have never seen a river trimmed and mowed before.

In the town of Twyford I stopped at the "Bean Below Cafe" for afternoon tea, and then walked out onto the South Downs. The Downs are made of chalky hills, and traditionally pastures and grasslands. Now, however, vast stretches that I walked through are under the plow.

I was headed towards "Cheesefoot Head", a high hill with a natural amphitheater on one side. I was primarily attracted by such a curious name. But when I got closer I saw that people were cleaning up after some mega festival, so I skirted the hill and headed back towards Winchester. Apparently 60,000 people had spend the weekend there at an event called the "BoomTown Fair".
| | |
| --- | --- |
| Swans on the River Itchen | Swan on the River Itchen |
| Winchester Cathedral | Mowing the River Itchen |
| Flowers by the river | Tea in Twyford |


The remains of the BoomTown Fair

<!========================================>
---
Tuesday, August 16, 2016
New Forest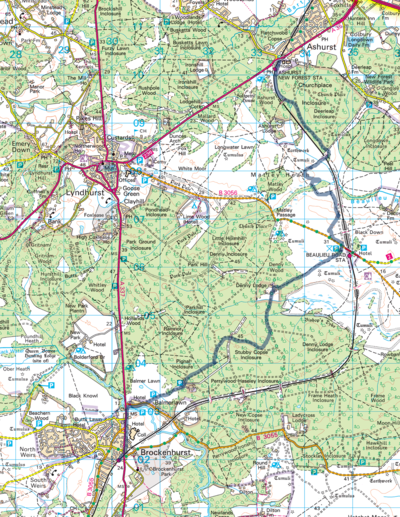 Walk through the New Forest

When I told people at the conferences that I planned on spending my days walking a number of them told me that I most certainly had to go to "The New Forest". So when Kristina headed to her conference, I boarded the train bound for Southampton and then the "Ashurst/New Forest Station".

The New Forest was formed under William the Conquerer, and about 90% of it has remained Crown Lands. But it was never a restricted private royal hunting grounds, people have lived in it, and animals have grazed there though the centuries. And recently it has been formed into a National Park.

Most of the forest is open with minimum undergrowth. And only half the New Forest is really forest. The rest is open heathlands. Out on Matley Heath I realized that in the shadows of the woods eye were watching me. There were dozens of horses seeking the shade on this sunny and hot day.

On the heath itself I met horseback riders, bike riders, cattle and a few fellow ramblers.

But the sun is intense today so I was happy to get under tree cover and back into the Denny Wood. From there I wandered a number of trails, dirt roads and bike paths to Brockenhurst. Then back on the train to Winchester.

Horses on the heath

A Tree of the New Forest

Horses finding shade

Cattle on the heath

Bikers

Equestrian

In the New Forest

Denny Lodge in the New Forest
<!========================================>
---
Wednesday, August 17, 2016
Arundel Castle
The conference took a break in the afternoon and we all traveled over to the village and castle of Arundel. The castle was established in 1067, shortly after the Norman Conquest, but the medieval section is now partially hidden, and well dwarfed by the rebuilding of the 1800's.
Although called a castle, it is essentially a grand Victorian country house. I think I especially enjoyed the grounds and gardens.
| | |
| --- | --- |
| Victorian Castle from Rose Garden | Older section of castle from walled garden |
| Garden of Wildflowers | Water Garden |
<!========================================>
---
Thursday, August 18, 2016
Searching for Evans / Portsmouth Ships / Winchester Cathedral
I started the day in search of Dot and Peter Evans, friends of my parents from the late 1960's. My folks had an old address in Chandler's Ford, which is near Winchester, but had not had contact in years. I knocked on the door, only to find that Peter and Dot had moved about a year ago. However the neighbor still keep contact, and later we were able to establish an email connect - much to the delight of my parents.
The main objective for the day is the historic docks in Portsmouth. I have read about the "Mary Rose" for years. This is a ship commissioned by King Henry VIII, which sank in 1545. It was located in 1965 and raised a few years later, but has spent the last few decades being sprayed and only this years has it been opened to the public.
It is a ghost ship and reminds me on the Vasa in Stockholm, although the Mary Rose is almost a hundred years older. In the display it is sometime bathed in white, sometime in blue "undersea" light, and sometimes they project onto it a video of people acting the role of soldiers and sailors from the 1500's.
Next stop was the HMS Victory, Nelson's ship. I saw this as a boy. It now looks cut down and bleak, with most of its mast and rigging missing. This is part of an effort to stabilize it's decay and structural settling.
Back in Winchester it is the evening of the conference banquet, but first we had a private, after hours tour of the cathedral, with lots of details of art, graffiti and vanity pointed out.
| | |
| --- | --- |
| Mary Rose | Mary Rose - underwater lighting |
| HMS Victory | HMS Victory |
| Winchester Cathedral | Kristina's Friend in Winchester Cathedral |
<!========================================>
---
Friday, August 19, 2016
Winchester & St. Cross
In the afternoon we are off to Salisbury, but I have all morning to kick around Winchester until Kristina's conference is over. I am happy to wander though the water-meadows and along the River Itchen. But then it start to rain, harder and harder and so I jump aboard a bus and head south.
People have been telling me that I should visit St. Cross. "The Hospital of St Cross and Almshouse of Noble Poverty". This is operating alms house established by the grandson of William the Conquer. I was also told that it was the setting for Anthony Trollope's book, "The Warden".
When I arrived I passed through the porter's lodge and took refuge from the rain in the church. A very pleasant, Norman, structure, but somehow brighter then I had expected.
Eventually I wandered over to "The Hundred Man Hall", which is now a tea shop. As I sipped my tea and nibbled on my scone an elderly gentleman in a black robe came to join me. He was one of the brethren of St. Cross, and told me a bit of what it was like to be there. In many respects it sounds like a decent place to retire to -- except that his daughter-in-law stopped by once a week and told him to bath more often ("a good women otherwise").
The rain abated. I wandered around the Warden's garden, and then took a foot path across the water-meadows, past Winchester College and back into town.
Now trains to Salisbury.
| | |
| --- | --- |
| River Itchen | Footbridge in Winchester |
| Church of St. Cross | Detail in St. Cross |
| Stain-glass Window in St. Cross | Almshouse of Noble Poverty |
<!========================================>
---
Saturday, August 20, 2016
Salisbury

Our last weekend in England we spent in Salisbury.

Salisbury is truly a cathedral city. There isn't a castle there, and the presents of the cathedral, with its towering spire, dominates all vistas. Even if you have never been to Salisbury, you immediately recognize it from one of the many paints John Constable did of the cathedral.

Our hotel is across the River Avon from the cathedral grounds and so afforded a beautiful, pastoral view of the spire. By the way, this is not the same "Avon" as Shakespeare's birthplace. Avon derives from "Afon" (see Welsh), which just means "River".

When we explored the cathedral there are two unique features; it houses a copy of the Magna Carta and it has an magnificent spire. I loved looking at the old parchment, and then reading a translation. This is the foundational document of liberties, yet it includes clauses like, "Ordered the removal of all fish weirs from rivers" and "Forbade any member of the d'Athée family from serving as a royal officer", it is a hodge-podge of clauses.

And then we took a spire tour. Up above the ceiling of a cathedral, the "attic" in many ways resembles a barn with crooked beams just working to hold up the lead roof and keep the rain out. I the tower we watched a 14th century clock toll the hour.

We went up five spiral staircase and still the spire towered over us. The Cathedral was build in 1220-58, and then the spire was added in about 1320. The tower under the spire was not build to hold it and engineers at the time raced to brace it with iron bars and rods. I told our tour guide that this reminded me of the novel "The Spire" by William Golding. She told me that he taught at the cathedral school and draw inspiration from the troubles of this spire

Back at ground level we visited "Arundell", the home of Edward Heath, Prime Minister when I lived in England as a boy. I told the guide there that Heath has in important roll in British mathematics. He proclaimed that when the word "Billion" is used in government budgets it means "thousand-million", instead of "million-million", to be inline with the rest of the world.

Then one more walk across the meadows, for a Constable view of the cathedral.
| | |
| --- | --- |
| Salisbury Cathedral from our hotel | Old mill on the Avon |
| In the Cathedral Close | The Font |
| Nave from upper gallery | The "attic" above the cathedral ceiling |
| In the tower - bell supports | Looking up inside the spire |
| Looking down on the cathedral close | Looking down from the base of the Spire |
| On the Spire Tour | Cathedral from Arundell's Garden |
| Cathedral across the watermeadows | A Constable like view of the Cathedral |
<!=================================>
---
This royal throne of kings, this scepter'd isle,
This earth of majesty, this seat of Mars,
This other Eden, demi-paradise,
This fortress built by Nature for herself
Against infection and the hand of war,
This happy breed of men, this little world,
This precious stone set in the silver sea,
Which serves it in the office of a wall,
Or as a moat defensive to a house,
Against the envy of less happier lands,
This blessed plot, this earth, this realm, this England,
Shakespeare - Richard II