5 days - 133 kilometers = 82.6 miles <!=======================================>
---
Friday, Aug 5, 2016
Chester & Conwy
I have picked Chester as my entrance point into that ancient, misty and damp kingdom of Wales - or Cymru. In the Middle Ages it was a town which was raided by the Welsh on Tuesdays and Thursdays, but not Mondays, Wednesday or Fridays because those were market days. But today I am part of a counter-invasion. It is Friday afternoon at the start of an August weekend and it looks like half of England is going on holiday in Wales. The platform at the train station is crammed full of people, bikes, strollers and even more people, all of us waiting for the 16:14 to Holyhead. Actually since the train is going to Holyhead, maybe some of my fellow travelers are planning on taking the ferry and invading Ireland? Which would be good, since I am not certain that Wales is large enough to hold everyone on the platform.
A general groan washes over the platform when the Arriva Train comes in view. It is a small train with only two coaches and it is not clear how we are all going to fit on. Or perhaps more to the point, who will be left behind. I hope that a few more creative travelers might start rumors about a luxurious train which will follow in a few minutes for those who choose to wait. But either my fellow travelers are not so creative, or they know that this crowd is insufficiently gullible. So we all, somehow, squeeze aboard. The abode of sardines look palatial.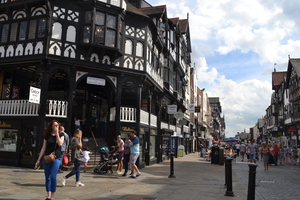 Chester at Chester Cross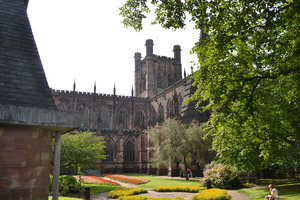 Chester Cathedral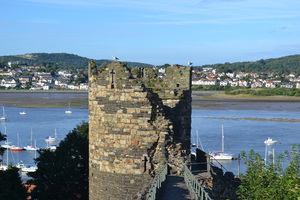 Conwy City Wall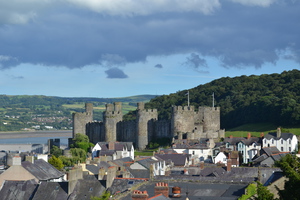 Conway Castle

The conductor announces all the stops on the route, but omits Conwy, which gives me a bit of a jolt. I seem to remember something about Llandudno Junction and then a bus, but I really did think this train went to Conwy. However a few minutes later the conductor continued his announcement by listing the "by request only" stops, and this included my destination. I was instructed to tell the conductor when he passed through the coach that I needed a request stop. What wasn't clear was how anyone could move through the train - you remember the sardine problem?

About half way to Conwy I have wiggled my way through the crowd to the passage between the two rail cars, hoping to find the conductor. I find that I am wedged into a door with little hope of motion, when the young man next to me gets out his cell phone and starts calling someone. The conversation starts loud and then ramps up. He is clearly angry and this call is not resolving anything. In fact he becomes more and more agitated. The woman next to me glares at him, shocked at his language. I, however, am sheltered by my lack of Welsh. He starts flailing his arms and screaming and I fear for innocent passengers. Then we went into a tunnel and the connection was lost.

There is a scene in one of the Star Wars movies where a furious light saber dual is interrupted by the closing of forcefield doors. When the doors are closed the adversaries can only glare at each other through the doors. But when the doors opens . . .

When we came out of the tunnel the young man feverishly dialed his cell and continued screaming! After the third tunnel the other party wisely chose not to pick up.

The woman next to me assured me that she always gets off at Conwy and the conductor knew she was aboard, so I need not try to find him.

The rail line runs under the medieval wall of the town and deposited me in the heart of King Edward's ancient stronghold. I checked into my B&B, then went off to walk the wall. The wall around Conwy is almost completely intact, and a good way to get oriented in an old city with a warren of streets.

I ended up having dinner at "Two The Square". It is amazing how that name confuses people. I heard the waitress explain it repeatedly. "So we are on the town square, and #2 is just our address."

I asked the waitress what is the local specialty? What is Welsh cuisine? She is taken aback, for this seems to be a question she has never thought about. After a moments silence she shrugs and points out that the lamb is at least locally sourced.

That evening I also ate my first "Eton Mess", a dessert of meringue, strawberries and cream. It is very sweet and it is not too difficult to imagine a gaggle of English schoolboys digging into this with relish.

<!=======================================>
---
Saturday, Aug 6, 2016
Conwy, Llanfairechan, Rowen
27 km - 16.7 miles

I appear to be the only one up for breakfast, and so invited Alan, my landlord, to enjoy his tea with me. It was then that I learned that I was the only one at the Llywelyn Guest House. Alan, my landlord, told me he was shutting down the place to do some renovations, but when I had emailed him my walking plans he was intrigued and kept one room open for me.

Actually Alan Hughes is a pretty interesting character.

His story came out when I asked about the glass case in the corner of the breakfast room which was chocked full of skiing and snowboarding medals and trophies. He told me that those were his sons, and although he instructed skiers, he never raced in the league of his son. Skiing in Wales? Well, maybe not, but it was part of a bigger story.

Alan is a spry wiry eighty year old with thinning hair and bright eyes which look like they have gazed upon a thousand mountaintop sunrises. He told me he first came to Wales on a school trip with his geography teacher when he was thirteen. He grew up near Birmingham and that was the first time he saw mountains. And right then he knew he wanted to live in Wales.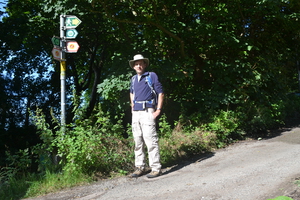 Start of the walk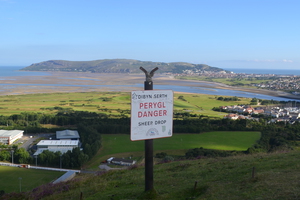 DANGER, SHEEP DROP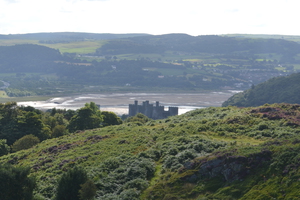 Conwy from Mynydd y Dref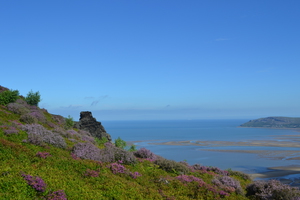 Irish Sea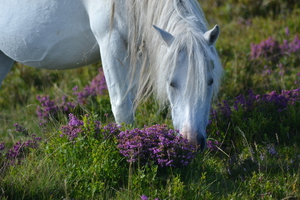 Wild Welsh Ponys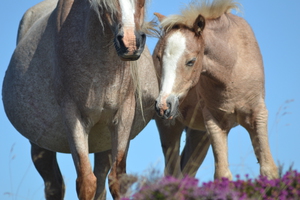 Wild Welsh Ponys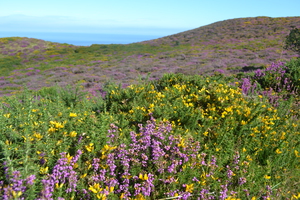 Heather and Gorse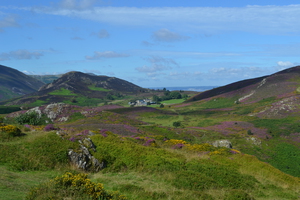 Welsh Hill Farm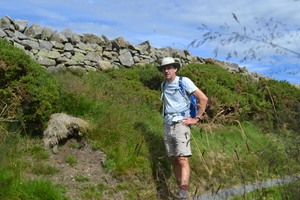 Road to Road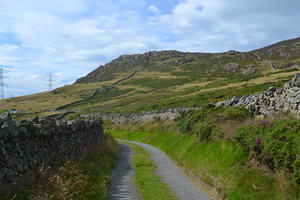 Road to Road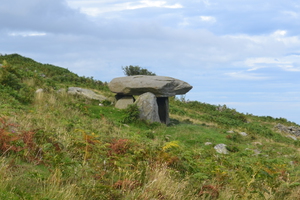 Ancient Burial Chamber

After serving his time with national service, where he was astonished to find himself in radar school, he came to Wales and set up an outdoor activity center; camping, climbing, kayaking, hiking and so forth.

"Skiing here?" I asked him again.

"The Alps are only sixteen hours away if you have enough gas and coffee", He told me. "Once you get to Germany, on the autobahn, you can really fly."

When I told him I cross-country skied, he smiled and pronounced, "Langlauf!"

He told me that originally clients would spend one day with each activity, and that the major feedback they got was, "the only reason you have a day of camping was so that cook could have a day off." Later they changed things such that you could choose your activity. A lot of people still chose camping and cooking, and praised the event.

Alan also taught me a bit of Welsh, "Diolch" (pronounced "dee okk") is thank you and "S'mae" ("sim-my") is hello.

But I have miles to go, so with a "Diolch" to Alan, I shouldered my pack and headed out.

In a straight line it is only half a dozen miles to tonight's bed, but today is to be my shakedown day, and so I point my feet in the wrong direction and took off down the "Llwybr Arfordir Cymru" (Wales Coast Path), or maybe I was following the "LLwybr Y Gogledd" (North Wales Path), or possibly the "Taith Pererin Gogledd Cymru" (North Wales Pilgrim's Way). Which way I trod didn't really matter much. The sun was bright, the sky was blue, the sea rolled away beneath me and the hills drew me up out of Conwy.

The first hill of the day was "Mynydd y Dref", nicknamed Conwy Mountain. Just off the path was a sign proclaiming "DIBYN SERTH, PERYGL / DANGER, SHEEP DROP". Did it mean "Steep Drop"? Or is this where sheep descended quickly? Or was it referring to all the pellets on the trail? True, maybe somebody had scratched out the foot of the "R" in SHEER DROP, but I much prefer my vision of sheep on their wooly bottoms sliding down this hill.

On the hill top is Castell Care Seion, an iron age hill fortress, but what I found more interesting was my first encounter with wild Welsh ponies (Carneddau mountains subgroup). These long haired beauties appear like something out of a small girl's toy collection. But are they truly "wild"? I do know that they did not seem to mind me walking through the midst of their herd.

I started to meet other hikers and found that they are all in groups, or if alone almost always with a dog. I think Brits are taken with their canine companions and I am continuously amazed as to how ubiquitous they are.

The sun is brilliant this morning, showing off the purple heather and the golden-yellow gorse.

I dropped down into the Sychnant Pass, where I pick up a delightful, but very wrong trail. It took me into a nature preserve where I found a family picnicking next to a small pond. The adults where on one side in quiet conversation, while across the water were three boys, ages three to five. They were knee deep in mud and having a glorious time splashing each other and chasing their dog.

I now knew I was off track, so bearing north-west I struck off through the heather until once again I could see the sea and the Isle of Anglesey and hit my trail.

The path winds among pastoral land around whitewashed farmsteads, pastures and up again to the heather and gorse covered heath. Up ahead, and a little inland from the path is an ancient stone circle, which is where I met Flo.

As I approached the circle Flo was poised on a small knoll above it. Her dress flapping in the wind like a pennant, her arms stretched out in front of her like a druid priestess. We talked for a few minutes and then I continued to climb Moelfre, a hill beyond the stone ring.

When I came off of that hill I again crossed paths with Flo and we walked the next mile or two together. She told me that Moelfre was one of the ancient beacon hills, where signal fires were lit in times of emergency, or in times of celebration, such as the present Queen's Silver Jubilee.

She also pointed out to me the "bilberries" which grew along the path. They look a lot like blue berries, but not quite as sweet. Flo told me that they were perfectly fine to eat, but she thought them best when made into jam.

As we descended into Llanfairfechan she led me aside into a barnyard where four men were cleaning up. When she had passed by there that morning they were getting ready to shear sheep. But we were too late to see them in action, they had just finished. Still, a few "naked" (shorn) sheep were running about and little tuffs of wool floated in the air like dandelion or milkweed seeds in a breeze.

I left Flo at the trailhead and walked through the edge of the town of Llanfairfechen hoping to find a tea shop, but I didn't want to descend the hill side all the way to the port, since I now needed to head east to find my hostel. So instead I climbed back up to the moors and had my lunch of bread and cheese on Garreg Fawr.

While I was eating I met a woman who was in her late seventies, strolling across the moors. She had started in Bethesda, about 10-12 kilometers away. (My map is marked in kilometers, so I tend to measure distances that way). She stopped and I listened to her wax eloquently about the virtues of walking. She told me that last Sunday she realized that she could, "do housework, go to church, work in the garden - - or go walking. So I put on my boots, grabbed my trekking poles and headed out".

Finally I make it to the Old Roman Road. I have been able to see this part of today's walk ever since Moelfre, and it is a relief to get here. My feet are getting tired, but from here it is a straight forward walk back to the Conwy Valley and tonight's hostel.

The path is a class IV road, or in this country a land rover track, across the moors. The fact that the Romans had anything to do with this track is not obvious. If anything you would think it predated them (and perhaps it did), since I passed by a number of neolithic standing stones, stone circles and even a burial chamber. The burial chamber is three upright stone with one large stone laid across the top. Originally it would have been buried under a dirt mound. Think of the Barrow-downs from the Lord of the Rings. However, with sheep poking their noses between the stones, these did not have a haunted feel about them.

The path down to the hostel is between towering dry-laid stone walls, and when there is a gap on the right and I see the YHA (Youth Hostel Association) sign I am ready to drop my pack and kick off my boots for awhile.

Locals claim that the road between the hostel and the pub is the steepest in the UK. The first section is a 1-in-3 and later a 1-in-4. In fact the farmer at the bottom of the hill lets hostel stayers park in his field if they think there car wouldn't make it up the hill.

I walk down on tender feet in trepidation, knowing I have to walk back up.

In the village of Rowen I find the "Ty Gwyn" (White Tree) pub. It has the classical appearance, whitewashed stones, dark wood beams, and horse brasses. Tonight it is busy with lost tourist who enter cautiously, and locals who boldly walk in with their dogs and know everyone's name.

Again I asked what was Welsh cuisine and was told, "Fish 'n Chips". "Really?" "Well, lamb is what we raise, but fish 'n chips is what we eat." So I went native and had fish 'n chips.

Back in the hostel the host couple told me I might have the whole bunk room to myself. Five other guys had booked, but they had not paid and as lights were going out, they had not shown up.

At about mid-night a group of five students from Pembrokeshire arrive and woke us all up. I think they are a bit clueless. They are exchange students from China and they explained they had completely misjudge how long the trip would take. They offered me some of their Scotch as a peace offering. I thanked them but declined and returned to sleep.

<!=====================================================================>
---
Sunday, August 7th, 2016
Rowen, The Carneddau Mountains
(Drum,Foel-fras, Carnedd Gwenllian,
Foel Grach, Yr Elen, Carnedd Llewelyn,
Carnedd Dafydd, Pen yr Ole Wen)
Pont Pen-y-benglog, Idwal Cottage
28 km - 17.4 miles

After I woke up I laid in my bunk for a few moments wondering if there was any reason to stay in bed. Since I couldn't think of any I got up a bit before 7:00. Tea and oatmeal for breakfast, packed and out the door before almost anybody else made an appearance.

I have decided to back track on the old Roman road this morning. It will add a mile or so to my day, but I know where the trailhead is, and finding the trailhead can sometimes be the hardest part of a walk. So I strike off between towering stone walls in the footsteps of the legionary, headed towards Caernarfon. The day is windy but bright and I am stepping out with a lighter foot then when I arrived at the hostel last night.

Up through Bwlch y Ddeufaen (Bwlch is a pass), and across the moors until I reach the track which snakes up the north side of Drum. Today I will be walking the length of the Carneddau Mountains, along its highest ridge line. It is not as rugged as Snowdon or the Glyders, but it is a massive tract of open land. 14 kilometers north to south and 12 kilometers east to west without a single road, except the Roman's, crossing it. About 170 square kilometers, or 65 square miles in size. That is about three times larger the Manhattan. And this morning I am sharing it only with sheep.

The wind is furious, so I pack my hat away and put on my raincoat to break the wind.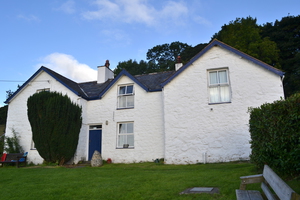 Rowen Hostel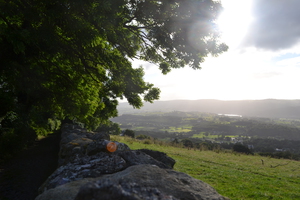 Conwy Valley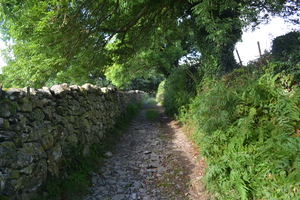 Old Roman Road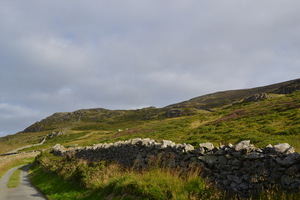 Roman Road & Moors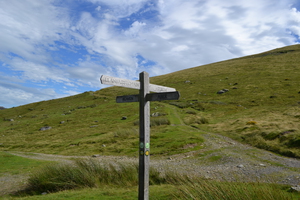 Starting up Drum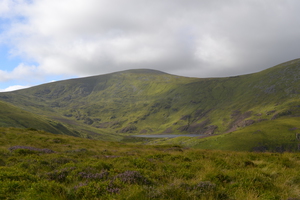 Foel-fras above Llyn Anafon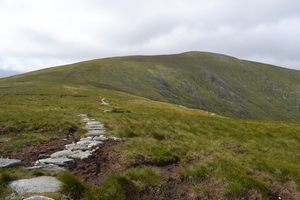 Climbing Foel-fras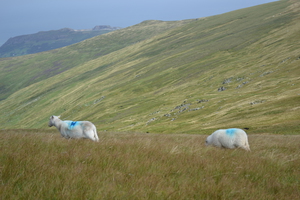 Sheep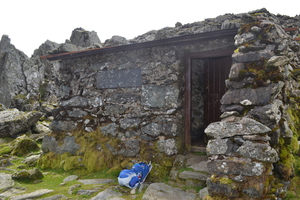 Survial Shelter on Foel Grach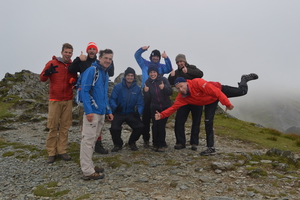 3000 Footers on Yr Elen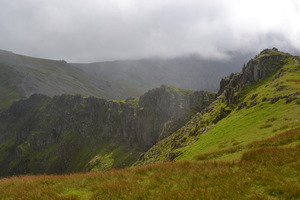 Ridge to Yr Elen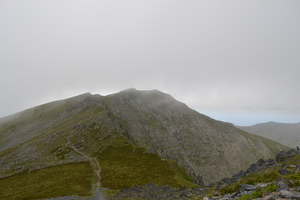 Path to Carnedd Dafydd

At one point I rise up over a low ridge and catch sight of Foel-fras, the first of my 3,000 footers. Llyn Anafon (llyn=lake) laps at its feet, with cliffs between water and summit. It is somehow both green and gentle, as well as rugged and stunning.

On top of Drum people have built a wind shelter of rocks and I hunker down for a few minutes to catch my breath. And then on to Foel-fras. The path between these two peaks dips into a bog, which always surprises me. It seems like water would drain off a ridge line, but between many peaks there are these high moor bogs. In this case some industrious crew has hauled in nearly a hundred massive stepping stones.

The top of Foel-fras is a field of broken stone, as if some giant has been smashing crockery. This is a geological feature of mountain tops which I have often seen and wondered about. Why is it that all the way up, the slopes can be steep but grassy, but still the tops can be a few acres of broken stones? Or sometimes even a small spire of rock? Is it simply that soil and sand can wash off the peak and onto the slopes, but it can not flow the other way?

At about noon I met the first hikers I have seen today. But this couple wouldn't pause to socialize. They are headed north and have their eyes on Foel-fras and finishing the "3,000 footers".

I find "Peak-Bagging" a funny culture. In the Adirondacks there is the "49ers", in the White Mountains the "4,000 footers", in Scotland the "Munros", and in this area the "3,000 footers", or more distinctly, the "Welsh 3000s". This is an established list of peaks that people like to check off. Why does one need a list to tell you where to go? In the past I have actively avoided peak-bagging, but when researching the trails for this hike I realized that I was already planning to pass over most of the 3,000 footers. So this was my solution. I would walk all the 3,000s, but not race over them in 24 hours, something referred to as the "3000 footer challenge". Also I would add a few side trips to lesser peaks like Drum, Y Foel Goch and Castell y Gwynt. Does this let me out of peak-bagger mania? I guess we will see the next time I am walking in a mountain range someplace.

The top of Carnedd Gwenllian is again a field of broken stone. This peak is sometimes called "The Fifteenth Peak", because it is over 3,000 ft, but it doesn't have much "prominence", which is to say it doesn't rise up on the ridge line very much - only 32 meters. It is also the most recently named peak, it use to be know as Carnedd Uchaf before 2009. "Carnedd" is a cairn or a pile of rocks, Gwenllian was the daughter of the last independent Prince of Wales, Llywelyn ap Gruffudd, before the English conquest in 1282. This family has its name all over this ridge line; Carnedd Llywelyn is named after her father and Carnedd Dafydd is named after her uncle. The old name "Carnedd Uchaf", just meant a high cairn.

I think this peak also marks the end of gentleness. Directly to the south is a great basin, or in Welsh a "Cwm" (great scrabble word), with cliffs dropping into the mist. What has been a walk across hill tops is now a hike from peak to peak in the clouds.

As I approach the top of Foel Grach there was something in the rock face which was too straight! Through the mist I could see wet stones with moss and lichen on it and a very straight horizontal line. Then I rounded a wall and there was a doorway into a survival shelter! Build of local stone and slate it was almost invisible, blending into the mountainside. And although the day is getting damp, I didn't need its services so passed onto the peak of Foel Grach and then contained south.

The top of Carnedd Llywelyn is flat and trackless broken stone and well embedded inside of a cloud. I circled for awhile on the top until I found the faintest hint of a trail, the merest suggestion of a disturbance in the rocks. But the problem is that this peak is the convergence point of four trails. So which was this? I wanted to go west, and my compass says that this trail is headed that way, but I couldn't see more then twenty or thirty meters in this mist. So I made what I considered a wise move and executed a strategy which I was to use later on this walk. I stopped and had lunch and waited for the fog to shift.

But before the fog broke a solution I had not thought of descended upon me. Eight hikers raced by me, clearly on their way to the next peak. I stowed my lunch, shouldered my pack and raced to catch up with them. Two hundred meters later we dropped below the cloud and I could see the ridge running out to Yr Elen ("The Helen" - an even more ancient Welsh princess).

Yr Elen is connected by a narrow ridge, a fin of rock, to Carnedd Llywelyn to the east, but drops a thousand feet to cirques or cwm in all other direction. It is like being ontop of a pedestal in the middle of a titan's amphitheater, a spectacular setting!

The group I joined is racing north. They are climbing the 3000s, only stretched over two days. I asked them if they were part of a club, or came from the same town. "No", they explained, they had hiked together because one of the guys had posted a plan on MeetUp. They head north, traversing the face of Carnedd Llywelyn while I returned to its top.

Back on Carnedd Llywelyn I easily found the trail junction, and confirming my direction with my compass I headed south. Again, after two hundred meters I was below the clouds and navigation was again simple.

The walk is over Carnedd Dafydd and then Pen yr Ole Wen ("Head of the White Slope"). This is my last 3,000 footer for the day. Again I got off my intended track. I was following someone down the ridge line farther then I should have gone. He was about a quarter mile in front of me. At one point, while lowering myself over a an open slab, I realized that he was pondering his map with a lost look about him. I consulted my Ordnance Survey and realized that I had missed my turn by 500 meters. I could retrace my steps, but that would also mean climbing 200 meters vertically. Or I could push on, descend this scramble and hook up with the trail down from Ffynnon Lloer ("Moon Fountain/Source"), a small lake and Afon Lloer ("Moon River"). To tired to climb up again, I let gravity carry me down into the valley.

Once down on the valley floor it was a simple walk next to Llyn Ogwen. This lake holds a unique place in Arthurian legends, for it was here that Sir Bedivere threw the sword Excalibur into the water after King Arthur's last battle. Excalibur was caught by the Lady of the Lake and taken away.

At last I am at my hostel, Idwal Cottage.

The cottage has a display of climbing memorabilia from the 1950s and 60s, when a large number of climbs were being pioneered on the nearby faces of "Devil's Kitchen".

I bought some food at the front desk, used some pasta from the "Left Food - Help Yourself" shelf in the kitchen, and cooked myself a big pot of chicken, beans and pasta.

In the evening I was down in the lounge with a couple from Oxford. They were townies and had little to do with the university. They were teachers in the public schools there.

I have my own private room tonight, so things are very quiet when I head to bed.
| | |
| --- | --- |
| More Sheep on Carnedd Dafydd | Afon Llafan Valley |
<!=======================================>
---
Monday, Aug 8, 2016
Idwal Cottage, Ogwen - Pen-y-Pass
via the Glyderau range (Tryfan,
Y Foel, Glider Fach, Castell Y Gwynn,
Glider Fawr, Y Garn, Elidir Fawr)
28 km - 17.4 miles

I over slept! Was it the lack of light down at the bottom of this valley? Or was I a bit tired from yesterday's ramble? In any case it was 7:10 before I woke, and 8:10 when I finished my breakfast (oatmeal and tea), packed and got out the door.

The trail starts right next to the hostel and I am immediately climbing out of Dyffryn Ogwen (Ogwen Valley). I catch up with two guys with radio antennas sticking out of the top of their packs. They tell me that they are doing "Radio Summits". You climb a mountain and then you have to contact four other people via your radio before you can log that peak in your list.

In less then a kilometer I reach the lip of a cwm which holds Llyn Bochlwyd. This is a beautiful little mountain lake. When I was a boy in 1974 my family climbed Tryfan, and I had a photograph of this lake from the peak on my wall in college. So when I recently learned that it had the nickname, "Lake Australia", I knew the shape and was not surprised.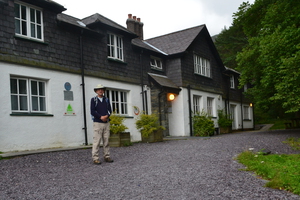 Idwal Cottage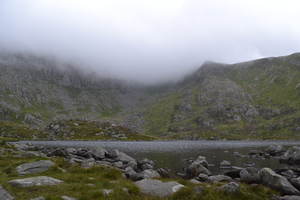 Llyn Bochlwyd - 'Lake Australia'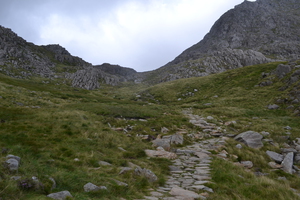 Trail to South Ridge of Tryfan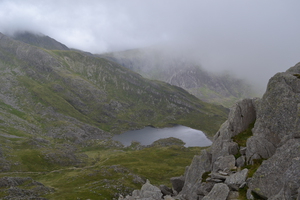 'Lake Australia' from Tryfan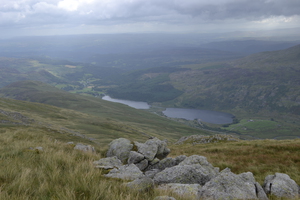 "I Bought a Mountain" Farm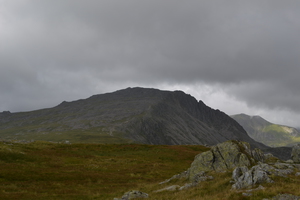 Glyder Fach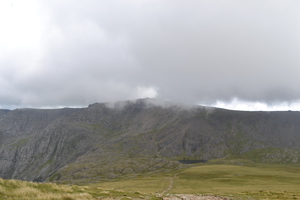 Glyder Fawr & Llyn Cwm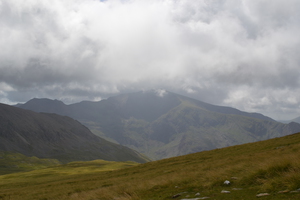 Snowdon across the Llanberis Valley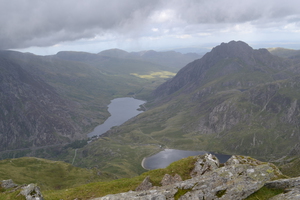 Llyn Ogwen, Tryfan (top)
Idwal Cottage, Llyn Idwal (bottom)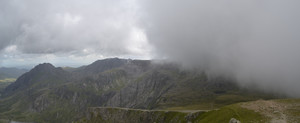 Tryfan & The Glyders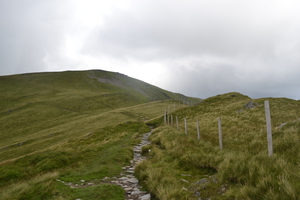 Path Between Y Garn & Eldir Fawr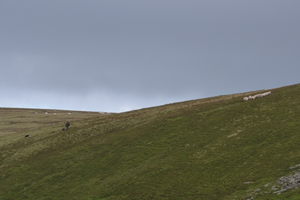 Shepherd, Dogs & Sheep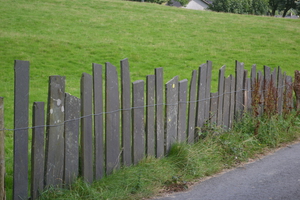 Slate Fence

I use to find that the start of the third day for a long trek is the hardest. You are tired, yet not quite fit. Putting on boots this morning really was hard, but after the first mile I feel like there is a good deal of vim and spring in my legs. This is good, I have seven peaks to climb today!

Tryfan means either "Extreme Peak", or "Three Peaks", both of which describe it well.

I have picked a trail which first takes me to the southern ridge, a saddle between Tryfan and Glyder Fach, and then up the south ridge line. When on the saddle I find myself back into the clouds.

It is a steep scramble and no trail is marked. So I often find myself staring up into a cliff face which I am not ready to climb. I then need to retreat a bit, traverse and climb on again.

Really there is no trail, there are occasional suggestions of the right direction. A tumble of gravel which can not be explained by water and the scratches from trekking poles.

It is misty with the occasional spit of rain, just enough such that the rocks are slippery. I am no longer hiking, I am scrambling, using my hands most of the time.

At last I reach the summit. There are two massive blocks on the summit, nicknamed Adam and Eve. A seagull is waiting for me on Eve. I put my hand on top, but have no great desire to climb them. The drop from one side is straight down into a cloud, an unknown distance.

Back down the south ridge and then a traverse of the north face of Glyder Fach soon brings me to a high moor between Y Foel Goch and Glyder Fach.

Y Foel Goch ("The Bare Red", i.e. a bare topped hill), is not on the 3000s list, but I wanted to climb it anyhow because I think it marks the edge of the farm which the book, "I Bought a Mountain" is based upon. My parents read us boys that book when we visited Wales in the spring of 1974. I can remember listening to it while trying to stay warm, huddled next to a coal fire in a four hundred year old cottage. It was pouring outside. I also re-read that book last year.

In "I Bought a Mountain", Thomas Firbank describs operating the 2,400 acre (almost 4 square miles) sheep farm, "Dyffryn Mymbyr" in the 1930s. It was a hard but rewarding outdoor life.

But it is time for me to turn west, across the boggy moors to Glyder Fach. This ridge line is called the Glyderau, which means heaps of stones. Fach is small, and Fawr is large. So I am climbing a small heap of stones.

Along this part of the ridge line is a string of cairns, which is fortunate since the fog is really think here. I can not see more then 20-30 meters, which is about the gap between cairns.

Just a little ways beyond Glyder Fach is Castell Y Gwynt ("Wind Castle"). This is one of the optional peaks, because of low prominence. In fact it would have been easy to stay on the main trail and missed this peak, especially in the fog, if I had not read about it ahead of time. A tumble of rocks, with a spine of spikes like the back of a stegosaurus. Or perhaps I should compare it to a dragon, because this is where the movie "Dragonslayer" was filmed.

It is a slippery scramble to the top of Castell Y Gwynt, where the wind wraps strands of clouds around me like bits of cotton wool.

Near the top of Glyder Fawr I lose the trail in the mist, so using yesterday's strategy, I sit down and have lunch.

Things are always clearer after lunch. I find the next cairn and march off to the north-west. I don't have to descend too far before I break out of the clouds and find myself at the head of a messy talus slope. But at the base of this slope is Llyn Cwm, an absolutely beautiful high country tarn.

It is an easy climb up to Y Garn ("The Cairn"). On the top I met a couple who were looking around, under rocks and in crevices. They started trying to explain to me what they were doing, and then stopped and looked at me and said, "It is one of those new American things, so you probably know all about it. We are Geocaching."

Y Garn in itself is not very remarkable, but it is the first time I have been able to see the cwms on the north side of the Glyders. From the south this ridge line is a series of big rounded hills, covered with grass and sheep. But the north side is completely different. Great bowls have been cut out of the mountains by glaciers. In most mountains these would be called "cirques" because they are like circular amphitheaters, or "Hanging Valleys", because there is still a steep drop between these cirques and the main valley floor. But in Wales they are called "Cwms". In fact I think it is a nod to the Welsh climbing culture that Mt. Everest has a few valleys labeled as "Cwms".

Below me is Cwm Idwal, holding Llyn Idwal a thousand feet down, with the Idwal Cottage in the main valley a thousand feet lower still. Beyond that is Cwm and Llyn Bochlwyd and then Tryfan. Just below my feet is the famous headwall for Cwm Idwal, known as "Devil's Kitchen" to climbers throughout the world. To the north Cwm Clyd, Cwm Cywion, Cwm-coch and so forth. It is truly breathtaking.

But my day is not done, and my path curves to the north. Past Foel Goch, the trail to Elidir Fawr is nearly flat until the last kilometer, and even that is not very hard. But most of this path is cut into the side of a very steep slope, clinging to the 750 meter contour line.

Elidir Fawr is a tortured mountain, with slate quarries on its south and north slope. In fact the quarry on the north has now been changed into a reservoir used for the pump storage of energy, with a power plant built in tunnels under the peak. Right now, however, what draws my attention is across that reservoir on the slopes of Mynydd Perffedd I am watching a shepherd with three collies moving sheep up the slope.

This is my last peak for the day and so I finally can turn my attention south to the Llanberis valley, and beyond that the Snowdon range.

But first I have to get off this mountain. It is miles by trail down to the valley, so I decide to just cut straight down the slope of Elidir Fawr, avoiding the quarry. The pitch is between 45 and 50 degrees, but the ground is a spongy moor of heather, moss and grass so it is easy to dig my heels in. Still, I am happy to reach the valley bottom and then chase sheep as I follow Afon Dudodyn out into the main Llanberis valley.

It is about five kilometers up the road to tonight's hostel. But walking on the side of roads in Wales is not much fun - there are essentially no sides to the roads because of the stone walls. Cars, busses and trucks zip by far to close for comfort. You really do need public footpaths in this country!

The Llanberis Pass really is stunning. The mountains, the green moss, the water and rocks! But I am getting tired and ready to finish my day.

Up past the famous Dinas y Gromlech rock face with its classic climbs. Past the Lancashire Climbing Club's lodge and into the the high pass and Pen-y-Pass Hostel.

This building, like Idwal Cottage, is an old and revered institution in mountaineering. In the dining room is a list of famous guest - including the physicist Ernest Rutherford! The hostel serves breakfast and dinner, so I need not cook, but enjoy dining while staring out the window and down the Llanberis Pass.

In the bunk room I meet Thomas and Oswald, two brothers in their mid twenties from Brighton. Oswald is in an indie-pop band and Thomas whats to study videography, docudramas in particular. I asked him if he had ever recorded his brother's band. "You know, I really should", he told me. (At breakfast he told me he spent half the night thinking about this!)

And then to bed.
| | |
| --- | --- |
| Llanberis Pass - Lancashire Climbing Club | Evening at Pen-y-Pass Hostel |
<!=============================================>
---
Tuesday, August 9, 2016
Pen-y-Pass to Tremadog
via: Crib Goch, Garnedd Ugain,
Snowdon/Yr Wyddea, Beddgelert
30 km - 18.6 miles
The bunk room is pitch black and most of the other hostelers are snoring away when I tip-toe out at 7:00. I had left a lot of my clothing in the "drying room" (hot and ventilated, a very useful room for Welsh hikers) so gathered my stuff and packed. I almost was first in line for the full English Breakfast (eggs, sausage, tomatoes, ham, beans and mushrooms) and was on trail by 8:00.
I start out following the "Pyg Track" for the first mile. There are a lot of families and walkers of all ages and abilities going up Snowdon this morning. It is three and a half miles up the Pyg to the summit of Snowdon and the view is rugged the whole way. I think this can not be too difficult as a young woman runs up the trail past me.
At "Bwlch y Moch" ("Pig's Pass"), I switch over to a much steeper, more obscure trail up Crib Goch ("Red Ridge"). Crib Goch is mountaineering, or at least a scramble the whole way, by which I mean that most of the time I was using hands and feet to climb. But the rock is firm and hand holds are good and plentiful. There were places were I was glad to have at least a notion as to how to climb, things like recognizing "jug-handles" and remembering to always have at least "three-points-of-contact".
Finding holds is not hard. The rock is some type of igneous, with very regular cracks, horizontal and vertical, which means the whole mountain is made up of stacks of columns. In fact these columns have at a lot of different scales, making the face feel like a fractal. There are columns which fit your hand, some the size of a person, and a very big one called Crib Goch.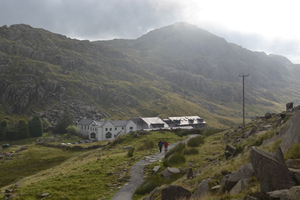 Pen-y-Pass Hostel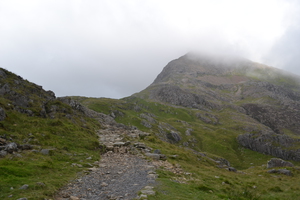 The Pyg Track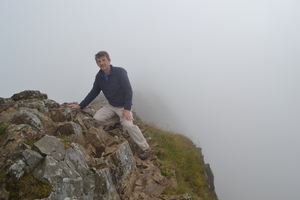 On Top of Crib Goch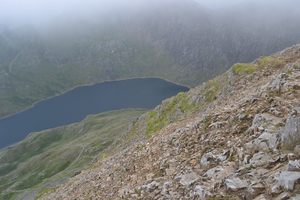 From Crib Goch down towards Llyn Llydaw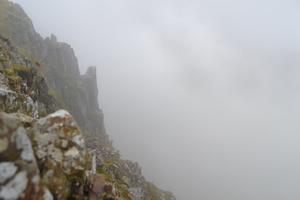 North Face of Crib Goch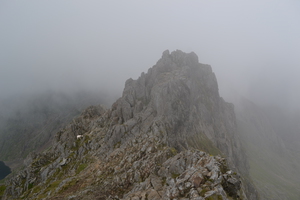 Crib Goch's Razor's Edge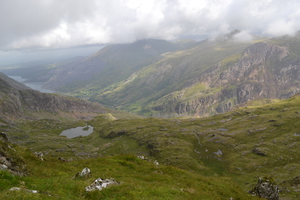 Llanberis Pass from Garnedd Ugain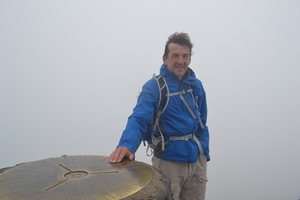 The Top of Snowdon / Yr Wyddfa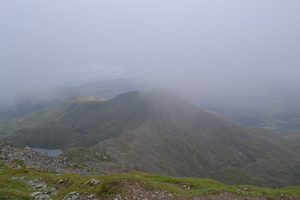 Look South, The Watkin Path, from Snowdon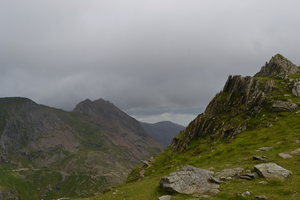 Crib Goch from the Bwlchysaethau ridge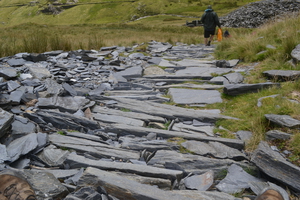 Slate paving on the Watkin Path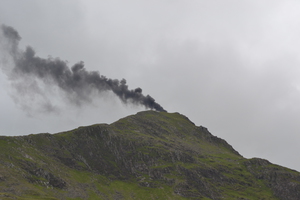 Smoke from Yr Aran - helicopter on fire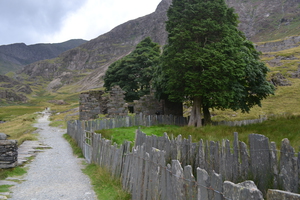 Slate Fence near Quarry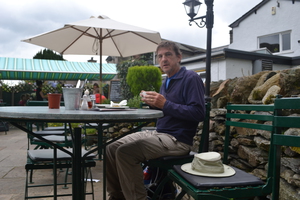 Tea in Beddgelert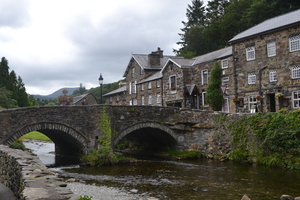 Village of Beddgelert

At the top I met two other climbers. We all photographed each other and then waited for a rent in the mist so we could see the "knife's edge", or arete which extended towards Snowdon. One of the other climbers told me, "I hope it clears soon. I want my friend to see how frightfully high it is."

Eventually I decided it is time to move on and so I move out onto the knife's edge. The south side is at about a 60-deg pitch, but with good footholds. The north side as at nearly 90-degs. I walk on the south side with my hand on the ridge line. It feels like I am traversing the roof of a steep picked gothic cathedral. Most of the time the top of the ridge is at shoulder height and occasionally I will stick my head over the wall and peer over the edge and down into the misty abyss.

The wind is out of the north and carries a lot of water with it, so the ridge actually gives me a bit of shelter too.

When I was a boy, in 1974, my family climbed this ridge line, I remember mist and sleet. After this walk I asked my parents why they let us do it. They told me that the mist was so thick they couldn't see how high up we were until it was too late.

I met the same young woman who I had seen running the Pyg track and hour earlier. It became apparent to me that she was a "Fell Runner", (British hill runner), and was going to attempt to traverse all the 3000s today. I told her as she passed that I was doing them north-to-south, and that the next two hundred meters was the trickiest section I had seen.

At the end of the Razor's Edge I thought to myself that this had felt more like "Mountaineering" then anything else I have done.

The approach to Garnedd Ugain carries its own name, Crib-y-Ddysgl, ("ridge of the dish", "dish" being a cwm). This would have been an impressively steep ridge except that I had just been on Grib Goch. I didn't have to hold on all the time, and at times the ridge was up to three or four meters wide, virtually a sidewalk through the heart of a cloud.

In the distance I can hear the whistle of the cog-railway train working its way up Snowdon. The whistle really cuts through the fog.

Garnedd Ugain means the "Cairn of the Twenty" and is named after the Roman legion which was based in Caernarfon. I share the summit with a single old and motley sheep. So it is a bit of a surprise when I come off the peak and merge with the Pyg Track and the Llamberis Path which follows the cog-rail lines. And all of a sudden there are a lot of people walking up Snowdon.

I can only see 30 meters in front of me, now the summit house where the train stops, and then a staircase to the final pinnacle. There is a line of people waiting to be photographed at the top. I photographed a group of girls who are college roommates and they photographed me. And then down to the summit house.

I had a meat pie for lunch, and then met Oswald and Thomas again! They have had a leisurely walk up the Pyg Track.

Since I have given you the story behind the Welsh names of many mountains, while I sip my tea and look out the window of summit house might be a good time to tell you about Snowdon.

"Snowdon", is the old english word, about a thousand years old, for "Snowy Hill". The Welsh name for this mountain is "Yr Wyddfa", which mean the burial hill. Tradition has it that King Arthur fought the giant Rhitta Gawr here, and after killing him had a great mound raised over him. But since I have never heard anyone use the name Yr Wyddfa, I'll stick with Snowdon.

And then the mist broke!

All of the Llyn Peninsula and Anglesy lay before me to the west and northwest. To the north and northeast all my wanderings of the last few days.

But the top is a busy place and it is a long ways to Tremadog.

I notes the time I left the top because I knew I would meet exhausted walkers coming up, and it is always encouraging to be able tell them, "I left the top seventeen minutes ago." Of course I am sprinting compared to most of the uphill plodding I see, but people seem to brighten up when they hear this. I think it is because it is such a definite pronouncement about the end of their toils.

It is a steep drop down the Watkin Path for about half a kilometer, but then it runs along the Bwlchysaethau, a ridge line, one of the buttresses which hold up Snowdon. From here is a stunning view of Crib Goch and Garnedd Ugain, peaks which I have never seen clearly because they have always been shrouded in clouds. It is turning into a lovely day.

As I continued to descend there was a helicopter circling the valley. I assumed that it was part of a search and rescue. It was flying for ten to fifteen minutes, and then I saw it hover over Yr Aran, a spiky peak south of Snowdon. I notice that things had become quiet, and then the next person I met pointed out to me that there was a plume of black smoke rising up from Yr Aran. It almost made the mountain look like a volcano!

With my telephoto lens I could see four or five people walking around the peak. Later I read news reports that it was a RAF training mission which had engine troubles. The pilot was able to make an emergency landing and everyone got out unharmed before the helicopter burst into flames.

Back down in the valley we speculated without any real information.

Near at hand the trail is made of slate! I think these must be rejected slabs from the nearby quarry.

The path now follows a four-wheel-drive track along the bottom of the cwm, and I meet a rescue ATV headed up the track, presumably headed towards Yr Aran.

I drop from Cwm Llama into Nant Gwynant, a gentle and green valley filled with lakes. Walking along the road, between pavement and stonewalls, is nasty. So as soon as I can find an alternative I skip across the foot of Llyn Dinas and follow a small road into the village of Beddgelert, arriving by the 'backdoor'.

I have walked about 16 kilometers so far today (about 10 miles), but I still have about 14 kilometers (8 miles) to go. Still, I need to put my feet up for a few minutes and so have tea and bars brith, a Welsh sweet bread made with currants soaked in tea.

Either the summit of Snowdon, or Beddgelert would have been the end of the story if all I was doing was writing a tale. It should have ended on the summit. The mountains and cliffs and wide open lands were behind me. But this is not just a story, it is a walk which will end tomorrow in Harlech, which is where I can catch a train. So on I go.

Beddgelert is a very pretty village, but right now overrun with tourist. I soon re-shouldered by pack and head south along the "Fishermen's Walk", a pretty path which follows the stream and a narrow gage railroad. The train passes me a few times. It is an old steam engine with a lot of smiling holidayers in tow.

I am determined to stay off the roads as much as I can, which means my way to Tremadog is not the most direct. When on the major roads, I stride along briskly, when off the roads I am stringing together obscure public footpaths.

My map guides me down a long lane and at times I feel like I am tip-toeing through Farmer Maggot's mushroom fields in the Shire. At the end of the lane I cross the narrow gage railroad tracks again and can not find the public foot path. There is a camouflaged caravan (camper trailer) with lots of fences and antennas. I finally found a sign and was reading it when the woman in the caravan waved me in. She explained that this was an osprey refuge (Glaslyn Osprey Project), and she was watching an osprey return to its nest via a camera which was mounted in the trees. She said that I could most certainly use the footpath, but asked that I try to keep out of the woodlot where the nest was.

I crossed a foot bridge and skirted the refuge, following a faint path across pasture lands and around farm fields. Still I was out on the highway for the last three kilometers (two miles) into Tremadog.

My room at the Ty Newydd B&B ("New House") is nice and simple.

The center of Tremadog is St. David's Square (St. David is the patron saint of Wales) with a number of restaurants. I picked out one and was soon seated and reading the menu. Someone at the next table was asking the waitress about the name of the restaurant. But before the waitress could answer I glanced down at the menu, saw "Y Sgwar", and knew the answer. It means "The Square", almost the same name as the place I had eaten in in Conwy!

I started with garlic and onion crepes and finished with duck. It was great!
| | |
| --- | --- |
| Fishermen's Walk next to Afon Glaslyn | Narrow Gage Railroad |

Y Sqwar - St. David's Square - Tremadog

<!=========================================================>
---
Wednesday, Aug 10, 2016
Tremadog - Porthmadog - Harlech
20 km - 12.4 miles
My landlady put on the classic "English Breakfast" for me, and I have given up asking what a Welsh Breakfast should be. Eggs, beans, tomatoes, hash browns, bacon, fried bread and toast. But that was preceded with Wheetabix and coffee. I don't think I have had Weetabix in over forty years!
There was one other old gentleman at breakfast. A tall thin man, I am guessing in his late eighties. He told me that he use to work in the Llanberis Power Station, the hydro plant in the tunnels under Elidir Fawr, and he had just been back to visit.
"Twelve seconds to full power", he told me. He said that in the control room they would watch football matches on the telly, because right after the game ended every tea kettle in Great Britain was turned on. So they needed to open the gates from the reservoir, get the turbines spinning and create power.
It is a short walk to Porthmadog ("porth"=port), the biggest town I'll see on this whole walk. But my feet are sore and I have developed a few blisters, so the start of today's walk is a bit slow. Eventually my feet feel fine, but they are tender for the first mile or so.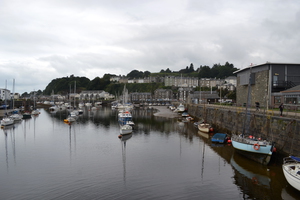 Porthmadog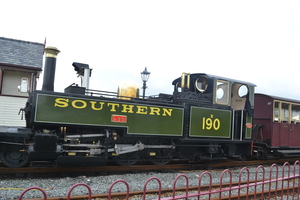 Ffestiniog Railroad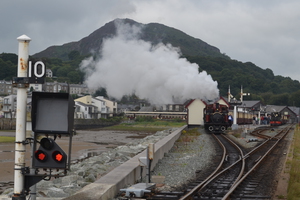 Narrow Gage in Porthmadog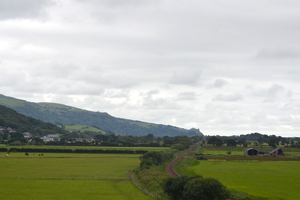 Harlech in the distance

Apparently narrow gage railroads are all the rage in this area. Porthmadog host the "Welsh Highland Heritage Railroad" and the "Ffestiniog Railroad". The Highland Railroad was the one I saw yesterday, running up to Beddgelert. The Ffestiniog runs along the seacoast. Originally the railroads brought slate down from the quarries near Snowdon to the port for shipping all over the world.

As much fun as watching these beautifully maintained steam engines is watching the train spotters photograph them. The coaches are miniature and remind me of carnival rides. The engine itself is wheels and pistons, levers and shafts, steam and smoke. I was surprised to see a coal hopper build into the engine itself.

And with a toot of the whistle and a cloud of steam, the train is off.

I cross a long causeway and follow the Welsh Coastal Path through Minffordd. The rail station here is unique. On one platform runs the "Arriva" train, with standard gage. On another platform is the narrow gage "Ffestiniog".

In the town of Penrhyndeudraeth I stopped and talked to two guys who were moving a stone wall across their garden and were only too happy to take a break and talk. They told me that "the most beautiful view in the world" was looking east across their garden, over the estuary and out towards the Irish Sea. In the opposite direction, towards the railroad switch yard, full of abandon rusty machinery, was one of the ugliest sights. Thus the reason to move the wall.

I had hoped that I would end my ramble walking along the water. For a few miles my walk is along a dike. Inland are farms and fields. On the seaside a pasture in the salt marsh. I never really walked next to the water.

Eventually the trail cuts inland towards Harlech. At one point the public footpath crossed an electric fence, which make a particularly complex style. It also left me in a field with cattle. Were they steers or bulls? I approached them cautiously, for the gate out of the field was just beyond them - and I didn't feel like climbing the electric fence. Eventually they proved to be more skittish then I was and backed away so I could pass through.

About a mile from Harlech it started raining as I cut through a wheat field. I sometimes think it is good for it to rain at the end of a trip, because it helps you to stop. Up a winding street past the castle to Brydir House B&B.

Alan and Janet were there to greet me, as was a box of clean clothes I had sent from London. So I stepped out of my wet boots, into dry clothes and my walk was over.
| | |
| --- | --- |
| Saltmarsh Pastures | Afon Glaslyn Estuary |
| Encounter with Cattle | One more field to Harlech |
| Harlech Castle | Village of Harlech |
| View of the Sea | Welsh Flag over Harlech Castle |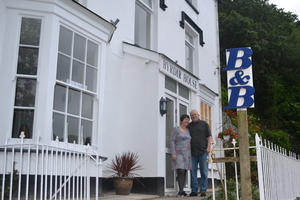 Janet, Alan & Byrdir House B&B

<!============== 5 days 133 kilometers = 82.6 miles 18 mountains *Drum Foel-fras Carnedd Gwenllian Foel Grach Yr Elen Carnedd Llewelyn Carnedd Dafydd Pen yr Ole Wen Tryfan *Y Foel Glider Fach *Castell Y Gwynn Glider Fawr Y Garn Elidir Fawr Crib Goch Garnedd Ugain Snowdon/Yr Wyddea>