[Click on any photo to get a higher resolution.
Ask Tim to email you the highest resolution.]

<!=======================================>
---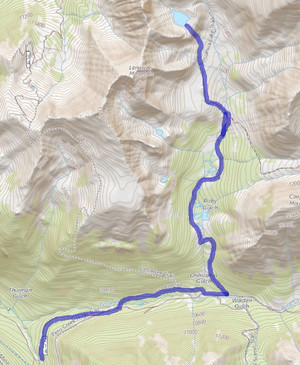 Peru Creek to Chihuahua Lake.
Round Trip, 10 miles & 8 stream crossings.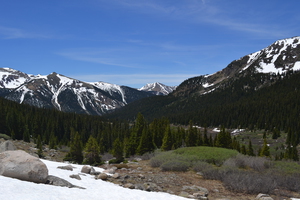 Looking southwest over a park in
Chihuahua Gulch.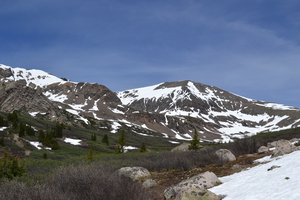 Looking north to Grizzly Peak.
Chihuahua Lake is above the
escarpment in the center.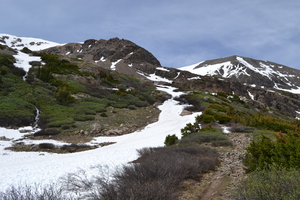 The trail disappears into snow.
The lake is above the escarpment.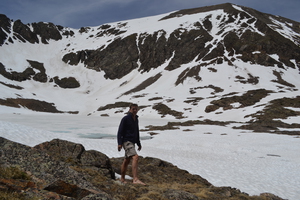 Chihuahua Lake is frozen. But the snow feels
good on sore feet after a hot climb.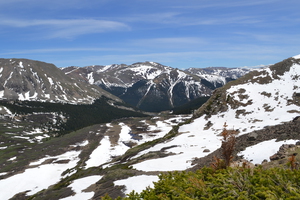 Looking down Chihuahua Gulch from the Lake.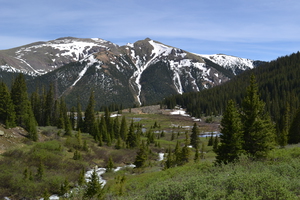 Park and Bever Meadows in Chihuahua Gulch

My plan for the week is to alternate "In The Sky", mountain summiting days with something less aggressive, more pastoral. And yesterday, while perched on top of Grizzly, I saw today's goal. Down, a thousand feet below me was a frozen lake, cradled in a mountain cwm (or cirque). So today I set out to Chihuahua Lake.

The trailhead is off of Forest Service Road 260, but getting to the Forest Service Road was not so simple. Two mile west of the trailhead the gate was locked. A friendly sign explained that the US Forest Service would open the road at the beginning of June, about three weeks ago. But that didn't help today.

But there was plenty of space to park here and so I shouldered my day pack and hoofed it up road 260. It was a pretty dirt road which followed Peru Creek, through the pines with the creek happily chattering like a flock of birds.

Who named this region? Peru Creek, Chihuahua Gulch, the town of Montezuma and Argentine Pass? I've looked at some topo sheets from the 1920's and all these same names are here then. It also looks like every modern jeep trail was established then, then ended at somebodies mining claim.

In half an hour I had reached my turn off and started climbing Chihuahua Gulch. It must have been a pretty hardy jeep. A half mile up the trail I pass a field of stone, probably a landslide. It is easy to see where the phalanx of stone tumbled down from Cooper Mountain, pushed its way through the forest, and then caming to a rest in this meadow. Did the Marmots come with the landslide, or follow later? In either case I could hear them chirping away. I thought it was trying to shoo me away, but then I realized, as a second Marmot approached, that this was part of its mating ritual.

I knew this walk would require a few stream crossing, but since these would be places where a jeep could drive across, I had not expected much difficulty. Chihuahua Creek reached to the bottoms of my shorts and tried its best to sweep me away. I was barefoot with my shoes tied together and hung around my neck and with a trunk of a small tree as a staff to brace myself with, I picked my way over the cobbled stream bed. Every step a challenge, feeling my way forward with my toes, checking my footing, moving my staff, and then taking the next step. By the time I emerged on the other side my feet were numb, this water had been ice and snow yesterday. It takes awhile to dry really cold feet, but dry feet are important in avoiding blisters, and I have three more days of walking.

The trail curved around a "Park". In the Rockies, a "park" is the area at the bottom of a valley, often filled with a bog or marsh. This one was clearly the brainchild of the Marmot's cousin. I could see a number of beaver lodges and a whole network of dams and levels which would make any Dutchmen fell proud.

Two-thirds of a mile later the jeep trail again crossed that ragging mountain stream and I was stumped. It was narrower and deeper then before and in such a rage that I shied away from it. Eventually I pushed through some brush, working my way up the stream bank, until I found a place where the stream was slight more tame, and here I worked my way out to an island, then through more brush, a bit of murk, and finally tip-toed across a beaver dam to the far bank.

The jeep trail continued to be flooded by the park and I continued to wade streams or hop from hammock to hammock until at last I regained solid earth.

A few hundred feet of vertical climbing left me well above the parks, where I found myself moving into a region of snow field. The jeep trail takes a long, round about way to get up to Chihuahua Lake, but I could see that I would save myself a number of steps if I was to forego the jeep trail, traverse a snow field, and climb a talus slope and an escarpment. A half hour of toil brought me up over the last ridge into a hanging valley, and the whole cwm lay before me.

I want to call it a "cwm", because I think that word is underused. But it really does have the high-alpine feel implied by "cirque". Most of this bowl is filled with snow and ice. There is one rocky island in the sea of snow, where I plant myself for lunch.

The snow is dazzling, it is a bright warm, sunny day in June and I am sweating buckets after my climb. So I take off my shoes and dashing through the snow, frolicking!

There is a bit of hardy grass growing in a sheltered nook among the rocks and I spread myself out in the sun for an hour. After all those stream crossing and tromping through the boggy parks, these recumbent minutes are deserved before it is time to retrace my steps.

On my walk down I saw two people across the valley, nearly a mile away. Except for them I had had all of Chihuahua Gulch and miles of wilderness all to myself.

Another glorious day in the mountains.

<!=======================================>