[Click on any photo to get a higher resolution.
Ask Tim to email you the highest resolution.]

<!=======================================>
---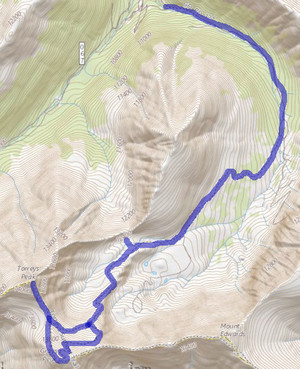 Torrey's & Gray's Peak.
Round Trip, 10 miles.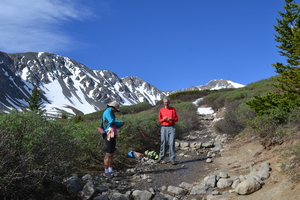 Jade & Jim at the trailhead.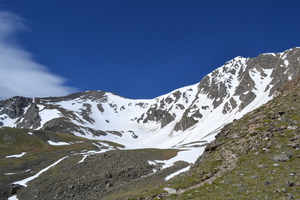 Gray's Peak (left) and Torrey's
northeast arâte (right)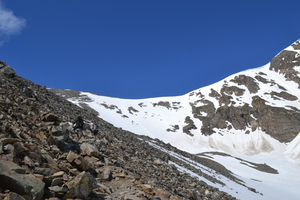 Trail up. The headwall in the background.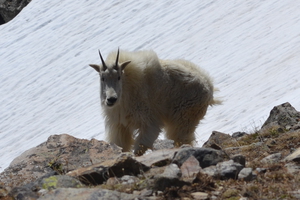 Gray's Peak welcoming committee.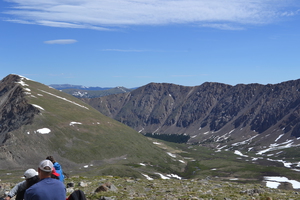 Looking back down Steven's Gulch
to the trailhead.
I was describing my first two walks to Jim, a friend and colleague who is also attending my wife's conference, and he became overwhelmed with envy. Jim is an avid hiker (he lives in Vermont, a state named after its mountains) and was soon scanning the conference's agenda looking for a time slot where he could escape from session for awhile. So he and I sketched out a hike up Torrey's and Gray's for today.
Then, last night, when Jade overheard our plans she too looked at her schedule. She was planning on driving back home today, but could delay that until evening.
So if today has a unique theme, it is something about hiking with other people.
To get to the trailhead we drove up over Loveland pass, down I-70 to the Bakerville exit (no town - just an exit) and up Steven's Gulch Rd. Jim was driving, and as we progressed and the road regressed, I did not envy his task. With each winding turn up the gulch the hole and boulders grew larger and more frequent and I was wondering what the price of a new muffler would be if we split it three ways. Finally, about a mile from the trailhead, we agreed that the road had won, or that our nerve and the rental car had succumbed, and we pulled over as best we could to let vehicles with more nerve and higher clearance pass us. A twenty minute brisk walk brought us to the trailhead and the tree-line.
I read afterwards that Gray's and Torrey's Peaks are the two 14,000 footers closest to Denver, and so very popular. We didn't have the trail to ourselves, but it wasn't crowded either. It was also a Tuesday.
As we walked we had a chance to talk and even though I have known Jim for years, I am still learning things about him. For instance, he has been hiking the 49 4,000 footers in New Hampshire with his son, but his son managed to slip off with some friends and claim a missing peak, and so finished the collection shortly before Jim. Although Jim feigned indignity at his son beating him, I could sense a father's pride; there is something special about finding out that your son enjoys something you are passionate about.
I have never met Jade before, but apparently she is the organizer of her department's weekly hikes, and living in Colorado, that means she has tramped a lot in the Rockies. Still, she tolerated the two of us who live at the bottom of the ocean of air.
The first mile and a half is a pretty straightforward ramble up a broad valley. We briefly looked at an ascent of the northeast arâte, but we decided we were not quite ready for that bit of mountaineering.
In the last 2,000 feet of climbing things became truly steep and the trail responded with a series of switchbacks. And although the climb was laborious it was also entertaining. At one point we watched a snowboarder drop down the thousand foot headwall from the saddle between Torrey's and Gray's, which lead to a long discussion about whether or not a thousand foot glissade was a viable method of descent.
Later we spotted a mountain goat in the distance and agreed it was quite a sight, and them five minutes later found a pair of beaded goats blocking our path.
The trail heads towards Gray's and then it is a half mile north across a saddle to Torrey's. But also, a few hundred feet below Gray's there is a cutoff to Torrey's across a snow field at the top of the headwall. Jade opted to head up Gray's and indulge in some time on the peak, while Jim and I made a dash to Torrey's first.
A lot of other people have already crossed this snowfield but it is still a kick and step process to the saddle, then up Torrey's. It was fun to watch Jim summit, he was like a kid in a candy store, bouncing around, delighted in all that he could see. But we knew that Jade was waiting for us, so we didn't tarry too long. We dropped about 500 feet to a col and then re-climbed those 500 feet up to Gray's, the two peak differ in elevation by only 4 feet.
Jade had found a wind shelter on the south slope, a bit away from the crowd on the summit, and it took a bit to find her. Still, we eventually rendezvoused and then enjoyed a panoramic lunch.
Like usual, the return from a climax, is, well, anticlimactic. It is straight forward to let gravity return you the gulch, the tree-line, the road and then the car.

Jade with Mountain Goat.

Tim with Mountain Goat.

Mountain Goats with McClellan
& Edwards in the background.

Tim on top
of Torrey's Peak.

Jim on top of Torrey's Peak.
Gray's in the background.

Tim, Jade & Jim.
Lunch on Gray's.

Looking across Chihuahua Gulch, Lenawee
Mountain towards Dillon Reservoir.

Jade & Jim
on Gray's.

Looking back at Torrey's.
<!=======================================>